Made in Germany
Since 1990, ALZ GmbH has designed and manufactured heat exchangers with bare and finned tubes as well as whole air cooled heat exchanger units and air cooled condensers (ACC) for turbine exhaust steam.
Last featured in European Oil and Gas in mid-2012, since that time the company has invested in two new welding machines in order to keep its facilities up-to-date, as Mark Koch, managing director, explained: "Welding is the most important part of our manufacturing process for a pressure vessel, and therefore we always try to optimise our techniques, procedures and machines. We don't need to add to our floor space at the moment so are targeting our investments on the fabrication side."
Mark went on to elaborate further about the company's in-house expertise: "We do all the welding work here in our workshop in Dorsten in Germany although it might lead to slightly higher overall prices due to higher labour costs in Germany. Nevertheless, we do promote the fact that these products are manufactured in Germany as an advantage; having fabrication very close to the engineering and other departments is beneficial, as it makes us very flexible at times. It means we are able to help our customers if they have to reschedule anything, and we can implement last minute changes."
He continued: "I still think it's important that you adhere to a certain standard of quality, flexibility and reliability. Unfortunately the market does not always really honour that, but that's the competition we have to face and we still think it's a good idea to fabricate in Germany."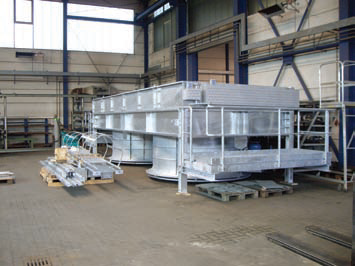 Of course, there is an association with the highest standards of quality when a product is labelled as 'Made in Germany', and ALZ relates the initial excellence of a product to the customer's overall satisfaction: "The best end result for us is that we deliver and erect the cooler and more or less do not hear anything again after that. This means the cooler works perfectly and causes the customer no trouble. It's a fact that if you ask the client's engineer how the cooler is working, the best response you can get is 'very well' – it means everything is performing as it should. This is why quality is important for us at every stage from engineering to fabrication, to erection and commissioning onsite.
"This is also beneficial when you consider getting repeat business – we don't want our customers to order once and then never again. Therefore we try to reach the plant engineers, and make our coolers so outstanding that when they need another one, they say 'I want that product from ALZ'."
The clients that ALZ supplies to are generally based in mainland Europe, but that doesn't mean that its products aren't exported across the globe. Mark gave an example of how this may occur: "Many of our customers have coolers that we fabricate in a package for them, such as manufacturers of gas compressors. They are undertaking business directly with Asia, the Middle East and Africa so they buy coolers from us as a German customer, but the coolers end up wherever they have their projects, which can be worldwide."
He continued: "But our main customers are in Europe, because the way we are positioned in the market means we can reach this area pretty well. Rather than undertake some significant investments and branch out into new areas of the world that we are not familiar with, we prefer to create a presence on the European map where we're not currently active. I think we have some work to do with that and we won't really look outside of Europe until that has been achieved."
Mark also noted that the company is satisfied with the size and scope of its operations at present: "I think we are positioned in a market in a way that we have a lot of stability, and so rather than looking at expansion or recruiting new engineers, we are focusing on getting better known in the markets we are in," he said.
Although not badly affected by the 2008-2009 economic crisis, ALZ did notice a change in the market in 2010 and business slowed down. "But we are still able to win profitable contracts, and because we work across several sectors we can focus our energy on the ones where our clients are investing," said Mark. "So for example waste to energy plants and biomass plants are pretty slow, but gas transport and storage is pretty good at the moment, and the chemical sector is satisfactory as well."
He concluded: "Since we are present in several industries, we usually find that when one sector does not invest very much then the other ones have a number of projects underway. Therefore, in 2013 we are focusing on getting as many new contracts as we can and keeping our fabrication facilities busy manufacturing our high quality, reliable products."
ALZ GmbH
Products: Heat exchangers and aircoolers