Innovation driven
With applications within general industrial, chemical and petrochemical markets, Amarinth operates as a leading pump manufacturer that utilises the skills, creativity and passion of professionals that have worked in the pump industry for many years.
Indeed the company was established during 2002 in the wake of the closure of Girdlestone Pumps, which itself had been a well recognised and experienced pump manufacturer. Understanding the market's need for an effective pump supplier and manufacturer, the company's founders Oliver Brigginshaw and Steve Buckley siezed the opportunity and through former Girdlestone employees established Amarinth.
Today Amarinth boasts over 300 years of combined experience in the design, application and manufacture of pumps and associated equipment, which it applies to provide unrivalled service to its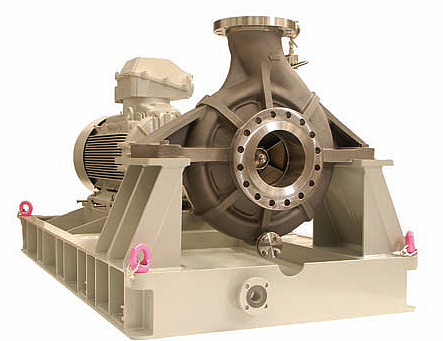 customers. Its pumps are provided in both standard and bespoke packages in three main areas across the chemical, general industrial and petrochemical markets. Through its range of process, chemical and process pumps Amarinth is on hand with the appropriate solution to its customers' requirements and its bespoke options ensure that even the most challenging application can be addressed with a suitable solution. "We focus on areas that are problematic for customers," explains business development director, Alex Brigginshaw. "Some of the biggest gripes for customers in our area are things like speed of delivery and rapid engineering of innovative solutions to the problems that they encounter when pumping in the field. Amarinth has continually focused on developing the agility to be able to address these sorts of issues, but in doing so this has pushed the company into that niche market. This was a conscious decision because that is where we find that we can be most effective and develop a good brand for being known as a company that achieves market-leading delivery times."
Presently Amarinth employs around 45 highly skilled staff, meaning that the company is suitably sized to bring considerable engineering experience to bear regarding its clients' unique requirements, while retaining the agility to remain flexible and deliver rapid throughput of design concepts and finished products. "We operate with an engineering, design, hydraulics design, contracts and an operations team that works within a large, open planned environment that allows for a swift speed of change," Alex says. "If a new condition or requirement emerges with a contract, staff are able to walk over and discuss how to work on it and this model works very well in a company of our size."
With its dedicated approach to innovative solutions and bespoke product applications, Amarinth can easily be recognised as a solution provider as much as a dedicated pump manufacturer. The company regularly designs and delivers bespoke pumps with self-priming units, acoustic hoods, elaborate pipe-work, and unique restricted base plate designs that off-the-shelf providers may find too design-intensive to supply. Although the provision of targeted and specialist solutions have been at the core of the company's philosophy since its inception, Amarinth has recently completed the latest exciting extension to its product portfolio, which it will launch near the end of 2014.
"We have spent the last two and a half years' research and development in our design, engineering, testing and assembly phase in tackling a problematic issue with oil and gas processing, which is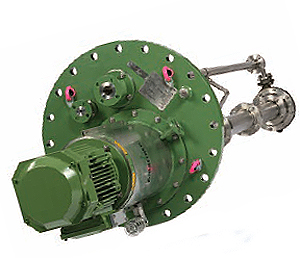 how you deal with the sulphur that is a by-product of oil and gas processing and refinery," Alex reveals. "Molten sulphur in a liquid form has a very unusual property in that it solidifies below and above certain temperatures. For safe, reliable and effective pumping sulphur has to be maintained at a temperature between 127 degrees and 147 degrees."
The development of the new vertical VS4 pump began several years ago in response to careful study and direct communication with operating engineers to identify common challenges facing the end-user within the oil and gas industry, as Alex explains: "I was involved heavily in the verification side of the project, which involved in-depth technical discussions with senior maintenance and technical engineers from existing customers of Amarinth in areas such as the Middle East. This revealed the problems they were encountering with existing pumps in the field and their support and feedback was worth its weight in gold, as they were able to identify which issues they were encountering and highlight where we could offer a solution. The new sulphur pump has been designed and engineered to deliver improved bearing reliability and reduced maintenance cycle time, whilst also giving the project team the opportunity to design leading edge enhancements to the pump's jacketing."
With innovative solutions to common problems throughout the oil and gas industry Amarinth provides an invaluable service that promises to increase its client's efficiencies and maximise returns. As its groundbreaking products become more sought after the company has grown to include a dedicated office and manager within the Middle East and remains committed to controlled growth in the region over the coming years. Furthermore, markets in Norway and Malaysia are showing increasing signs of activity and Amarinth is already making moves to position itself to be able to address the needs of clients old and new and new developments are sure to follow as Alex concludes: "Although we are at the end of this part of development we do have several other projects that are ongoing and exciting with regards to the solutions that we provide to customers and this is something that will persist within the company as it continues to grow."
Amarinth
Services: Pump manufacturer