Torque of the town
From its base in Aberdeen, Scotland, AMC Engineering designs, manufactures and supplies torquing equipment (bucking machines) to the oil industry worldwide.
"Listening to our customers is the key to our success and the catalyst for our continued growth," explains managing director Andrew Polson. This ethos has seen the company grow significantly over the last three years, with staffing levels now at over 60 employees and growing. This includes design engineers, hydraulic engineers, electricians, controls engineers, fabricator/welders as well as a key core of admin and management staff. This allows the company to design and manufacture a quality product from concept to completion all under the one roof.
Specialising in the supply of torquing equipment of machines capable of up to 48" diameter premium threaded connections, as well as torque capacities of over 250,000 ft.lbs, means that the company has an outstanding reputation throughout the industry. However, AMC is a company that is not content to sit back and wait for the next step. With an evergrowing portfolio of equipment that includes, jartesters, radiation transportation containers, pipe-handling equipment, containerised workshops and other various workshop tool holding equipment, AMC has become the market leading supplier to the oil service/ support sector in all of the major global areas.
The company is involved with projects all over the world, with activity in Africa, Europe, the US, the Middle East, South America, the Far East and Russia to name but a few locations. In fact, nearly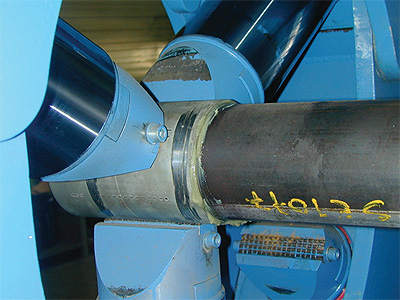 90 per cent of all equipment produced is for export and serviced globally from its Aberdeen base.
AMC has invested heavily over the years, and with the completion of its new 132,000 square foot, purpose built facility in Aberdeen, designed to meet with the increasing demand for its products, there is no bigger sign of AMC's continued commitment to the area, and the global markets.
"Our state-of-the-art, purpose built facility has enabled us to grow and become the market leader in supply, service and support of torquing equipment, producing tailor-made equipment with the high standards of quality we have set in the past, but on a much larger scale. It is this tailor-made approach that has kept us not just one step ahead of the competition, but three steps ahead. Our setup includes manufacture and assembly departments, as well as in-house electronics, design, coatings and service facilities," says Andrew.
The company has expanded into new markets also, with the creation of a Rentals Division, and a new Hydraulics Division. Andrew explains: "The two new divisions have seen us enter markets where we recognised there was a true need from our customers, and a real potential for growth. Our Rentals Division is focused on the short and long term hire of oilfield equipment to meet with customers demand and individual contract requirements. In the current financial climate, capital expenditure approvals may be hard to come by. We are committed to investing in the future of the industry and see this as a growth market for the company."
The Hydraulics Division meanwhile has opened up an avenue that sees AMC move into the supply of hydraulic components, including pumps, valves, motors and filters. "We have secured key partnerships and agent contracts with some of the big names in this field. We are offering quality products at competitive prices. This has always been the AMC ethos, and so it always will be," comments Andrew.
The company has a commitment to the continued development of its staff. Ongoing training for all employees is an important factor in growing the company, and planning for tomorrow. "We are a company that has always believed in opportunities, and are committed to ensuring the skills needed are passed on through our growing apprentice program," says Andrew. "We recruit new apprentices each year, so that the generation of tomorrow is here today."
Having established its reputation as a serious market leader built on the right combination of producing quality products, an ability to provide outstanding customer service and the foresight for future expansion, the future for AMC is bright. "Most of our sales are repeat orders, or word of mouth referrals. That is a testament to our level of service and support. In my view, if you keep the service to a high standard and get the product right, the rest is easy," Andrew concludes.
AMC Engineering
Products: Torquing Equipment