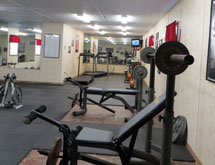 Ameri-Tech Industries LLC
Not many businesses can call themselves "recession-proof" these days, but most companies serving oilfield operators in the Bakken Shale in North Dakota and Wyoming are as close as it gets. As a provider of turnkey customized workforce housing for some of the largest players in the region, Ameri-Tech Industries LLC has weathered the economic storm to grow beyond North Dakota and become one of the busiest companies in the global mancamp industry.
"One of the key things in the industry is to adjust to any change in the market," Ameri-Tech founder and CEO Jim Donnan says. "If the demand decreases, we can adjust our packages to offer a lower rate to fulfill customers' specific needs without them overpaying for services or extras they don't need."
Ameri-Tech Industries was founded in 1996 as a manufacturer of portable storage buildings, modular units and oilfield well site housing. The company grew over the years by focusing on these products, with well site housing quickly taking over as the top-selling product in its lineup. Today, it produces relocatable units out of its manufacturing facility in Troy, Texas. Ameri-Tech has alliances with other manufacturing facilities to help meet very tight occupancy deadlines.
Ameri-Tech boasts a team of experienced engineering, manufacturing and sales professionals who focus specifically on the needs of domestic and international clients. With installations in more than 80 countries and in almost every state in the continental United States, the company says it stays involved with all phases of operations to form partnerships with customers and suppliers alike.
"Our company focuses on meeting customer needs, not just providing a product," Donnan explains. "Being a manufacturer as well as offering sale and lease options, we're able to choose and design a product that fits customers' needs at either a sale or lease price, and we're very flexible with customer needs."
In fall 2012, Ameri-Tech's Troy plant and the operating man camps were acquired by Reliant Asset Management (RAM), a third-party lease financier for dealers and manufacturers that works directly to customers and users of commercial, relocatable factory-built modular buildings across the United States and Canada.
According to Executive Vice President Peter Eberle, the new company will be known as Aries Building Systems LLC. The workforce housing units will be branded as Ameri-Tech Industries – an Aries Building Systems company.
"While Aries is a newly formed company, the two firms that contributed to its creation are both rich with experience and success in workforce housing and modular relocatable buildings," Eberle says. "Aries brings together one company with manufacturing and operating capabilities and another with deep financial resources."
Aries boasts a senior management team whose members each boasts more than 20 years of experience in the industry, Eberle says. "The result is a company that is fully vertically integrated and can take a project from concept to turnkey installation with financing all under one roof," he adds. "In essence, we are only limited by our own creativity in structuring flexible projects to meet the needs of our customers/partners."
Today, Aries has 23 camps and almost 3,000 beds in its portfolio with several additional projects in the works. The Troy facility plans on producing at least 15 well site units per month in addition to the traditional camps.
Complete Services
As a provider of complete turnkey mancamps, Ameri-Tech Industries goes well beyond delivering workforce residences. The company's strategic partnerships allow them to offer full-service catering, camp management, cleaning, personnel, logistics and security.
The company's well site units serve the majority of major drilling numerous smaller companies across the United States. and the world. Each unit is customized to meet that particular customers requirements. Ameri-Tech Industries primarily delivers closed camps for its oilfield clients. These camps are not open to the public, which offers more security and better morale for field employees. Donnan also says closed camps help his clients retain their employees by prohibiting recruiters from rival operators from accessing the sites.
"Most customers like the closed camp scenario, and that's what we specialize in," he adds. "It makes sense for the customer, it creates better morale, it helps retain employees, and improves absenteeism and employee performance."
Whatever type of camp and the periphery services it requires, Donnan says Ameri-Tech Industries makes sure the customers' demands come first. Ameri-Tech's camps are sometimes beat on price points, but Donnan maintains the quality is unsurpassed, and customers who know what they're getting understand that.
"Our focus is totally on customer service and to take care of our customer's needs," Donnan says. "We won't be the cheapest and we don't try to be the cheapest, but we will be the best."
Ameri-Tech's customers certainly have taken notice. The company has earned accolades from some of the largest and most recognized oilfield companies, according to Donnan. "Our worst habit is keeping a secret about what we do," Donnan says. "We have numerous references from the largest service companies around the world. Four of our five contracts are with the largest service companies because we deliver what we say we'll do."
With the merger, the new company boasts the financial strength and industry expertise to pursue work abroad after focusing on the North American market for so long. However, Eberle states the company will stay primarily focused in the domestic market for some time simply because there is ample work to be had.
"While we certainly could pursue offshore and international business, the reality is that there is enough business within our current reach to keep us busy for the next few years," Eberle says. "That being said, we are up for any new market opportunity."
Talent Assets
When it comes time to hire new employees, Ameri-Tech Industries brings in a combination of experienced industry veterans as well as people new to the field who require in-house training. Every position requires job specific training, because modular construction has its own methodology different from traditional building. Each field technician is trained specifically to manage and provide maintenance for each region of the country where company housing facilities are located.
The most important lesson of Ameri-Tech Industries' training, according to Donnan, is that each employee understands the customer is the company's most important asset.
"If you are a builder on the line or a salesman or service technician, each customer is your customer," he says. "We want them to feel as if this is their company, too; it's how you feed your family and it's why the company exists."
Ameri-Tech at Work
Ameri-Tech secured and delivered its largest contract in company history beginning in 2012. In February 2012, Ameri-Tech met with a joint venture that formed one of the top five oilfield service companies in the world. Ameri-Tech earned the contract for five mobile workforce housing installations that combine for 900 beds. Donnan says the company completed the last of the installations in early 2013.
Each of the closed camps features meeting rooms, media rooms, exercise rooms and recreations rooms with foosball, shuffleboard and computer access for employees. Each private and semi-private room is outfitted with a bathroom, a commercial kitchen and dining room serves all residents. Also, each facility offers shuttle service, 24/7 onsite security and catered meals.
Ameri-Tech finalized its land leases over the summer. From there, the company had to engineer and design the facilities to adhere to building codes and requirements for three different states: Texas, New Mexico and North Dakota.
According to Donnan, this client was ready to sign an agreement with a competing housing provider until Ameri-Tech Industries came into the picture. He says the company realized Ameri-Tech was the housing provider it wanted after meticulously reviewing its credentials, and awarded the firm a $40 million contract for the job.
"They started to review their options and saw how we performed, what we were capable of providing and the workforce housing options we focus on, which is our primary business," Donnan says. "That had a big impact when they looked at us. They looked to solve a need for their current and future growth potential with a private facility exclusive to their employees."
Donnan says Ameri-Tech Industries already had land leases in place for the proposed sites for the mancamps, and it finalized securing the land for the other locations throughout the summer of 2012. The biggest challenge beyond that was matching each location to the building codes of its respective state and municipality.
"Building codes are building codes, but each state has a very different process," Donnan says. "Some are easier than others, but each state required a code process for each facility."
Constructing five mancamps across three states simultaneously might be seen as a daunting task for many housing contractors, but not for Ameri-Tech Industries.
"Customers don't have delayed periods of time," Donnan says. "The challenge is coordinating different construction steps from development to facility setup."