Pipe dreams
Amerplastics is a member of the Eyke Hogendoorn Group (EH group), which was started as a business in 1955, focusing on the triangular region between Rotterdam, Ghent, and Antwerp.
Initially applying its capabilities on industrial maintenance projects, the Group soon developed skills in manufacturing and designing steel structures. When DOW Chemical opened close to Eyke Hogerndoorn's headquarters in the late 1960s, a relationship formed following the Group's development of glassfiber reinforced epoxy (GRE) pipeline technology.
The EH Group realised that the Bondstrand fibreglass it was importing from US-based company, Ameron, during 1973 to 1975 had numerous applications in the offshore industry, as it was a
logical, more economical alternative to steel piping systems used on platforms. For instance, Bondstrand GRE fibreglass piping is now a leading component in many offshore applications, including dry deluge systems, fire main lines, deck draining, vent lines, saltwater cooling, and column piping. To deal with the demand for these corrosion-resistant and manageable pipes, the EH Group formed Amerplastics as its specific GRE pipe system division in 1971. Alongside Amerplastics, the Group also has structural steel, cranage and rental, and GRP fabrication divisions, as well as Fiberstruct – a Slovakian manufacturer of GRP gratings. This Slovakian EH Group business unit offers standard polyester gratings, together with phenolic gratings with US Coastguard approval for offshore applications.
Sales manager Bart de Nijs is keen to highlight the superiority of Bondstrand fibreglass over more metal-based pipe systems, and how the company's experience can provide clients with a complete service: "Amerplastics uses a material that is acknowledged as the best in the market, and we create quality products along with further value-added solutions – such as design, engineering, project management, fabrication, installation, training, and field services. Our capabilities mean that we can train individuals on how to install and engineer projects on an erection site. We also have a vast amount of experience and knowledge of these systems, which is a factor we can pass on to our customers. There are few companies in this market that have the operating history that we have.
"One of our major customers is ONEgas (Shell Expro and NAM), and we work very closely with their primary maintenance and construction contractors AJS," Bart continues. AJS is the joint venture organisation created for the provision of the services to ONEgas. ONEgas exploits 52 installations in the Southern Part of the North Sea and two land locations – Bacton in the UK and Den Helder in the NL. The integrated service contract includes management, work preparation, maintenance, planning, co-ordination, administration, engineering, modification, operational support and subcontractor management. Capital or major size projects are not automatically part of the scope, but Shell Expro and NAM can contract out these projects to AJS on an individual basis. For example, Amec provides engineering, construction, maintenance, platform support and project management on the UK side. Whilst, Jacobs participates in engineering and project management activities and Stork provides construction, maintenance, platform services and project management.
Bart continues: "We have also received orders and worked with Unocal (now Chevron), Amoco, Wintershall, Clyde, Conoco, and Elf Petroland. Equally, our work in designing and developing deck penetration collars (DPC's) has received a lot of interest at this time, and as a new product we think this innovative DPC is very successful. The ethos at Amerplastics is to always develop new products in conjunction with our clients."
The organisation's involvement with ONEgas is an example of how projects are developed. Frits Eijke, sales engineer at the company,elaborates on a solution they created in response to the request for increased deck penetrations on platforms: "ONEgas approached Amerplastics with a problem: one of the pipelines on their platform was crossing the decks, making maintenance a difficult process. After a discussion, we suggested changing their steel penetration collar to one made from a new composite material. This meant the line could be separated from the deck with saws, and no 'hot' work was required, as this is something gas and oil operators like to avoid. Our new deck penetration could be installed on the deck, and it has offered NAM and Shell numerous benefits. Of course, there are the obvious advantages of using a non-corrosive material in this application, but also installation and down time is greatly reduced. The solution we provided was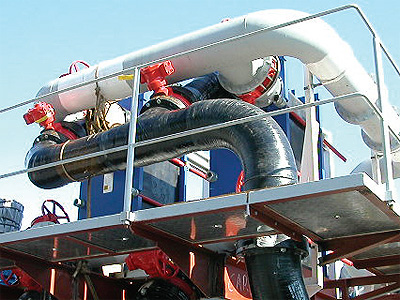 cheap, effective, efficient, and was easier to handle and install due to its low weight."
With over 40 years of experience of providing pipe systems in the Benelux region for companies operating on the Dutch continental shelf in the North Sea, the company is now looking to develop its influence in new market areas. Bart outlines the plans for the future: "Amerplastics is seeking to expand its operations in the oil and gas industry, and to this end I recently visited a distributor of Ameron products in the UK – Pipex Composite Pipes Ltd. We encouraged them to extend their business into the offshore sector, and we have decided to mutually employ an agent that works specifically in relation to the UK continental shelf, at sites in both Aberdeen and Great Yarmouth. This is a significant development, and will stimulate our interest in the UK offshore sector. Amerplastics can provide Pipex with the technical support, including offshore GRE specifications valid at the southern part of the North Sea and experience required in working in this market.
"I think we can be successful in the re-vamp sector of the offshore industry, as there are less platforms being installed at this time," Bart states. "We are currently in the process of installing GRE pipelines at a docked platform from operator SEVAN located in Rotterdam at Keppel Verolme shipyard, and this project will take around 15,000 hours over a four month period. As steel and energy prices rise, GRE lines are becoming a far more cost effective, viable solution for offshore operators. We also offer the ability to train individuals in local areas in designing and operating our pipe solutions."
In conclusion, Bart summarises his vision for the business over the coming years: "We want Amerplastics to expand its operations in the offshore industry, as we have the necessary experience and knowledge to apply solutionsand quality products to the market. There is a lot of business in the UK, so our development alongside Pipex will provide us with numerous opportunities."
Amerplastics Europa B.V.
Products: GRE pipe systems