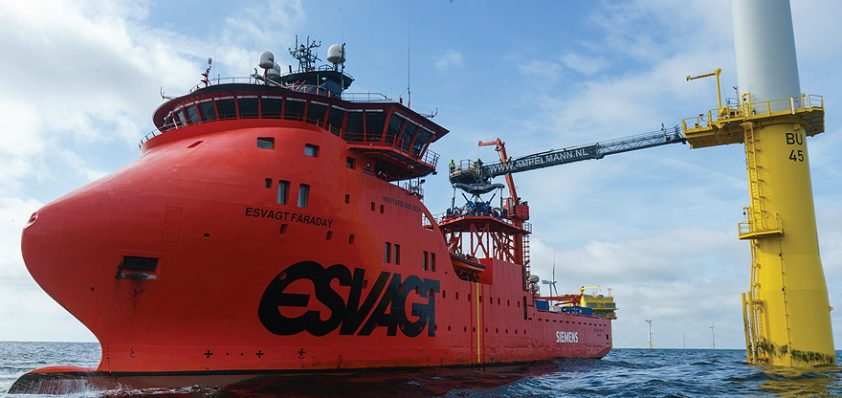 Bridge over choppy waters
Established with the vision of making offshore access as simple as crossing the street, Ampelmann was created as a spin-off of the Delft University of Technology in 2007. From 2008 onwards, the company began to contract its motion compensation offshore access solutions and services to offshore gas and offshore wind industries and had grown from one system to approximately 50 by the final quarter of 2015.
"The unique Ampelmann systems with fully motion compensated gangways allow for safe, efficient and reliable transfers of people and cargo from ships to offshore structures (Walk to Work) and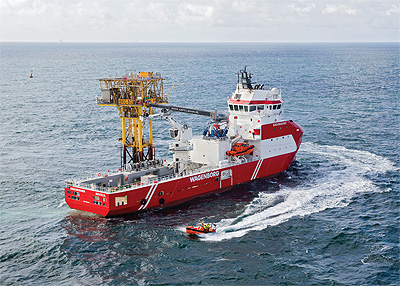 from shores to offshore structures (Crew Change) in both the oil and gas and offshore wind industry. About three million people have already walked to work safely on more than 150 projects worldwide," begins Jim Craig, CEO of Ampelmann.
At the heart of Ampelmann is its unique technology, a motion compensated gangway, within the system, which allows safe, efficient and reliable access from moving vessels to offshore oil and gas platforms, offshore wind turbines, FPSO's and other fixed floating sea structures. "Every vessel is subject to motion, due to sea state (wave, tide, swell), wind and movement of the ship. A vessel is subject to a full six degrees of motion so the unique Ampelmann system uses a hexapod with six cylinders to compensate for all movements of a vessel," explains Jim. "The hexapod can be best described as an inverted flight training simulator that creates counter movement to all motions the vessel is subject to."
Safe, reliable and efficient in all types of weather, the Ampelmann system ensures offshore facilities can be accessed at all times; using this system has clear economic benefits too, as renting an Ampelmann system is more cost effective than hiring helicopters, larger vessels or inflexible jack-ups. Furthermore, because an Ampelmann system can operate 24 hours a day, the ship can simply be parked next to the structure and left so many more hours of actual work are achieved.
Alongside offering advantages such as increased tooltime, decreased waiting on weather days and the utilisation of a plug and play system system that requires no modifications to offshore construction, Jim comments that Ampelmann also provides a full service offering to its customers: "An Ampelmann solution does not only consist of the motion compensation gangway; we are a full service provider that sells safe and efficient transfer. This means that we deliver not just the Ampelmann system to an offshore project, but also all the peripheral services that are needed to ensure a project runs safely, smoothly, on time and within budget. As such, we provide fully trained operators to run the systems and ensure these are operated safely, maintenance schedules and offshore spare parts as well as providing consignments to ensure that the systems have maximum run time and never let a customer or their employees down. We also use HAZID meetings to discuss the operation of the system within our clients larger project to ensure safety issues are taken into account. FMEA studies are executed to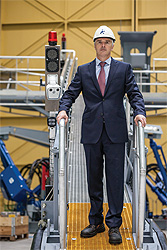 ensure that any single failure of a critical component is covered by back-up components; with a technical uptime of more than 98 per cent, we ensure the reliability of our systems during operations. This service is delivered around the world, often while working in severe weather conditions.
"Beyond the safe movement of people across our compensated gangways, we also offer a range of cargo handling solutions; these systems vary in size, with maximum handling capabilities from 100 kg to eight tonne cranes." Complementing Ampelmann's innovative product portfolio of different offshore access solutions are its four core values: professional excellence, technological excellence, safety and team spirit. To maintain this culture across the globe and ensure those in other countries view themselves as part of the greater Ampelmann team, one of the company's current employees spends up to two years in each new foreign office, working with new employees. Moreover, each of the company's employees undergoes an on-going training and development programme as part of Ampelmann's continued performance management and development culture.
With approximately three million successful transfers to date, Ampelmann has proven itself to be a reliable partner that delivers reputable, safe offshore access solutions. By providing full support across the entire life cycle of a project, the company enables its customers to focus on what they do best. Key to this reliability is Ampelmann's commitment to fully analysing the intrinsic details of each customer's requirements through close co-operation and listening to their project demands. Viewing feedback as vital to continuous improvement, the company uses this information to improve its products, develop new concepts and further tailor its operations to the requirements of its customer base. Furthermore, the company has an operations control centre available on a 24/7 basis, which monitors each project to ensure continuous system performance. By providing a complete service, Ampelmann can deliver full support across the entire lifecycle of each customer's project with confidence.
Having expanded from its head office in Delft and production facility in Rotterdam to locations in Houston, Brunei, Aberdeen and Singapore over the years, the company will focus on using its local presence to develop a closer working relationship with its clients while also seeking out opportunities for new contracts. "We will continue on our regionalisation path, opening new offices that are close to customers that facilitate us in our delivery of a world-class service. Our aim is to continue on our strong growth path for the coming years and feel confident that technical product innovations will help us in achieving this goal," concludes Jim.
Services: Develops, constructs and leases offshore access solutions