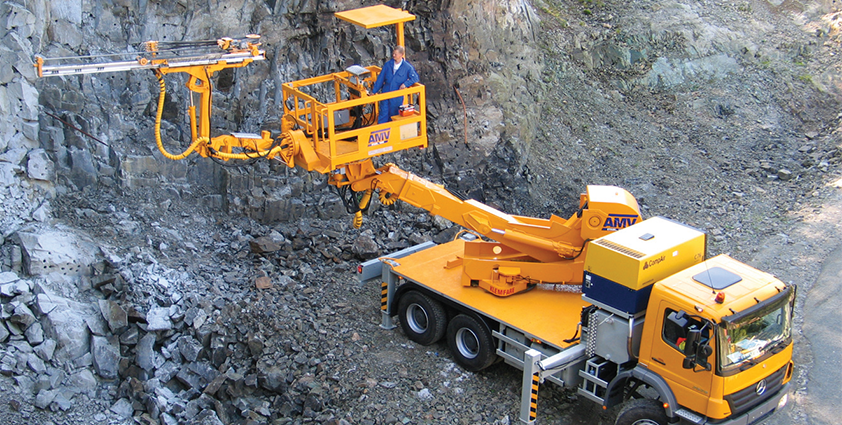 Andersen Mekaniske Verksted AS
Quality assured
Founded in 1860 in Flekkefjord, Norway, Andersen Mekaniske Verksted (AMV) provides tunnelling machinery and mining equipment and components for offshore oil and gas production.
After operating for more than 150 years in the industry, AMV is in its fifth generation of family ownership and employs more than 140 employees. It is headquartered at a 12,000-square-metre facility that consists of a machining shop, an assembly shop, an electrical shop, a welding and fabrication shop, painting and sandblasting facilities, stores and offices. The company also possesses a large outside area for the testing of drill rigs and other tunnelling and mining equipment.
Peder Andersen, CEO of AMV, elaborates upon the company's key strengths: "We differ from other mechanical workshops due to the fact that we do everything ourselves. AMV is not an ordinary sub-supplier; we are a company that has its own products and its own engineering staff. All products we offer are manufactured in-house, so there is no need to source externally. We have the facilities to conduct welding, assembly, machining and even painting of the products.


"AMV is a complete supplier of its own products to the tunnelling and mining industry. Included in AMV's product portfolio are drilling jumbos, shotcrete robots, working platforms, grouting systems, special projects applications and auxiliary equipment. AMV is an international company, and over 40 per cent of its total turnover is in export. Working worldwide in South America, Asia and the European market makes for huge challenges in order to put the correct support and service to our customers, but with our flexible organisation and skilled personnel this is one of our main strengths," says Peder.
AMV supplies its products to a range of key players within the oil and gas industry, as Peder explains: "One of our main customers is Aker Solutions, and this is a client with which we have a spare parts agreement in place. We also work closely with TTS sense, operating as part of the development process for DDMs. These are just some examples of the contracts we have – over the years we have worked with many customers across the industry, and we work in close co-operation with these companies in order to ensure quality is maintained throughout. We provide our input in terms of advice on how to best manufacture materials to the highest standards, whilst reducing costs for our clients."
AMV has its own 100 per cent owned subsidiary company called AMV Offshore, which focuses on delivery and developments to the oil and gas industry. The company has been involved in the development of the UniTong, which is a product of V-Tech (a Weatherford Company). Also part of the current production development for AMV/AMV Offshore is a new mudpump for the industry called Optipump. "We possess the industrial skills and strength to make development projects into commercial products for our costumers," says Peder.
Maintaining such quality is important to AMV, and the company has various measures in place to ensure that this part of its philosophy is upheld. Peder reveals: "There are obviously some very high demands for quality in the oil and gas industry, and so we have our own quality assurance system that operates according to ISO:9001. We are also Achilles certified, and we always ensure that we have complete control over the manufacturing process. Our facilities are regularly updated to ensure that we are able to continually meet the changes within the industry."
There will be many future opportunities for AMV, as Peder concludes: "As with every business that has been going through the crisis, we have witnessed a slump in volumes over the last two years. However, we are proud to say that thanks to both our own products and the strong agreements we have in place with our clients, we have been making it through the recession without any major impact to our operations. The importance we place on quality also has a lot to do with our success in these times, as this is something that operators will never compromise on, regardless of the economic situation. Our hopes are to continue expanding whilst providing the same quality service that we have been doing for the past 150 years."
Andersen Mekaniske Verksted AS
Products: Tunnelling machinery and mining equipment