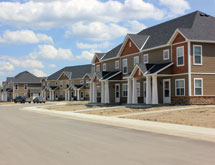 Annabelle Homes – Bakken Shale
There are not many who would immediately think of creating communities near a site of oilfield exploration. But for Dean Dovolis, a principal of Annabelle Homes and principal-CEO of DJR Architecture Inc., that sort of ingenuity has given him success as he has developed communities near the Bakken Shale formation in North Dakota.
A professional architect, Dovolis founded Annabelle Homes in November 2010. At the time, Dovolis was dealing with the economic slowdown at DJR Architecture Inc., his Minneapolis-based architecture firm. With the downfall in the economy, the unemployment rate of architects was high, Dovolis recalls.
As he was trying to find ways to keep DJR going, Dovolis heard from a client about the Bakken Shale play and how homes for oil and gas workers would be needed. Dovolis immediately traveled to North Dakota and formed the company, naming it after his wife, Anna Dovolis, who is also a principal.
Since then, Annabelle Homes has finished one community in Stanley, N.D., while it has three more in development in Columbus, Tioga and Kenmare, N.D. Additionally, "We have 30 cities waiting for us on development," Dovolis reports. "[Our firm] is really rooted in the soul of North Dakota."
Built to Last
An element that has made Annabelle Homes so successful, Dovolis says, is that it sought to create permanent areas of residence. Before the firm began developing, most analyses discussed temporary lodgings or short-term hotels. "We were the first that actually came forward and said, 'Look, this oil situation is not a boom; it's an economic revolution, we need to [build] permanent communities, not just provide short-term solutions,'" Dovolis recalls.
Dovolis says he is proud of the Stanley community, which features 26 townhouses that sold for $150,000 apiece and 23 single-family homes that averaged $275,000 each. In addition, the community features a 12,000-square-foot full service convenience store and a 16,000-square-foot office building that has brought many new businesses to Stanley.
Annabelle Homes' general contractor on the Stanley community was Arizona-based Bundled Builder Solutions. "They're very good," Dovolis says, noting that the contractor understood the developer's vision. "You have to have a dedication to getting things done."
Although some in the local areas did not initially think the developments would be a success, many of those opinions have changed, Dovolis says. "They thought, 'How could you do that?'" he recalls. "[They are now] starting to change their zoning and laws to encourage more community development."
Keeping Quality
Annabelle Homes will continue to grow as it develops different types of housing, Dovolis predicts. He explains that there will be more variations in costs of homes, with "more at the low end."
Additionally, Annabelle Homes will strive to get more areas involved in developing communities. "[We will] develop those with respect and quality, [keeping] the same consistency and quality that was developed in the first project," he asserts. EMI