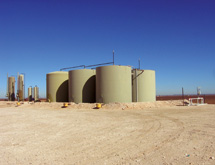 Compliance with environmental and safety regulations is paramount no matter where in the country an oil and gas operator is delivering services. That's why Antea Group's U.S. division is busier than ever these days as previously underdeveloped shale plays are receiving new life and attention with extraction processes diving deeper than ever before.
And unlike most other engineering consultants in the Rocky Mountain region, Antea Group offers a bevy of services that can be applied simultaneously whenever an operator needs to know its equipment is working within the framework of the rules.
"There's a larger focus on compliance and health and safety issues, so agencies are taking a more active role in compliance," says Mark Mathiowetz, senior consultant with Antea Group. "Clients are taking that into account and address any issues or needs that they have a little more actively and proactively."
The industry certainly has taken notice of what Antea Group's U.S. division has to offer. In March, the company earned the Oil & Gas Awards honor for consultancy of the year in the Rocky Mountain region. Antea Group offers environmental and sustainability consulting services out of 33 offices throughout the United States. For the upstream oil and gas industry, the company focuses on Oklahoma, Wyoming and Montana in the mountain region, as well as the Gulf Coast states and Texas in the south.
For environmental consulting, Antea Group's capabilities include developing strategies to reduce environmental footprints, mitigate risks and assure environmental, health, safety and sustainability compliance. The company accomplishes this through its practice areas devoted to environmental liability management, information and knowledge management, operational performance and assurance, sustainability and corporate responsibility, and transaction support.
All-in-one Testing
In today's marketplace, any time a client can get all of its needs handled by a single provider, that provider often wins the business. Antea Group is learning this firsthand as oil and gas clients hire it to completely test its operations.
"A lot of what we find are individual testing companies out there don't perform any other air quality services," says Mike Adams, senior project manager. "From an engineering perspective, we have expert knowledge of regulations and can support testing needs at the same time."
Antea Group is particularly interested in expanding its geographic footprint in the Bakken Shale. Adams says the company presently has a small office with just two employees in South Dakota, but there are plans in place to expand that presence a great deal.
Consulting with Quality
No matter where Antea Group delivers its services, Adams says its dedication to customer satisfaction and quality stands out from the competition. The fact Antea Group can deliver this bevy of offerings in conjunction with quality and customer service is what keeps its U.S. division thriving.
"Our ability to be full service when we perform the work that we do at all levels is where we stand out," Adams says.
As the energy industry remains robust in the Rocky Mountain region, Adams says Antea Group anticipates significant growth in the foreseeable future.
"We have growth targets and expansion plans that we've got in place that coincide with the ongoing development of the team," he says. "We're continuing to execute the plan that shows what the future looks like for us."