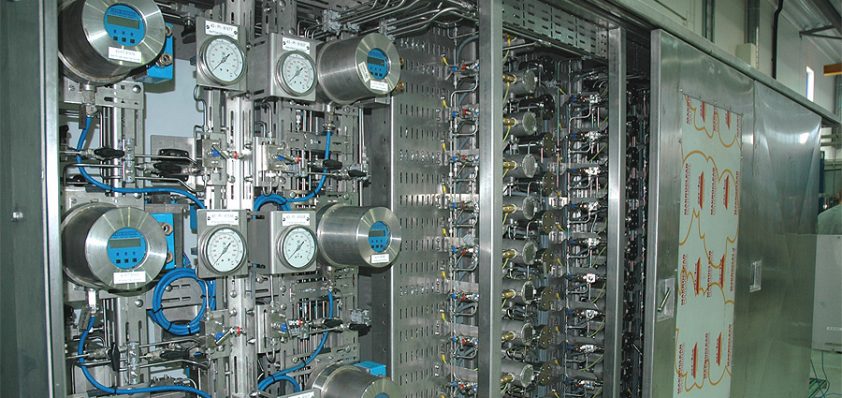 It's all in the system
In 1994, Semco Technology AS was founded to provide electro/hydraulic systems and fire fighting systems as the technology department of Semco Norge.
Two years later, it was established as a separate company and in 1999, Semco acquired a company that has been a leading supplier of chemical injection moulding since 1989, Chemical Injection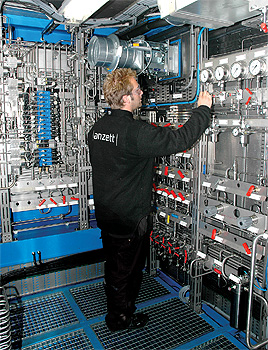 Service (CIS). It was in 2003 that Semco Technology AS had a name change to Anzett AS following an acquisition by local investors. In May 2008, Anzett united with Hitec Products, and it soon became part of BR Industries.
Located in Forus, just outside the city of Stavanger, which is considered to be the oil capital of Norway, Anzett has established itself as a leading supplier of fluid control and fire fighting systems to the international oil and gas industry. Anzett, a name derived from the adaptation of the Norwegian word for 'highly esteemed' or 'reputable' that perfectly describes the organisation's vision, continually strives to be recognised as a customer-oriented company, which through a successful process approach, continuously develops the best solutions.
The company's high level of competence comes from its motivated staff of highly qualified and trained personnel across its head office in Stavanger and a branch office in Lowestoft, in the UK. Anzett focuses its operations on various main business areas – electro/hydraulic control systems, chemical injections systems, subsea control systems, fire fighting systems, as well as equipment rental. Priding itself on consistent quality levels, Anzett has held a quality system certification of ISO 9001 since 1996, which covers design engineering, manufacturing, testing, commissioning and maintenance services of all its business areas.
As Norway's leading supplier of electro/ hydraulic systems to the Norwegian and international oil and gas industry, for both topside and subsea projects, Anzett's wide experience means that it is able to handle an impressive number of different projects supplying a range of systems – workover and intervention control systems, hydraulic power units, wellhead control panels, local control panels for ESD and process valves as well as ballast control systems. It predominantly develops system solutions based on clients' individual requirements, though it has also developed standardised systems for both wellhead control and hydraulic power units. Equipped with the ability to always provide the right project solution at the right price within the right time frame, the company has a wealth of experience with systems based on all types of hydraulic fluid, particularly water/glycol fluid in addition to high-pressure systems up to 1500 bar.
Looking into another of Anzett's main business areas, chemical injection systems, it has been the leading supplier of chemical injection packages, methanol and diesel injection modules/skids, chemical distribution systems as well as injection and pressure testing units since 1989 – a position it secured following the acquisition of CSI. Offering complete design, engineering, fabrication, installation and testing of all systems, Anzett provides tailor made solutions and focuses on management systems to control the total process accuracy. The company seems to always be the obvious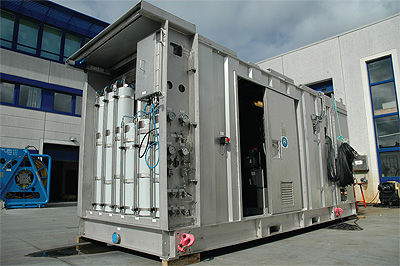 choice and an expert on process and water treatment chemical injection systems – high accuracy at low and high pressure is just one of its hallmarks.
Anzett also designs and manufactures a complete range of fire fighting systems for the oil and gas industry. Its extensive experience and comprehensive special equipment enable the company to meet the most demanding requirements within this field. In all of Anzett's project planning and installation of fire fighting systems, there is a high demand for safety since some of the most typical installations are on production platforms, shipboard engine rooms and other sensitive areas. Since its first venture into the fire fighting systems in 1996, Anzett has been one of the most successful suppliers to the Norwegian market. In looking to the future, the company will continue to expand in this sector, as it focuses on the development of the international market.
One of the largest growth areas within the offshore market is subsea systems, which has been forecasted to be even more successful within this century. Being one of the leading suppliers of control systems in this field, the company was one of the first to supply hydraulic power units for ultra deep-water applications. Supplying a wide range of systems specially designed and developed for subsea operations, including electro/hydraulic control systems; chemical injection systems; subsea chemical injection valves; hydraulic power units; distribution systems (electrical, chemical and hydraulic); electrical junction boxes as well as ROV-based tools, the focus for the company has always been on the design and new development of subsea systems.
Providing comprehensive customer support, from design and project planning to installation, commissioning, technical training and follow-up services, Anzett is always at the forefront wherever there is a demand for technological know-how, quality and service, and it will continue to focus its attention to provide turnkey solutions, sound work processes, long-term customer relationship, focus on ontime deliveries and punch-free supplies. The company has most of the leading oil and engineering companies worldwide as its clientele, which only further proves its reputation for quality. Despite the current economic crisis, Anzett believes it has all that is needed to weather the storm.
Anzett AS
Services: Fluid control and fire fighting systems