Exceeding expectations
Following the merger of two Nigerian-based oil service companies, AOS (Africa Oilfield Services Ltd) and Orwell Oil & Gas International, AOS Orwell was formed in 2011 and became the largest indigenous services company in the region.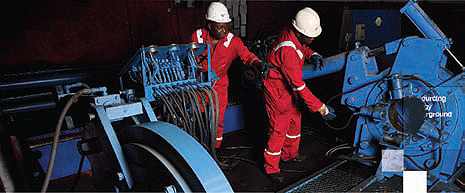 The company boasts over 30 years experience in oil well construction, drilling tool rentals and remedial services, and aims to become the operational and technical partner of choice for international oil companies, national oil companies and independent firms operating in Africa. AOS Orwell's objectives are to understand, to deliver and to exceed expectations.
With three decades of experience, AOS Orwell has gained a proven record of technology transfer into Africa and now has the diversity of product lines to compete with international companies. The business also recently acquired Scomi Oiltools Africa, a machine shop company that has a 49.9 per cent stake in Titan Tubulars, Nigeria's leading OCTG manufacture and repair facility. In July 2011 the company relocated from its main head office and operating bases in Port Harcourt to a new facility of 46,000 square metres, a massive increase from the previous location which had a combined area of more than 18,000 square metres. Meanwhile, administration, sales, and technical support are provided at a sales office in Victoria Island, Lagos.
Prior to the merger, AOS Ltd was founded and registered in 1981 and built a reputation for providing experience, expertise and the highest quality technology to its customers. It is recognised as West Africa's leading provider of downhole drilling tools, wireline pipe recovery services and fishing services to the oil and gas industry. The business also provided fully API certified machine-shop services, experience that will prove valuable following the recent acquisition of Scomi Oiltools Africa, which supplies oilfield equipment and operates as an investment holding firm. In 1992 AOS established its wireline division and is now renowned for its expertise in that arena. Through partnerships and ventures the company has developed long-standing relationships with leading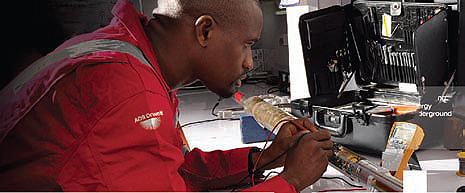 OEM's, such as ADC and Sagatrade, and extended its portfolio for delivering the world's best technology into West Africa.
Orwell International (Oil and Gas) Nig Ltd became a privately owned business in 2000, having previously been part of the Orwell Group in Aberdeen, and quickly grew into one of the fastest developing indigenous oilfield services companies in Nigeria. After the merger in 2011, AOS Orwell has started operations in new locations and opened bases in Ghana and Uganda.
AOS Orwell offers well construction services, such as directional drilling, remedial tubular recovery, casing and tubular running and drilling tools rentals to the upstream sector. The organisation also offers a vast range of other services to customers, including high quality engineering and design solutions and quality inspections, aiming to provide the widest range of products and services to support their operations across sub-Saharan Africa.
With clients such as Shell, Petrobras and Transocean, AOS Orwell has developed an excellent reputation for conducting its services to the highest ethics, standards and practices to ensure strong growth and secure profits for all of its stakeholders. In 1997 the company was the first in Nigeria to achieve ISO (QMS) certification for its drilling jar division from the British Standards Institution. The certification was successfully extended throughout all aspects of AOS Orwell's operations in Nigeria. The company is committed to conducting its operations with honesty and integrity, and in full compliance with global regulatory bodies such as the UK Bribery Act and US FCPA. AOS Orwell also believes in treating and obligating all employees to the same principles and uses its corporate social responsibility policy to guide its workforce in all their responsibilities.
With active involvement in its host community, the company is enthusiastic in offering unrivalled development to local people by training them to become proficient oilfield workers. It has an extensive personnel training programme, enabling it to perform the specialised services on offer in the region. This includes external management training and a specialist training programme for professional competence. Support is also given to aid in the development of local companies by providing guidance on how to service corporate organisations. As a result of its efforts, locally sourced input as a percentage of total contract value has seen a significant expansion from around 55 per cent in 2008 to around 70 per cent in 2011. As AOS Orwell continues to grow in Africa this trend is expected to continue.
AOS Orwell
Services: Well construction and remedial services