Leading the way
Apache entered the North Sea market in 2003 after acquiring approximately a 97 per cent working interest in the Forties field. Since the acquisition, Apache has actively invested in the field and has established a steady production plateau through a highly successful and continuous development drilling program. The program utilises 4-D (time-lapse) seismic data, and demonstrates best-in-class project performance and operational excellence. Building upon its success in Forties, in 2011, Apache acquired Mobil North Sea Limited, which has provided significant additional
exploration and development opportunities across numerous fields, including operated interests in the Beryl, Nevis, Nevis South, Skene, and Buckland fields and non-operated interests in the Maclure field. In total, Apache now has interests in approximately one million gross acres in the UK North Sea.
Apache is continuing with this impressive trajectory by maintaining a relentless focus and utilising its proven ability to find and produce significant resources in the North Sea. Apache remains one of the largest oil and gas producers in the basin. Commenting on the company's recent drilling success, Apache's Region Exploitation Manager Jeff Towart noted, "Last year we had an active exploration, appraisal and development program across our assets that added significant reserves. In Forties, which achieved 40 years of production in 2015, we reached a milestone of having produced 250 million barrels since acquisition and still have multiple remaining targets. This year, Apache is investing in the acquisition of a new Forties 3D seismic monitor survey that will identify new drilling targets to replenish the prospect portfolio. In 2016, the Beryl field also hit 40 years of production and continues to offer excellent new opportunities for development."
Ken Neupert, Apache's Operations Director points out that, "our success with the drill bit is complemented by our industry-leading production efficiency. Apache's operations teams achieved approximately 90 per cent production efficiency in 2015, which helped to drive down field costs. The trend continues in 2016 with first-quarter lifting costs under $11 a barrel."
Despite the downturn, Apache continues to explore, drill, sanction new projects and bring on new production. "We continue to aim higher. In addition to being one of the most efficient, large oil and gas operators, we have top-quartile safety performance, some of the lowest drilling costs and excellent project delivery," says Brian Tadeo, Apache's HSSE Manager.
Given the broad focus on all aspects of the process involved, it is no wonder that Apache has been able to grow, and build on the achievements it has already made. Such success doesn't come from a closely guarded secret. Instead, it comes from a company ethos that runs through the heart of Apache and relies on workers who are highly skilled, responsible and trusted. The employees are proud of the way the company is run. Mark Richardson, Apache's Projects Group Manager, observed, "Apache have the same tools, technology and techniques as any other operator in the North Sea. We have the same constraints such as aging assets and a workforce heritage from BP and ExxonMobil. The differentiator with Apache is its leadership, culture and behaviors. We have lean teams who are adaptable, flexible and fast moving. Most importantly, we empower our people to make decisions."
Even though there is a clear focus on hitting targets, Apache is just as determined to not do so at the expense of safety. Brian Tadeo made this clear, "Safety is our top priority. Safety, compliance, production – in that order. That is our key message. Because if you don't get safety right, nothing else matters."
Apache has demonstrated that when placing safety at the forefront of its priorities, the business success is even greater. "There is no room for taking risks with safety, but there are rewards in correctly managed commercial, contractual and project risks. When combined with maximising the competence of the supply chain and operating with a sense of urgency, we are able to deliver our results. Because we are able to make solid risk-based decisions, our benchmarked projects are significantly cheaper than the average for the North Sea and are delivered at twice the pace," says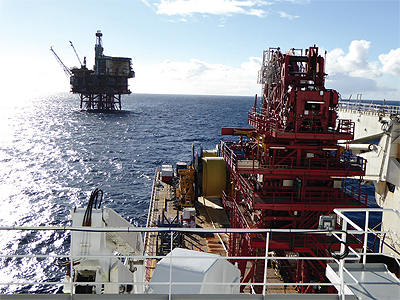 Richardson.
Two recent examples of successfully delivered projects are the Beryl field's Far North Terrace (FNT) subsea oil tie-back and the Forties Aviat subsea gas tie-back. FNT, a single well subsea tie-back, is located approximately four kilometers (km) southwest of the Beryl Bravo platform. The newly installed facilities include an eight inch production and four inch flexible gas-lift flowline, control umbilical, standalone subsea control system and topside modifications on the host Beryl Bravo platform. The project team worked to safely deliver the facilities for production in an accelerated timeframe against a tight budget. The final result was first oil in April 2016, just 12 months after drilling the well. This excellent result was achieved with an exemplary safety record, well ahead of schedule and over 30 per cent under budget.
The Aviat development, which came on stream in June 2016, is forecast to provide a life-time supply of fuel gas to the Forties field and includes a 23 km eight inch gas production pipeline, a four slot production manifold, a subsea isolation valve, a control umbilical, a new subsea control system, a six inch flexible riser and major topside modifications on the host Forties Alpha platform. This project was safely delivered under budget and ahead of the scheduled first gas date.
There are many promising future opportunities in the Apache North Sea portfolio. "We are presently delivering Callater, a major oil tie-back to Beryl Alpha. It was discovered in October 2015 with first oil expected mid- 2017. We are also preparing Corona, a heavy oil development, for sanction this year. Corona is a major project development in the Tertiary injectites, which surround the Beryl field. This exciting activity is prolonging the life of these existing fields and highlighting the future potential of the area Apache is very optimistic about its North Sea opportunities," noted Richardson.
Apache North Sea Ltd
Services: Oil & gas exploration and production company