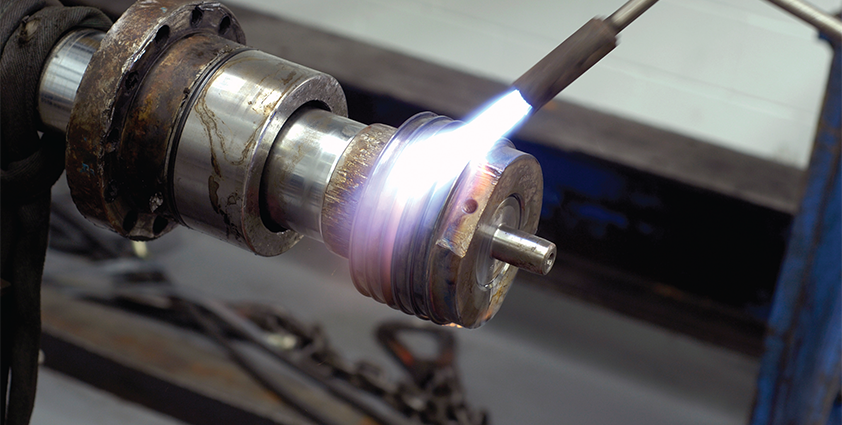 A history of expertise
Established in 1986, Apex Hydraulics Ltd initially provided repair services for the mining and mineral extraction industry.
However, it quickly recognised there was a huge demand for manufacturing and sales and with its excellent reputation within the industry, successfully diversified into these key areas. Following continued success, the business is this year celebrating 25 years of expertise and innovation.
Apex today prides itself on its ability to provide customers with a one-stop-shop service for the design, manufacture, supply and repair of a wide range of hydraulic and pneumatic equipment. With a proven track record of embracing change, Apex has grown to be one of the most groundbreaking and innovative companies within the hydraulics industry. The repair and manufacture of cylinders is one particular area that has benefited from Apex's expertise.
Problems with poor design and durability of cylinders are nothing new to the industry, and of course to Apex. So, following a consultation with one of its key customers, Apex's design team were introduced to identify ways of improving the design and manufacturing capability. Apex easily achieved this, and with the collaboration of its design team and workshop, it was able to extend the service life of the cylinders significantly. Apex believes the key to its success is the flow of knowledge between these two areas of the business, with just the right mix of academic engineering expertise and seasoned hands-on experience.
Apex has easily transcended from deep mining into the oil and gas industry due to both industries experiencing similar challenges, particularly their remoteness of operation. The failure of a cylinder can have a massive impact on production, with both underground and offshore being tough environments for a cylinder, especially on the piston coating. For years the hydraulics industry has relied upon hard chrome plating as its preferred option but Apex has been working with customers to provide new improved and cost effective alternatives.
Quality of customer service and fast turnaround are the foundations of Apex's business and it has taken this philosophy and applied it to every aspect of its operation. The team believes that wherever possible a 'never say never' approach must be applied to customers' problems.
Over recent years, Apex has found the demand for its expertise spread across many other industries, including metal recycling, railway maintenance, steel production, oil and gas, shipping, waste management, petrochemical and utility supply markets. It has fully embraced this and now successfully operates across all of these industries.
Apex and Hauhinco working together
Increasingly customers are looking towards water hydraulics as a viable solution for applications where environmental pollution, hygiene, fire safety, or product contamination are major considerations. Apex identified this development and as a result, in 2008, became the exclusive authorised distributer and partner for Hauhinco water hydraulic products in the UK.
Hauhinco is the world market leader in the design and manufacture of water hydraulics and has a similar work ethic to Apex with its quality driven manufacturing facility in Sprockhovel, Germany. This, complemented by an in-depth engineering knowledge, operating alongside Apex's unparalleled customer service, provides a world-class partnership, and collaboration of excellence.
Like Apex, Hauhinco designs products on the basis of reliability and longevity of service. It supports equipment throughout its maximum lifespan without simply rendering good equipment obsolete.
Apex continues to grow
Apex has further increased its manufacturing capacity with the construction of a new 11,000 sq ft unit. Located at its existing 22,000 sq ft site in West Yorkshire, UK, the new structure is a complete stand-alone facility. This additional capacity will enable Apex to completely isolate different manufacturing processes and eliminate contamination at the assembly stage.
With the benefit of a large and well-equipped independent hydraulics workshop, Apex is able to remain true to its initial objective of offering a complete in-house maintenance, repair, and machining service for all hydraulic equipment. Despite the sheer scope of hydraulic cylinders from telescopic to spring return, and hollow, Apex's workshop is equipped to handle all elements of the process. Even cylinders that are now obsolete, thus making it impossible to procure spare parts, can be repaired through the company's ability to directly engineer the parts required.
Recognising operational downtime comes at great expense to its clients, Apex offers a complete seven days a week, 52 weeks a year nationwide collection and delivery service. Although the ideal location for completing repair and maintenance services is in a workshop, Apex also realises that it is not always possible for clients to bring hydraulic equipment into the facility. For this reason it has a team of site engineers capable of problem solving and repairing equipment on location. These engineers are also equipped with portable test instruments to ensure full functionality of the hydraulic equipment ukbefore it leaves the site.
The 'Apex Quality Pledge' covers each of Apex's services. This pledge is given to every single customer and is a commitment by the company that it will endeavour to service its clients' needs better than any market competitor by providing products and services that meet requirements, are delivered on time, and are priced to provide superior value.
Naturally products are designed to meet identified market requirements and to conform to quality standards. However, the Apex Quality Pledge also extends to the technical and administrative practices that support these capabilities. By taking this life-cycle approach to its services, from design concept through to delivery, Apex's superior services place it as world leaders within the hydraulics industry.
The future
These are exciting times for this successful West Yorkshire business, and with the celebration of 25 years of expertise and its passion and unparalleled commitment to excellence, Apex Hydraulics is a company to watch.
Apex Hydraulics Ltd
Products: Hydraulic cylinders