Apex Remington forms two new supply partnerships to increase efficiencies on the oilfield and realize cost-savings for its customers.
Apex Remington Inc. differentiates itself as a piping supply company by focusing on customer service. "We try to develop those relationships into more than just doing a business transaction," Vice President of Operations Harry Smith says. "We want customers to feel like they are part of the solution."
The Tulsa, Okla.-based company strives to be the leading oilfield service and supply company through its people, customers, suppliers, service, technical expertise and profitability. Apex Remington provides anything oilfield-related, including products for tank battery construction and pipeline construction.
"When customers call, we put the product on our trucks and drive it out to the site," says Jeff Conlogue, manager of two Texas locations. "We try to provide the customer service that some of the big companies are lacking, and we are small enough to do that while having the backing of our parent company, Russel Metals based in Toronto."
Inventory in each of Apex Remington's 12 locations is dependent on the needs of the area. "Managers are empowered to treat it like their own business," Conlogue says. "We are not governed on who to go after and what to carry. If we know it's going to sell in the area we can decide for ourselves."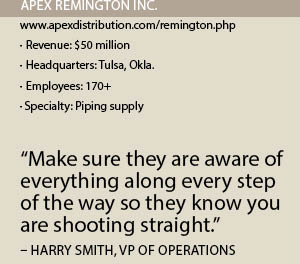 To maintain high-quality customer service, Smith tells his field staff to never lie about a product. "If it will be late tell them it's late," he adds. "Make sure they are aware of everything along every step of the way so they know you are shooting straight. By doing so we are breaking down the trust barrier."
New Partnerships
Apex Remington recently entered into new partnerships with two suppliers to maintain its focus on excellent customer service. The company now offers its customers the latest flare that reduces gas emissions and prefabricated skids of equipment to increase efficiency on the oilfield.
Developed by Bastrop, Texas-based D.B.I. Equipment, the flare is new to the industry and helps combat emissions. "It is Method 22-compliant and meets all EPA standards," Smith explains. "The way it's designed, the one flare replaces two flares that were needed on site."
Apex Remington is working towards exclusivity in representing the flare as it continues to gain marketshare. "There was hesitation, so we put test flares in the field and it does what it says it does," Smith attests. "The biggest benefit is that the one replaces two flares for a smaller footprint on the well sites and saves money. It also eradicates gas so much better."
Apex Remington has been selling D.B.I.'s flare for about a year and has had a lot of success with it, Conlogue says. "When they see it, people are very excited about it," he adds. "It's got technology that allows us to burn more volume at a cleaner rate, so you are talking a 98 percent VOC destruction rate or better."
The company's second new partnership increases efficiencies on the oilfield through prefabrication. Big Iron, an Elmore City, Okla.-based company specializes in prefabricating equipment skids. "This is a brand new offering for Apex, but the whole modular skid concept has been around for a couple of years now. It's starting to gain traction because the end-users realize the benefit and cost savings," Smith notes.
Big Iron skids are prefabricated, turnkey units that can be dropped on site in the oilfield and after a couple connections are ready to go. "In the past, and it's still going on, welders and field hands are out there manually putting this puzzle together piece by piece. It can take two days to two weeks to get it done. With a skid you can knock it out in a couple hours. It reduces man-hours by 80 percent."
Moving forward, Apex Remington plans to expand its footprint and is looking at Ohio, Colorado, New Mexico and possibly Utah, Smith says. "There are a lot of areas we are looking at to make sure it makes sense," he adds. "If you build it, we want to do it smartly."