Setting the standard
Specialising in non-destructive testing (NDT) since 1937, when founder Lambertus van Ouwerkerk realised x-ray inspection techniques could be used to check welds on ship hulls, Applus RTD boasts nearly 80 years of experience in the evaluation of materials, components or systems in the shipping, construction and oil and gas industries.
Remaining at the forefront of new techniques and customised solutions, Applus RTD has been a pioneer in the use of non-destructive examination methods such as magnetic flux leakage, radiography and ultrasonics. Today a global leader in NDT, the company sets standards through the delivery of unrivalled high quality services and individually tailored solutions that help meet
construction project timelines or maintain productivity and cost-effectiveness for every installation.
Previously featured in sister publication Shipping & Marine Magazine in August 2011, the company has continued to grow and develop over the last three years as part of Applus+ Group, a global leader in inspection and testing for the oil and gas industry, vehicle inspection, engineering and testing for the automotive sector and laboratories targeting industry, and construction and payment methods.
Martin Pot, director of global project services of Applus+ RTD discusses: "We are a truly global company. This is the result of all Applus RTD acquisitions joining forces internationally to become the one organisation we are today. Also we have recently gone from being a privately owned company to stock listed, fuelling further growth. Meanwhile, our main developments have been in the growing economies and large oil and gas projects across the world; these opportunities are predominantly North America, where we have established substantial businesses. In addition, the Middle East West and East Africa offer great opportunities at the moment."
Consistently adaptable to market demands, Applus RTD is able to deliver a comprehensive range of services to its global customer base, 90 per cent of which is within the oil and gas industry. The company unveiled the latest inspection application in its ground-breaking NDT range in June 2014; developed in partnership with Delta SubSea, the RTD INCOTEST (Insulated Component TESTing) deepwater system utilises state-of-the-art pulsed eddy current technology, which ensures the reliable detection of surface and subsurface corrosion in pipelines with both thin and thick walls.
"The external inspection of pipelines is already an integral part of our business, but, because there is an increasing need for subsea inspection and because our clients asked us to do so, we have tapped into this business through the formation of a strategic alliance with an ROV operator. Our technology, INCOTEST, is now deployed on their ROVs, which means we can jointly perform inspections on subsea pipelines. RTD INCOTEST enables us to perform corrosion assessments through marine growth or other materials that tend to prohibit seeing the condition of a pipeline; this, in combination with our internal inspection capabilities, allows us to deliver a full portfolio to our customers," highlights Martin.
Indeed, it is this drive to bring new technological solutions to the market that is a key strength for Applus RTD, as NDT technical authority Niels Pörtzgen notes: "Our company is technology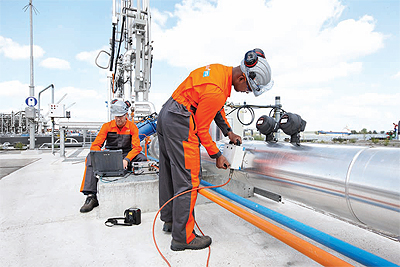 driven; we have a good communication network with our clients and therefore know what kind of inspection challenges they are facing; based on these issues we built our development programme. Furthermore, we also see there is a lot of technology in other application fields, which we then scout for their technology and see if it can add value to our services in advance of our clients requesting it. It is important to us to not only respond to our client's demands, but to also anticipate issues by having new technology available."
An example of this adaptability to the market is the company's DTI (Difficult To Inspect) tools that will be presented at the International Pipeline Conference & Exposition in October 2014, as pipeline inspection authority at Applus RTD, Jan Pols states: "We have been performing internal pipeline inspections with our broad range of tools, but are now entering the free swimming market, which requires technology of a higher resolution. Our state-of-the-art tool will collect much more information from the pipeline than any other tool that is currently on the market, and can thus provide an enhanced service through astounding performance and resolution. There is a lot of demand in refineries and storage areas, while the current applications that can be utilised in these challenging situations are very limited; this is why our customers came to us for a solution."
This competitive edge is complemented by the company's strong global presence, as Martin adds: "We have a good network of offices based around the world, where we can not only deliver NDT services locally, but can also transfer knowledge from one part of the world to another."
An associate member of the International Pipe Line & Offshore Contractors Association (IPLOCA), Applus RTD helps to set standards within the industry through discussing the NDT perspective and presenting improved plans that will benefit end clients. It is this commitment and passion for delivering the best possible solutions that has cemented the future growth of the company over the coming years, as Martin concludes: "We have been involved in the most complex inspection and pipeline construction projects over the last decades, which will also be the case over the next two to three years. In most projects, we will be involved one way or another."
Applus RTD
Services: Non destructive testing