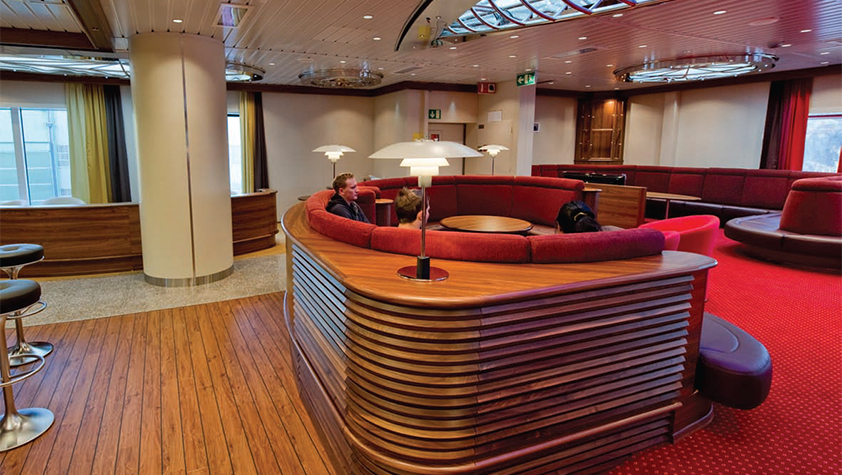 Good living
In what appeared to be a complete departure for the business after 28 years of shipbuilding, in 1974 Apply Leirvik shifted its focus over to the development of living quarter modules for offshore platforms.
Almost 40 years on this has proved to be a shrewd move, particularly in light of the recent struggles of the shipping sector compared with the more buoyant oil and gas industry.
The company quickly established a reputation for its uncompromising quality, and know-how through the delivery of several living quarter and utility modules throughout the 1980s and 1990s. This includes the landmark Snorre living quarters project, which at the time was the largest aluminium structure ever built for the offshore industry. It also formed the basis for Apply Leirvik's research and development programme surrounding the use of aluminium in offshore modules.
Today Apply Leirvik is the leading EPC contractor for offshore living quarters encompassing everything from engineering and fabrication to assembly and installation. Having historically concentrated on the North Sea, when it comes to oil and gas applications the company has arguably delivered more living quarter modules into this region than all its competitors put together. In fact the first ever accommodation module delivered by Apply Leirvik over 35 years ago is still in use today on Statoil's Statfjord A asset.
Of course, in the years that have followed the requirements for offshore living quarters have moved on significantly as managing director Lars Solberg attests: "The standard of living has continuously improved in terms of things like noise reduction, safety, evacuation systems, and Opex requirements. Living quarters today are more sophisticated than they were even ten years ago, and as Apply Leirvik we are known for our quality high-end solutions. This is the reason why our clients continue to come back to us for their offshore living quarter needs.
"Whilst there are many companies that make living quarters this is often as one of many other activities. At Apply Leirvik we have one focus only, which is living quarter modules, covering all aspects from initial studies and FEED to engineering and fabrication. This means that we have developed a unique competence that none of our competitors have," he continues.
Furthermore in 2011 Apply Leirvik acquired a 50 per cent stake in Singapore-based Aluminium Offshore, which is the world's leading provider of aluminium helicopter decks. This has given the business another means of differentiating itself in the market by offering integrated solutions in living quarter modules and helicopter decks. "Whilst we sell both steel and aluminium quarters, we believe that the latter have some particularly outstanding features compared to steel," notes Lars. "As with our aluminium helicopter decks, they offer both weight savings and low maintenance, and are better for usage in cold climates so we believe there will be a growing market for aluminium living quarters. Last year we sold 40 helicopter decks, and we expect to surpass that figure for this year."
Switching his focus to what has been happening more recently in the business Lars describes how Apply Leirvik has increased its global penetration: "We have established ourselves in both Canada and Houston, partially as a result of our award of the contract to supply living quarters to ExxonMobil's Hebron field in offshore New Foundland. Whilst this is a standard modularised living quarter concept, because of New Foundland regulations regarding local content we have had to change our method of working. Typically we fabricate modules at one of our factories and then ship them for assembly at the client's location, but for this project we have established a joint venture with a local partner NECL to carry out the work.
"We believe that joint venture working will be an ongoing trend as there are several other key markets such as Brazil and parts of Asia where the requirement for local content increases. Therefore we will probably look to form other partnerships and joint ventures so that we can meet that content requirement," he adds.
Back in its long established market of the North Sea, Apply Leirvik has also been successful in securing a number of project awards on the UK and Norwegian Continental Shelves. "In total we have around 2.6 billion NOK of orders lined up, which is an all time high," highlights Lars. "Our most recent delivery was the living quarters for the Gudrun platform for Statoil. We had very good feedback regarding this project due to its on time delivery and high quality, and were even nominated for Statoil's HSE prize because of our excellent results on that front.
"The analyses that we've seen from specialists working on global oil and gas trends suggests that there is going to be ongoing growth of between three and five per cent in the market until at least 2019. When we look at the individual projects coming up this seems to confirm that predication so we see a stable and growing market in the next five years.
"At present we're focusing on bidding for five major upcoming projects including the Johan Sverdrup and Johan Castberg developments in Norway, as well as others in the UK and the Caspian Sea. Some of these will be awarded in 2014 but this process has already begun so we are hoping to see some success in these as well. We are seeing a mixture of works in both mature areas where discoveries are still being made, and emerging markets within more challenging locations which increases the requirements towards living quarters," he concludes.
Apply Leirvik
Products: Offshore living quarters