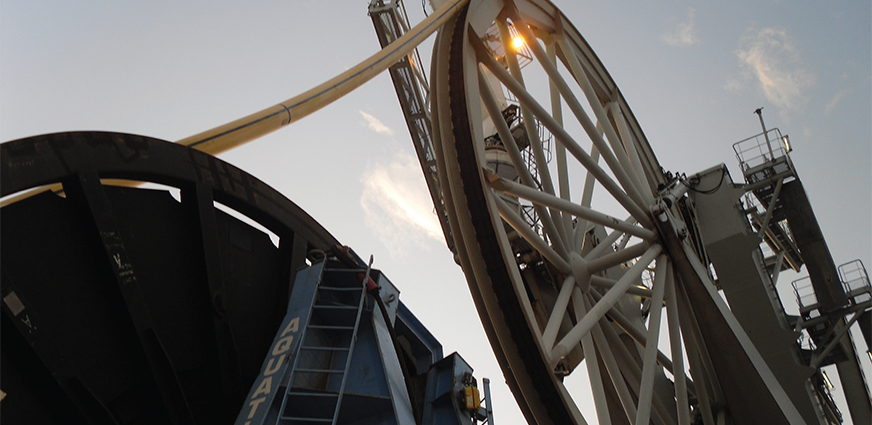 The reel thing
Aquatic is an international provider of powered reel solutions to the oil and gas industry.
Established over 30 years ago, the company has built a reputation for responsive, straightforward project management and high quality products. Having been acquired by the Acteon Group in 2006, Aquatic is expanding its capabilities and geographic markets of its business.
The company's vice president of operations, George Mackintosh, explains what Aquatic can offer: "We have an extensive range of equipment for the installation and spooling of flexible flowlines, umbilical's, cables, wire ropes, coiled tubing and other spoolable products. Our capability ranges from small winches to 11.4m diameter reels, three to 50Te tensioners, and our AQPR-02 drive system has a 'reel plus product' capacity of 500Te enabling us to provide tailored solutions for all spooling requirements. With our purpose-built workshop in Peterhead and yard facilities in Peterhead, Singapore and Amelia in the USA, we offer complete storage, inspection and management services for spare pipeline, umbilical products and reels."
The AQPR-02G-500 George mentions, has recently been unveiled by the company in an effort to meet increasing demands in deep-water exploration. Based on the 400Te drive units, the new reel drive has undergone a number of structural improvements enabling it to handle increased capacities. The most significant of these was the use of stronger materials, required because an increased distance from the point of action from 11.4 metres on 400Te models to 12.3 metres on the AQPR-02G-500 means an exponentially greater amount of stress is applied to the unit. Precipitation-hardened stainless steel also replaced tool steel for the central axle to ensure safety standards would be maximised.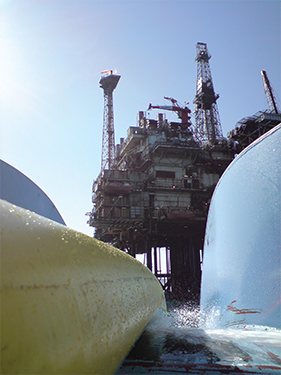 Compatible with many of Aquatic's other products the AQPR-02G-500 is ideally suited for increasingly challenging deep-water exploration activities. The reel drive has already seen real world application through a number of clients including Technip Norge, which alongside additional customer services offered by Aquatic, found it to be more than adequate for subsea flexible cable installation.
There have been other recent additions to Aquatic's portfolio too, and George explains one such new product: "We have just added a 50-tonne tensioner to the extensive range of powered reel systems and ancillary equipment. The AQTT-10C-50 is a four-tracked caterpillar system for the handling of flexible, umbilicals and steel pipe. It was fabricated at the company's Peterhead facility and has already mobilised for a project in Australia. This tensioner is the third in a series of tensioners that can be operated in two-track or four-track mode, depending on the diameter of the product and required pull."
Aquatic's extensive ranges of products have been designed to allow dismantling for transport in standard 40 ft shipping containers, therefore reducing transport costs and logistical issues. "The biggest challenge for any equipment manufacturer and service provider is speed of delivery," George explains. "By enabling it to fit into standard containers, Aquatic kit can be installed on a wide range of vessels from more economical quayside locations. This is an ideal solution to the problem of logistics and cost faced by operators as it provides efficient mobilisations and demobilisations."
This type of forward thinking is a hallmark of the company, transforming it from being merely an equipment supplier into an engineering firm and tailor of solutions. With dedicated technical, project management and design teams in its ranks, it is able to provide comprehensive service from initial planning stages to overseeing project execution.
"Aquatic is prepared to ask difficult questions to be aware of the issues that our clients face," George explains. "If these can be understood, we offer to bring solutions to the fore and provide options in order to resolve project issues. For us this means looking at our equipment range and services then adapting them for a purpose-designed and tailored resolve."
This ethic has seen the company work with a wide range of oil and gas operators throughout the world including Technip, Acergy, Subsea 7, Saipem, CTC, SubOcean and Bibby Offshore, all of which rely on the company's reliable equipment to execute important projects. By showing the industry that its products and support are an important addition to its business, Aquatic has successfully generated its own market.
George concludes with an optimistic outlook on the future: "Our vision is to be the preferred partner in providing equipment and services related to handling reeled products. This will be achieved by continuing to service our customers in Europe, Middle East and Africa (EMEA) region, leveraging our existing capabilities into the Gulf of Mexico, Asia, Australia and Brazil, and to continue working with sister companies in the Acteon Group."
Aquatic
Services: Powered reel and tensioner hire