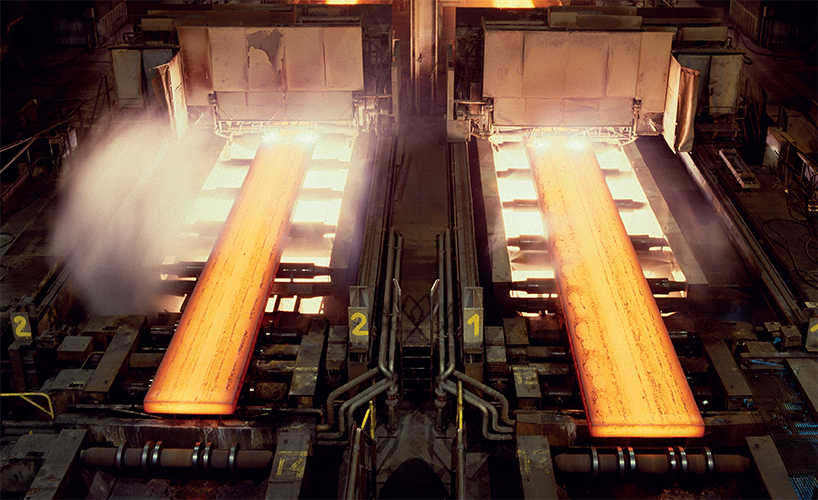 The steel of tomorrow
Widely considered to be one of the world's best-performing steel operations, ArcelorMittal Belgium is making the pioneering transition to carbon neutral steelmaking
Part of the ArcelorMittal Group, ArcelorMittal Belgium operates sites across its home nation, in Gent, Liège, Genk and Geel. A vastly experienced innovator of sustainable steel products for a wide range of applications, the organization is not only focused on creating the steel of tomorrow, but in contributing to a better global society.
One way in which ArcelorMittal is working towards a better future is through a transition to net zero emissions along three pathways:
Further improvement of material and energy efficiency. ArcelorMittal Belgium has built up a tradition in this area as the company has been forced to be energy efficient due to the bottleneck of the blast furnaces. By constantly improving its energy efficiency, ArcelorMittal Belgium can use more scrap and produce more steel with the same quantity of hot metal from the blast furnaces.
Development of a Smart Carbon Pathway at the heart of the circular economy:
Replacing fossil carbon with green and circular carbon. Examples are the use of waste wood from container parks and of plastic waste
Transforming waste gas into useful chemical compounds
Separating CO2 for further use or temporary storage
Embracing hydrogen as a reducing agent
By implementing this roadmap, ArcelorMittal Belgium will make a significant contribution to ArcelorMittal Europe's ambition to reduce CO2 emissions intensity by 35 percent by 2030 compared to 2018 and to become carbon neutral by 2050. Though the task ahead is challenging, CEO Manfred Van Vlierberghe believes that the organization has a number of important factors in its favor, including its workforce and the Gent site itself.
"I've visited many plants around the world, but what we've got here is different," Manfred explains. "We have a unique workforce, a unique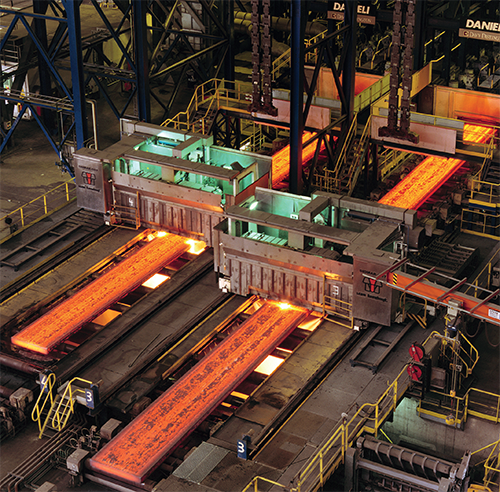 drive, and a unique knowledge and productivity.
"Located in Gent's North Sea Port region, we have access to an ecosystem that contains petrochemicals, chemicals, power and agro-food sectors, which is a pretty rare constellation. Then, the plant itself has a fantastic layout and is capable of making steel from A to Z – from coal and ore through to finished products.
"The real beauty is that the whole material flow of our supply chain is extremely well-balanced," he continues. "That means we always have exactly the right amount of coke and sinter capacity to feed a blast furnace.
Then, the blast furnaces produce the perfect amount of hot metal needed to make slabs and steel. Nothing is wasted, and that makes us very energy efficient.
"In terms of transport cost, yield, service, and quality, everything is well-planned. When you top that with our proximity to the University of Gent, which provides us with excellent engineers, you are looking at a plant with a culture and knowledge that is unrivalled."
Undeniably, the capabilities of its plant and the strength of its workforce have combined in recent times to ensure that ArcelorMittal Belgium remains a revered part of the industry
Producing more than 5.5 million tons of steel annually – more than the entire yearly consumption of Belgium and Luxembourg – the company's Gent site is so deeply integrated that it can now produce its own electricity with the waste gases from its steel processing.
"Our recycling efforts involve selling our site's byproducts to other industries that need them," Manfred points out. "For example, one byproduct of our blast furnaces is slag. Along with 5.5 million tons of steel, we make 1.3 million tons of slag, which is used by the cement sector. Of course, the integrated nature of our plant means a lot of these byproducts can be used in-house, which lends, once again, to our self-sufficiency."
ArcelorMittal will convert Gent's Blast Furnace A into a DRI facility running off hydrogen as the reductant rather than carbon. Working closely with the Belgian government and Flanders Authority, both of which have helped with funding, the business is investing $1.1 billion into this facility.
Early in 2021, Blast Furnace B saw the beginnings of a €195 million relining project to better accommodate the use of waste wood and plastic instead of coal (smart carbon pathway).
"Due to our tradition of energy efficiency (even before our new technology, we were among the best in the world in terms of CO2 emissions and energy usage) we have always looked for ways to make more with less, reinventing ourselves when it comes to our energy footprint," Manfred declares. "It really is part of our DNA.
"It was 2011 when we started to think about what we now call carbon capture and utilization (CCU). We started on waste with the use of blast furnace gas and industrial gas, creating new products with the carbon held within. After that, we teamed with LanzaTech, developing our technology and transforming industrial gases, via a fermentation process, into bioethanol. It took us some time, but we are now working on plans to implement this and other CCU related technologies."
Continuing in this manner, in 2022, ArcelorMittal will commission its Steelanol Project. The first of its kind, the venture will see the construction of a €184m bioreactor plant to convert carbon-rich waste gases to bioethanol. Set to be commissioned in the third quarter of 2022, the site will produce 80 million liters of sustainable ethanol for use in transport and chemical production.
"The beauty of the Steelanol Project is that ethanol is not only a fuel that can be used for vehicles and the like, but it is also an important feedstock for the whole chemical industry," Manfred reports. "Ethanol can be transformed into ethylene and ethylene is a basic component for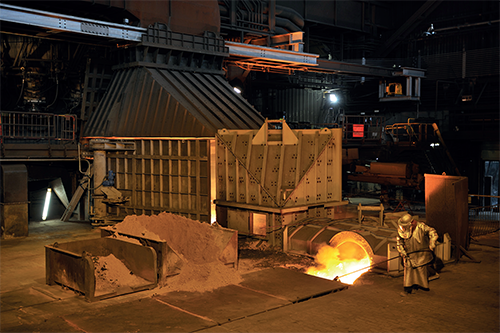 the chemical sector. I think it's vital for us to help lead the way in connecting basic industries by using byproducts of one sector as feedstocks in other sectors. That is our passion and that is part of the Smart Carbon strategy we are developing.
"Our next step now is to re-use end of life chemicals as raw material in chemical processes. Six-hundred million tons of chemical products are being made every year that are essentially combinations of carbon and hydrogen. At the same time, 1.9 billion tons of steel produced in a year creates carbon as a byproduct. The best part is that the carbon byproduct the steel industry produces matches with the carbon that the chemical sector needs to make its products. By coming together and sharing these resources between sectors, we are not only furthering our circular, Smart Carbon mission, but also helping to solve climate, CO2 and waste challenges."
Another core element of ArcelorMittal's journey towards better sustainability in Belgium is the Torero Project. A €50m demonstration plant converting waste wood to bio-coal for injection into Blast Furnace B, the project is due to be operational by the first quarter of 2023.
"The Torero Project sees us replace fossil carbon with end-of-life wood waste that is torrified as a pre-process," Manfred notes. "This is then transformed into bio-coal to be injected into the blast furnace. It's a nice illustration of circularity and fits side-by-side with Steelanol.
"In short, Steelanol is an example of the output of the circularity process, where CO present in the siderurgical gas is transformed into new products. Torero, on the other hand, is a great example of the input part of the process. Both, ultimately, are contributing to the reduction of CO2 emissions, and both are strong examples of our Smart Carbon pathway."
With an eye to the future, and on top of its seemingly endless collection of new projects, ArcelorMittal Belgium is now turning its attentions to the long-term health of its site. Headlining these objectives is a plan to create a 'Green Valley'on 150 hectares of land in Rodenhuize North.
ArcelorMittal Gent currently has ten wind turbines; six new wind turbines are under construction and will be operational by mid-2022.
Once in place, Green Valley hopes to establish close partnerships with local industries, using their waste to enhance regional circularity.
"At present, we have a 150-hectare piece of land not in use and we are going to use that for the production of ethanol," Manfred confirms. "More than this though, we want to make other base components for the chemical sector, like methanol.
"If we combine CO2, which we have in pure form available at our site, with hydrogen – preferably green hydrogen – then we can make methanol. This process not only reduces our CO2 footprint, but helps create a vital element of chemical sector feedstock.
"As we enter 2022, we are looking more and more at developing the next generation of processes. For example, we have studied the use of microbes to make isopropanol – another of the base components for the chemical industry," he remarks. "We have great third-generation biofuels, including the Steelanol type of ethanol based on waste gases, and now the intention is to further develop and rollout these kinds of technologies, fermentation processes, and base components for the chemical sector, as well as install here, in Gent, methanol production from CO2 and hydrogen."
With so much to work on, ArcelorMittal Belgium is set for a busy 2022 – a year that could transform the future of the organization and all those it deals with. Multi-tasking, Manfred argues, will be key.
"It is important that, next year, we make progress on our various different paths in parallel," he asserts. "Whether it is Smart Carbon, the production of ethanol, the launching of the next installations, or new capacities for fermentation processes, we've got lots to be getting on with.
"As I mentioned, we want to complete engineering of the new installations that will replace our blast furnace A, as well as embracing hydrogen in the form of natural gas or pure hydrogen. The transformation of a base industry like steel towards a Smart Carbon facility will, and must, embrace electrification, hydrogen, CCS and CCU, and that is what we are trying to do in a very realistic and balanced way.
"In a wider sense, we know that hydrogen is definitely going to be part of the future roadmap for society, but we also know that a lot of work has to be done to realize green hydrogen and green electricity. Starting with natural gas, we are replacing a lot of carbon with hydrogen, and in making our installations hydrogen-ready, we can incorporate green hydrogen into our processes when that time arises. Even now, while that technology evolves, our hydrogen-ready facilities are already drastically reducing our CO2 footprint."
Determined to see the company's vision through, Manfred is excited about the future of steelmaking at ArcelorMittal as the firm looks to take the lead at the center of a circular, CO2-free society. Without a doubt, there is a paradigm shift in action, and ArcelorMittal Belgium is an influential part of it.
"We have secured a position at the center of a circular ecosystem and we hope that, from this platform, we can not only play a role in Europe's future, but a leading role in the future of the world when it comes to sustainable working," Manfred states. "I think it's important to work with the resources you have and that's what we are trying to do. Yes, we could use hydrogen from solar energy in the desert, but by doing that, we would not be taking advantage of the strengths we have in our own region. In Europe, and here in Belgium, we have lots of waste that can serve as a raw material. We also have lots of knowledge. By combining these things, and by leveraging our strengths, we can work in better, cleaner ways for good."
ArcelorMittal Belgium
belgium.arcelormittal.com
Services: Steelmaker