Thinking clean
"We are currently in a position where we can either spend the next 20 years playing around in R&D and retire, having achieved what, in our view, would be very little, or we can push really hard for the promotion of clean technology to drive a very tangible positive change across an entire society." In one sentence, Dr Ben Todd – the visionary founder and CEO of Arcola Energy, outlines the ambitious, almost larger-than-life, task ahead of the systems engineering company and Tier 1 supplier, which specialises in hydrogen and fuel cell technologies.
Formally founded in 2010, Arcola Energy has been running fuel cells since the installation of its first system in 2007; and has always focused on bridging the gap between the companies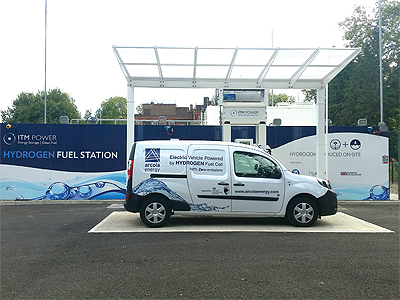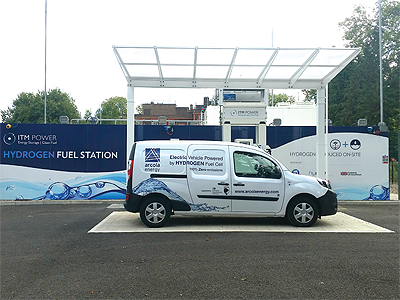 developing clean energy technologies and the end users wanting to put them into use. "I have been part of the fuel cell industry for about 20 years, first as a technology scholar looking at extracting hydrogen from diesel, and later in my PhD in Cambridge, working on the Rolls-Royce solid oxide fuel cell system, which is designed to be combined with a gas turbine," Ben says. "After my PhD, working in consultancy, I saw for myself how difficult it was for a company to get its clean-tech product into the market. Technology companies would rely on generalist consulting firms to deploy their products, but often the products did not fit the application requirements and the consultancies did not have the relevant expertise to get the best from the technology. So, I decided I would set up my own business with the simple idea of being genuinely useful – neither seeking the glory of technology invention, nor aspiring to be high paid consultants, just relentlessly doing whatever it takes to get hydrogen and fuel cells into the market."
Since day one of its existence, Arcola Energy has consciously been looking to foster long-term relationships with everyone the company was set to work with. "We are not backed by investors and do not take on unrelated commercial work, so in order to build the business, we had to develop strong partnerships within the industry, based on being immediately useful. We are proud to work with leading suppliers like Ballard, ITM Power, and BOC, as well as with Symbio FCell, who we represent in the UK. In fact, the Renault-approved Kangoo ZE H2 fitted with a Symbio hydrogen fuel cell is presently the only commercially available fuel cell electric commercial vehicle in the country," Ben points out.
He goes on to discuss the wide range of benefits hydrogen and fuel cell technologies offer: "A hydrogen fuel cell electric vehicle (FCEV) is similar to a battery electric vehicle (BEV) – fuel cells and batteries are 'sister' electrochemical technologies. But the technology is more suited to bigger vehicles, to uses where you need to stay on the road longer before having to refill, and where you need the practicality of refuelling quickly. The greater range comes from the higher energy storage density of hydrogen fuel compared to batteries. Filling takes a just a few minutes from distributed hydrogen in the same way you fill your car with petrol.
"Using this type of vehicle helps take the pressure on the electrical grid, too. If we were all to switch to BEVs the grid, particularly the local grid, would not cope. There is a long way to go yet, but we believe that using hydrogen as an energy vector, in parallel to electricity, will be extremely useful in the future. To give you an example, if you want to make several buses zero-emission, then
converting them to battery electric is the simplest solution. However, if a whole depot of, say, 100 buses was to be turned into zero-emission, it can be very challenging to rely entirely on battery electric. This is where we can step up and reassure people that we can create and distribute hydrogen fuel as a viable, and complementary, alternative," Ben explains.
In recognition of the rapid ongoing expansion in both the BEV and FCEV markets, Arcola Energy recently acquired 15,000-square foot newly-built premises in Knowsley, Liverpool City Region, which will house the company's manufacturing, installation, and maintenance facility. Ben comments: "The new site will allow us to build, install, and service hundreds, and soon thousands, of zero-emission vehicle powertrain systems, making us unique in this respect among Tier 1 suppliers in the UK. It is strategically located in an area where we have aspirations to grow the fleet of buses we are looking after, as we have now entered a partnership with Alexander Dennis – the world's largest double-deck bus manufacturer – to produce and install hydrogen fuel cell systems for a new fleet of buses that will be deployed in Liverpool City Region.
"Our in-house engineers collaborate closely with our vehicle partners' engineers to put the whole package together, so that the bus is safe, compliant, easy to maintain, has the longest possible lifetime, and the lowest total cost of operation. I think it is important to clarify that our job is not to invent the latest hydrogen production method or fuel cell technology, but rather to do the critical power management system optimisation and vehicle integration details necessary to keep FCEVs on the road for as long as possible, driven by our goal of contributing to a zero-emission future," he adds.
Returning to the significance of Arcola Energy's new facility, Ben also emphasises the new capability it enables – to be a single point of contact for both the OEM and the operator for vehicle maintenance. "We will be able to offer a holistic powertrain support within hours, because we are based 25 minutes away from the depot. What is crucial about the service, is that the moment there is an issue with a vehicle, someone with the same level of capability to design and develop it will be there to diagnose the problem and fix it. Our target is to achieve >98.5 per cent availability, with the aim that whenever the operator wants to use a particular vehicle, they will be able to do so with greater confidence than for an equivalent diesel vehicle."
In conclusion, Ben advocates passionately the wider deployment of any type of clean technology, particularly those that show a route to zero emissions, such as battery electric and fuel cell electric vehicles. This links the need for more cleaner transport to address air quality to the constantly growing concerns over climate change and out-of-control CO2 emissions. "Climate change is an enormous and very real issue, but it is difficult to get action on it. But we are seeing the development of massive awareness of topics like air pollution. People understand that if efforts are made to ensure cleaner air, the improvement will be noticed immediately and this is what will drive the market. Our job is to make sure that the solutions we develop to solve that air-quality problem also provide a route to low carbon, so there is no compromise between the short and long-term aims. And that's where hydrogen FCEVs sit alongside BEVs as part of the future fleet.
"My view is that if we make the most of the opportunity, this can lead to concrete global benefits and we hope that, over time, we will grow into a position that will enable us to turn the entire industry. Right now, our outlook is very positive. We have some significant contracts in place already and there are a lot more coming through. Even though we are still relatively small, we see a path to expanding into a huge company in a few years. The market will decide whether we will actually achieve that, but the ambition is there and we are determined to do everything in our power to have the impact we want to see on our environmental goals," Ben concludes, reiterating his resolution to make clean technology the rule, rather than the exception, in the foreseeable future.
Arcola Energy
Services: Systems engineering company and Tier 1 supplier specialised in hydrogen, fuel cells, and batteries