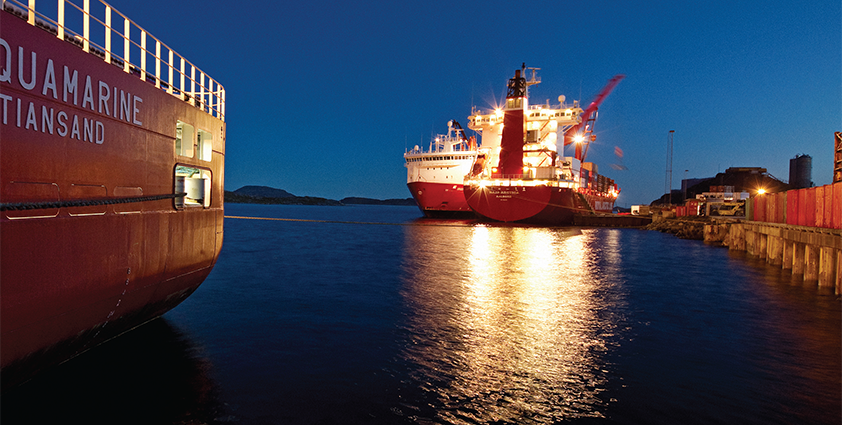 Green lands
Established just two years ago in January 2010, Arctic Base Supply is the result of a powerful new alliance between Danbor Service and Royal Arctic Line targeted at the burgeoning Greenland oil and gas market.
Both companies are renowned in their own right with Danbor Service Group, which in turn is owned by Maersk, operating Denmark's largest offshore base handling a broad range of activities in the offshore industry. The Group's 500 employees are experts at dealing with sensitive and difficult-to-handle goods in a safe manner, even in the unpredictable offshore sector.
In comparison, Royal Arctic Line is Greenland's national shipping line with many years of experience in navigating and operating in Arctic waters. As such the company's ships and equipment are designed for use in these harsh conditions in a full range of transport and logistics solutions. Royal Arctic Line has its own facilities, locations, and personnel in 13 Greenlandic harbours with vast resources of extensive local knowledge.
The synergies created by this new joint venture make Arctic Base Supply a strong and reliable partner with the resources and expertise necessary to support international operators in the exploration and development of Greenland's often harsh climate. Having inherited the cultures of both founding companies, Arctic Base Supply is in the somewhat unique position of fully understanding the conditions present in the offshore business, as well as how to conduct operations in an Arctic environment. The company also benefits from the well-established networks of its parent businesses.
"I think that it is very hard in Greenland to find a similar company to Arctic Base Supply, as the oil and gas industry is a relatively new development in the region," begins Steen Hansen, managing director of Arctic Base Supply. "Therefore the fact that we bring more than 30 years of knowledge from our operations in Denmark gives us a real advantage over other companies."
Certainly, the company has achieved success early on having gained a major contract with Cairn Energy in its first year of operations. With Arctic Base Supply now in its second year of working alongside this major industry player, Steen comments on the benefits to the business: "For the time being Cairn is the only company actually drilling in Greenland but we see many of the other major oil companies such as Shell, Exxon, Chevron and Statoil acquiring licences in the region. It is therefore our belief that there is a lot of growth ahead – not least because a US geological survey has identified potential resources hidden across Greenland.
"Through our contract with Cairn we have gained some valuable competencies in how to operate in Greenland, and are confident that we have some very strong tools that we can use together with the coming oil companies to make their operation in the region as smooth and effective as possible."
Today, Arctic Base Supply is able to offer a full range of services within logistics and support to both onshore and offshore activities of the oil and gas companies. This includes the provision of shore base facilities, crew, accommodation, stevedoring, storage, warehousing, bulk supplies, ice pilots, air cargo, administration, logistics and transportation. The company also has expertise in safety and regulation compliance, and liaisons with authorities. Essentially, Arctic Base Supply is able to deliver a complete solution for the successful exploration and exploitation of these resources in Greenland.
Steen explains how the company has also identified innovative ways to negotiate around the more difficult conditions of Greenland's environment: "One of the key challenges of operating in Greenland is that the number of areas that are capable of being drilled are limited, as is space to lay down equipment and access to infrastructure such as quay sides. Therefore you have to be very specific and accurate in your planning, and it is logistics such as this that Arctic Base Supply is able to assist with.
"With regards to the issue of procuring lay down areas for equipment, we have approached some of the other industries within Greenland to see if they could provide us with some surplus acreage on a temporary basis. Through this method we have succeeded in planning between ten and 15,000 square metres of lay down area, which is a very valuable resource for the oil companies."
Arctic Base Supply is also cultivating other local relationships through the launch if a number of occupation schemes and courses designed to develop and educate the local workforce for operating safely in the emerging oil and gas industry. With oil companies looking to employ a certain percentage of local staff, Arctic Base Supply is helping facilitate the achievement of this target in connection with the Greenland authorities.
Although it has carved itself a notable position in just two years, Arctic Base Supply is still very much a company in its early stages. With expectations high for the future of the oil and gas industry in Greenland, Steen concludes with his strategy for progressing Arctic Base Supply along with the region, and beyond: "We want to be the preferred service provider for oil companies operating in Greenland, and are currently in contact with both other major oil companies with the potential of securing support contracts.
"If we are successful in attracting other companies operating in the region, we may look to accelerate the activity of the company by investing in infrastructure or equipment like mobile cranes to ensure these are available for our partners. So far our focus has been on Greenland specifically, but having gained some valuable competencies in this region we are looking at taking the next step into the other Arctic areas."
Arctic Base Supply
Services: Logistics and support