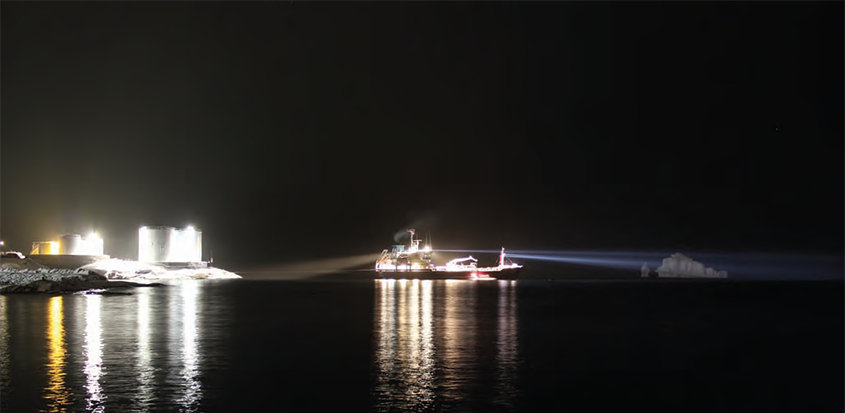 Stimulating growth
Increasingly, the oil and gas industry must turn to remote and ever-more inaccessible locations to drive business and discover new sources of energy.
Arctic Services Group (ASG) was founded in February 2013 to meet the challenges faced by companies looking to operate inside Greenland, where exploration sites and supply ports can be separated by 400-500 kilometres. The company's managing director, Gerth Jacobsen had worked with oil companies within Greenland prior to forming ASG and seen for himself the limitations caused by the country's remote locations to local communities and the operators seeking to work with them.
"Every day is a challenge," he explains. "We are very remote. We cannot just make a phone call and expect support within a few hours. It takes days to travel here, regardless of what field you are operating in, that is a challenge. We worked with Cairn Energy in 2010/11 and because of that we have knowledge of what they want from us here and more importantly, we have knowledge of what services they brought with them because the infrastructure was not available locally. Because there was no way of getting these services, they brought a full service pack with them from Scotland which naturally had a cost associated with it."
ASG's mission is to provide a 'one door' arrangement to oil and mining companies looking to operate in the area. Acting as a parent company, ASG operates three separate sub-companies each operating within a different part of the oil and gas industry. Arctic Offshore Services Ltd is perhaps the broadest of the three, providing services ranging from administrative assistance, office facilities and accommodation, storage facilities, to logistical and security services and bunkers, and catering supply among others. Arctic Transport and Shipping Ltd aims to provide full servicing solutions for shipping and aircraft, while Arctic Work Wear Ltd supplies its own brand of work clothes. The garments are manufactured in Poland in accordance with a customer's special requests and orders have already been delivered to Qeqqata Municipality, BJ Entreprise A/S, Sisimiut, and BS-Build, Sisimiut. The company's services are designed to be sold as concepts, which can be delivered to any region where they are needed and can be tailored to meet clients' requirements as they arise. For example, focusing on food supply, an initial placement may require around 300 personnel, which can be catered for using mobile canteens and local storage facilities. However, as projects grow further investment in larger storage and freezer facilities becomes a priority.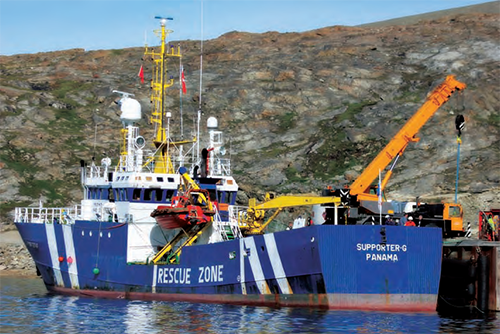 ASG is ready to facilitate oil companies' entry into Greenland's oil market from early test drills through to more substantial operations, as Gerth elaborates: "We do have some small business with oil companies at the moment, when they come here to have meetings, we are able to provide accommodation and cars, but the exciting work will happen in the future. Of course oil companies are never sure when they are going to drill so there is an element of waiting, but I have made our concepts so that they are ready to go, I just have to 'push the button' and we are ready to start."
This compartmentalised approach to how the business is designed offers two advantages. Firstly it allows ASG to offer targeted services, ranging from smaller specific requirements like food supply and accommodation rental to much more comprehensive packages to support more sustained drilling operations. Secondly, it facilitates a spirit of open co-operation, which is a key focus in the company's mission as Gerth explains: "In my experience the way companies up here work with oil companies is very secretive but our plan is to do the opposite. We plan to operate in a very open way. Being open allows us to invite partners in, they can be local, and they can be from abroad. It is to be able to run our business in an open way so partners are free to manage the parts of the business we do not provide and they are running themselves." While Arctic Services Group will act as a parent company and not work with partnerships directly, its sub companies will encourage close relationships with local companies and those o erating outside of Greenland. This way the company will be flexible enough to offer its comprehensive services while remaining able to effectively manage its business.
The relationship the company has with local communities represents a vital component in the running of its business. Essentially ASG intends to invest in local communities and infrastructure to rejuvenate them, stimulating economic growth through the oil and gas sector. It is an ambitious project, but one that has received significant high profile backing. As well as being approached by oil companies and associated firms, the business has been in talks with government ministers regarding its proposal. Greenland has only recently seen a change of government, but the company is working in close contact with the political system. This high level interest is by no means contained to Greenland's borders, as ASG has been featured on radio and news broadcasts throughout Europe, while in France a television show has been commissioned to follow the progress of the company. Currently ASG is involved in training is own staff and local residents to learn new skills and even to speak English to make Greenland an attractive option to oil companies in the near future. It is a strategy, which has already generated a lot on interest politically and one that should see Greenland emerge as an important market for oil and gas in the coming years.
Arctic Services Group
Services: Services for the oil and gas, and mining industries