Devotion to the cause
The word 'ardent' has several meanings, amongst which are 'enthusiastic', 'passionate' and 'devoted'. It is also the name given to a young company that has embedded the ideas of passion, devotion and commitment within its culture in order to offer a more comprehensive solution to the maritime industry. Formed on May 1st 2015, Ardent emerged following the merger of Svitzer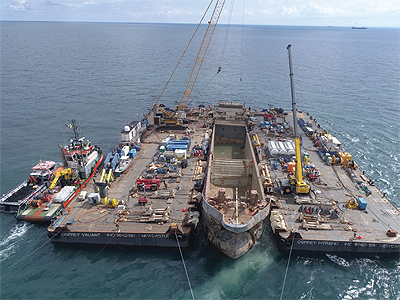 Salvage and Titan Salvage.
"Prior to the merger, Svitzer Salvage was well known for being the salvage division of the Svitzer Group, the largest towage company in the world and a part of Maersk,while Titan Salvage formed part of Crowley Maritime, the biggest carrier in the United States," begins Ardent's Director of Offshore Decommissioning, Renier van den Bichelaer. "What Ardent has achieved is the successful integration of these two entities, bringing them together to form what is now the world's largest company of its kind."
The heritage and legacy behind this new company is very clearly in the field of salvage. It was, of course, Titan Salvage that famously spearheaded the immense task of salvaging the wreckage of The Costa Concordia following its capsizing off the coast of Isola del Giglio in Italy, in January 2012. It has, however, since diversified its offering to include a full range of services, which it has divided into two operational blocks. The first of these has been dubbed 'Emergency Management', and comprises the company's Preparedness and Emergency Response services, while its 'Projects' area encompasses Decommissioning Wreck Removal and Subsea services.
Combination of skills
Ardent's culture is based on five 'pillars' that run through its operations; Safety First,Applied Ingenuity, Strong Partners, Setting Standards and The Long Haul. "Safety, as in any industry, of course comes top of our agenda, while our ability to apply ingenuity to all that we do comes directly from our salvage heritage. We know better than anyone that every incident that results in rescue or recovery is different, and naturally this requires the ability to bring innovative ideas to the table," Renier continues. "This ingenuity has also assisted in our move into decommissioning, as has our ability to bring together different assets and create strong partnerships in order to create commercially successful solutions. We then take all of the above and pair it with a commitment to provide the highest levels of support to our customers all the way through the project being undertaken."
Whenever, wherever and however the industry needs it, Ardent wants to be ready to respond. "For our Emergency Management services, we have worked extremely hard to ensure that we can offer our portfolio of services on a global scale and we are very proud to be able to be onsite within 24 hours once contacted," Renier enthuses. "To achieve this, we have established key hubs on all continents from which we can mobilise all manner of salvage experts/masters, naval architects,diving supervisors and divers themselves, together with all the necessary fast response equipment. In partnership with this, we continue to work diligently to prevent, prepare for and reduce the impact of marine incidents, wherever possible."
The ideal choice
When it comes to the company's Projects services, essentially removing assets from the seabed, its ability to carry out all aspects of a specific project, from preparatory work to removal and recycling, has opened the door to opportunities when it comes not only to wreck removals, but also offshore decommissioning.
"In the decommissioning sector, today there is a growing demand from what has traditionally been a rather conservative industry for service providers that are able to offer a one-stop approach to projects," Renier reveals. "Ardent's portfolio of services, together with our grasp of supply chain complexities and established best practices,makes it the ideal choice to take on work in this rapidly growing market."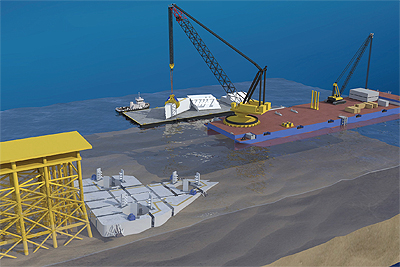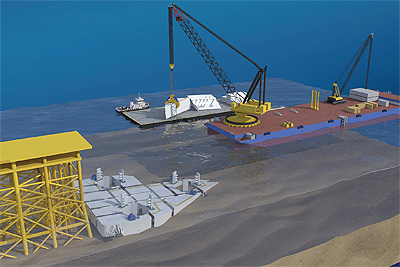 A perfect example of the company's decommissioning capabilities can be found in its recent work as the project manager for the successful removal of two meteorological masts at Dogger Bank, a large sandbank in a shallow area of the North Sea, roughly 100 kilometres off the east coast of England. Having performed a pre-removal survey in September 2017 to confirm the proposed removal procedure of the measuring equipment, lattice towers, platforms and suction bucket monopiles, Ardent led all project engineering, fabrication, testing and execution works.
"The Dogger Bank project highlighted all of our capabilities as it relates to decommissioning, especially when it comes to those with tight timescales," Renier enthuses. "Our contribution involved creating bespoke lifting and pumping solutions, and bringing on-board the right subcontractors to assist us. The result was successful completion ahead of the expected time frame, taking away a lot of pain that the client might otherwise have experienced."
Focus and commitment
Both of Ardent's Projects and Emergency Management entities will be the recipients of increased investments in the months and years to come. While it is impossible to accurately predict when emergency response services will be called upon, it will be the company's responsibility to ensure that its ability to respond to call outs immediately is maintained. At the same time, it will continue working to improve its client's preparedness, not only within its core shipping markets, but also when it comes to the offshore energy industry.
Meanwhile, on the Projects side, further diversification is underway with Ardent's subsea services team establishing a position within the renewables industry such as unexploded ordnance (UXO) risk mitigation works. Decommissioning, as Renier points out, does however remain at the top of the list in terms of immediate and medium term potential. "There is a huge pipeline of potential work coming up in this sector over the next five, ten and even 20 years. This will require a special focus and commitment, but the rewards in terms of the amount of work it will create in the future for us will be worth all the effort."
Ardent
Services: Decommissioning, wreck removal, subsea services and emergency response