Argent Energy's exclusively waste-based biodiesels are already shaking up the energy sector
The biodiesel boom
With pioneering technology at its heart, Argent Energy's exclusively waste-based biodiesels are already shaking up the energy sector
In the early 2000s, when news spread of a new technology, capable of converting high free fatty acids (FFAs) into biodiesel, two UK-based entrepreneurs sensed an opportunity. In 2001, they formed Argent Energy (Argent), and within three years, had built the first Category 1 biodiesel plant, in Motherwell, Scotland. Throughout the next decade, as excitement around biodiesel continued to grow, Argent crossed a significant milestone: the introduction of its high bio-blends into the UK market, including a trial with Transport for London in 2012.
But Argent's story doesn't stop there. The following year, Argent was the subject of an acquisition by Hong Kong- and London-based conglomerate John Swire and Sons (Swire), and with it came a new era of investment. In 2016, production began at a newly built refinery at Stanlow, to a volume of 85,000 tons of biodiesel per year, before Argent's own acquisition of Biodiesel Amsterdam in 2018, a move that brought to a combined capacity of 240,000 tons.
Today, Argent remains a key pillar within Swire's vision for a decarbonized, sustainable future, inputting exclusively waste-based raw materials in order to produce a set of four distinct product streams. "Our primary output is biodiesel," explains Erik Rietkerk, CEO of Argent. "Our B20 and B30 blends combine 20-to-30 percent biodiesel into ordinary diesel, which we then sell to haulers, bus operators, and other non-road mobility companies, such as those in forestry and mining." To this end, it was in December 2021 that Argent became the first biodiesel producer to be accredited under the UK's Low Carbon Fuel Assurance Scheme (LCFAS). Operated by the Zemo Partnership, the accreditation qualifies users of Argent's biodiesel to certify their own fleets as low-carbon.
"It demonstrates that the quality of biodiesel we produce is extremely suitable for decarbonization of hard-to-decarbonize transport sectors," Erik explains, when asked about the award. "By providing a high-quality biodiesel product, we're enabling haulers to decarbonize their fleet today and demonstrate to their customers how exactly how much carbon they are saving. It's very good news for that industry segment."
Argent's second product stream, and the heavier component produced during the process of distillation, is Biofuel Oil (BFO). Typically used as a renewable fuel oil in various boiler and heating applications, Argent has explored the use of modified BFO – combined with either low-sulfur fuel oil or marine gas oil – for the decarbonization of marine vessels. Value-added products then include glycerin, used as a performance enhancer for anaerobic digestion, improving the yields of renewable gas, and fertilizer.
Each of Argent's refineries currently boasts state-of-the-art technology from German-based supplier BDI-BioEnergy, combined with the company's own pre-treatment technology. Despite the success of this partnership, however, Argent is exploring new opportunities, and in May 2022 it announced the expansion of its production capacity in Amsterdam, including the decision to pivot away from BDI, and to focus on its own in-house technology. The expansion is set to add another 440,000 tons of additional biodiesel capacity to Argent's portfolio – part of an initiative to triple the size of the company within the next three years.
"We believe that the technology we've developed gives us an advantage in terms of CapEx and variable costs," Erik says. "That will take shape in a new plant, which we're set to construct in two phases."
The company is also constructing a glycerin refinery, as it looks to sell refined waste-based bio-glycerin to clients across the chemicals industry. "Likewise, we're investing in two more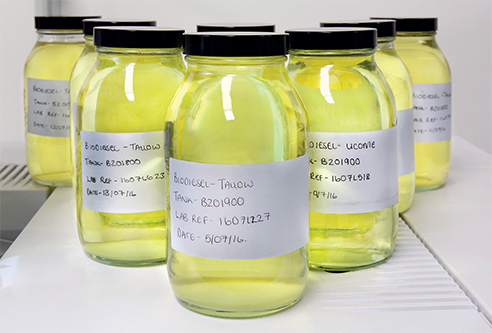 wastewater facilities in Amsterdam and Motherwell, adding to the wastewater investment we made in Stanlow in 2020," Erik reveals. "As a result, all of our plants will have their own wastewater treatment facilities, enabling us to near-eliminate any waste streams."
These investments follow the news, announced in January 2022, that Argent is contributing 20 million euros towards the upgrade of the port at the Hornhaven Amsterdam. The new facilities will consist of two loading and unloading quays, replacing the existing coaster jetty at Argent's biodiesel plant and a new 160-meter finger jetty.
As Erik explains: "In 2019, we entered into discussions with the Port of Amsterdam, because we knew that if we wanted to unlock the potential of the area, we needed to install more nautical facilities. The investment will create a port capable of accommodating barges, coasters, and sea-going vessels, including MR1- size ships, all the way up to 40,000 tons in capacity. It's an opportunity to significantly scale up our import and export capabilities, allowing us to capitalize on new opportunities to bring in raw materials from North America and Asia."
With its Stanlow plant performing well, and the continued rollout of its BFO to the marine sector, the focus for Argent is now to execute on its host of investment plans. "Over and beyond that, we're looking at how we can play an even greater role in the future of biodiesel," Erik concludes. "We need to think about how we can optimize our biodiesel facilities in the UK, and then what other areas of decarbonization should we be active in, and how we can become active in those areas. There's plenty of work to be done, but it's a very exciting time."
Argent Energy
www.argentenergy.com
Services: Biodiesel production