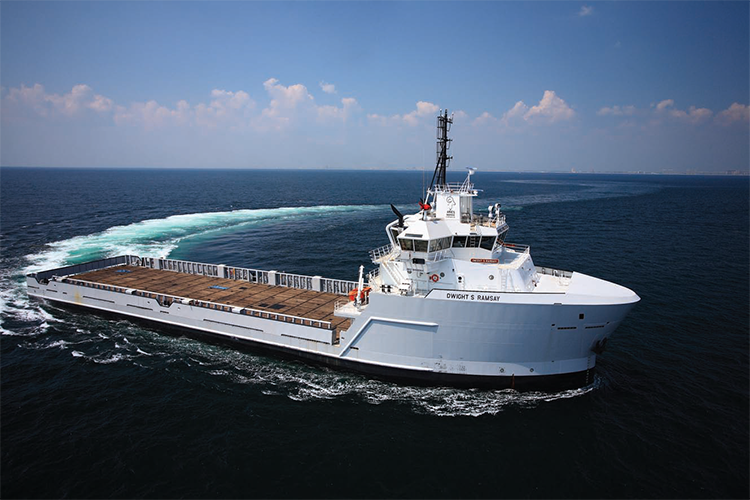 Rammed with opportunities
"Aries Marine Corporation was founded by my father, Dwight S Ramsay, who is still actively involved in the firm as chief financial officer.
We began primarily as the owner and operator of self-elevating workboats before we diversified the company by adding offshore supply vessels (OSVs) to our fleet as well," says Court Ramsay, president of Aries Marine Corporation. "We currently have 24 vessels, 15 of which are liftboats for the offshore oil production and construction industry that range in leg length size from Class 130 to Class 200. We also have nine OSVs that service both Gulf of Mexico shelf operations and deepwater drilling projects; these range in deadweight tons of 1100 to 5553."
The 15 self-elevating work platforms are outfitted with cranes ranging from ten to 125 tonnes and equipped with a Boatracs system, which provides vessel positioning and wireless communication. Accommodations for third party personnel are available for platform maintenance and repair, pipeline repair, workover operations, rig tending, well-hookups and salvage operations. Meanwhile, Aries Marine Corporation's versatile fleet of platform supply vessels are designed to transport cargoes required for drilling and production operations. The vessels utilise below deck space for dry bulk and liquid cargo, while the open deck area is available for tools, pipes and supplies. Being equipped with dynamic positioning, Z-Drives and stern skeg thrusters enables improved station keeping, necessary for safer offshore offloading operations. Furthermore, the company has the flexibility and capability to modify its fleet to suit specific projects.
The privately held Louisiana Corporation was first established in 1981 to own and operate workboats in the Gulf of Mexico. Also known as liftboats or jack-ups, these vessels provide stable, mobile work platforms, living accommodations and crane capabilities for work crews delivering services to offshore oil and gas production platforms. Originally associated with drilling operations, the company's strategic move into supply boats has resulted in a diverse business mix within the marine industry that has attracted all of the major oil and gas producers and most independents over the years.
"We currently have ongoing long-term relationships with some of the globally known oil and gas firms and are the preferred vendor of these firms; this is due to our rigorous safety record and varied fleet. We have established an excellent reputation due to our operations being carried out by safety focused and experienced personnel," says Chuck Levert, of sales and marketing at Aries Marine Corporation.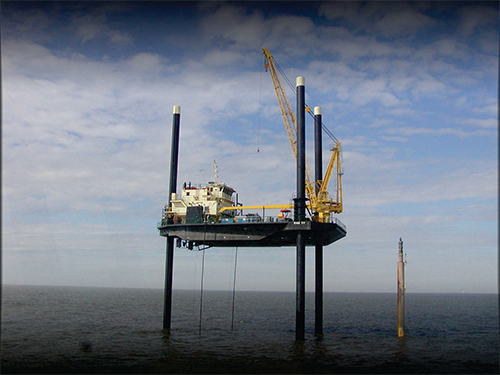 With customer satisfaction through excellent service being the core objective of Aries Marine Corporation, the organisation prides itself on the efficiency of its operations, the cleanliness of its vessels, and its own safety record. Placing a high priority on individual safety and prevention of pollution, it is committed to continued improvement of training programmes and complying with all safety, environmental and customer requirements. "There is always a certain amount of hazard in all typical jobs undertaken by crew, such as unhooking or hooking lines or maintenance of the back deck; our guys have delved down to know the details of these jobs. The information is then shared among other personnel during the numerous safety meetings we have both onshore and offshore," says Court. "When operating offshore, the environment has daily challenges and we like to think we provide a service to our customers that allows them to sleep comfortably at night."
Making every effort to accomplish a culture of continuous improvement, Aries Marine Corporation's supervisors conduct and monitor the safety policies in place, including safety meetings, near miss reports and JSA's; any potential hazards are then eliminated through corrective action. Despite the stringent rules and regulations in place to ensure safety and high quality service, the company believes the real key to its first-rate safety culture is its employees, who are encouraged to practice good judgment at all times. "Crew safety is a culture, and our guys are sincerely committed to safety management and the efficient operation of our vessels; that is why customers trust us to deal with any issues that may come up," says Court.
Benefitting from a high level of demand due to drilling activity in the deepwater Gulf of Mexico continuing to rise, the firm's main challenge is resourcing labour, as Court elaborates: "Finding high quality, well educated, licensed individuals is always a challenge because there is always a high demand for them. I think this demand will increase as more tonnage comes online over the next couple of years, so this is definitely one of our largest issues at the moment."
In line with demand and its strategic plans for the future, Aries Marine Corporation has four vessels, being constructed in Louisiana. Leevac Shipyard will deliver the first and second vessels, which are expected in October 2014 and February 2015 respectively. The LDS 270 DE platform support vessel (PSV) will have a deadweight capacity of 4000 LT and will be capable of carrying more than 13,000 barrels of liquid mud. On top of this, it will be powered by four 3516C Caterpillar generators at 1825 kw each. Marine Industrial Fabrication is constructing two self-elevating workboats (liftboats) for Aries Marine Corporation. Extending the range of the fleet to 215' leg length, these new vessels will have larger (175 ton) crane capacity, extended deck space and an increased number of bunks. Oversized propellers have been integrated into the design to enhance close maneuvering control.
"We are selling off our older vessels and building newer ones, which is a very strategic move for us; we have taken a lot of time and effort researching who we are building for and how these new vessels will fit in with other vessels being built out there and have further developed closer relationships with our customers, who can help direct us on what we choose to build," concludes Chuck.
Aries Marine Corporation
Services: Owner and operator of vessels