Arrow Tank and Engineering Co.
Arrow Tank and Engineering Co. is delivering quality and capabilities beyond the competition.
Trying to transport a 200-ton pressure vessel across the country is one of the most complex equipment moves possible. For the largest vessels any route that goes under a bridge is out and standard railcars are not rated to handle the weight of many shipments. Large trucks can spread out the load, but everything must be coordinated with local municipalities to avoid power lines, traffic lights and other obstacles. When those challenges arise, customers often rely on Arrow to help them through the process.
The shipping and transportation of its products is one of the largest challenges facing Minnesota-based Arrow Tank and Engineering Co. The company fabricates pressure vessels and tanks for much of the United States and Canada, but it is strongest in the upper Midwest.
As potential customers get further out from Minnesota, the cost of freight can be daunting. "Depending on where the work is the freight can help us or hurt us," President and CFO John Stark says. "We know every time we go into a contract where it has to go and where we need to be on price roughly to be competitive."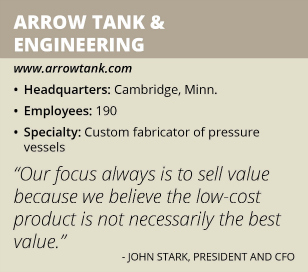 To stay competitive in those jobs, Arrow Tank tries to lead in quality and value. "We have a reputation for being a skilled, high-quality manufacturer of custom parts," Stark adds.
The company often hosts external and independent inspectors who analyze its work and ensures it meets customers' design specifications. "Our quality control department is top notch and we hold ourselves to a higher standard," Stark says. Arrow Tank is qualified in a number of manufacturing codes, including American Society of Mechanical Engineers (ASME), American Society for Testing and Materials (ASTM) and National Board of Boiler and Pressure Vessel Inspectors (NBBI). "We work with the customer to meet their unique needs while still working to maintain the original delivery dates," Stark adds.
Expanding Capacity
Founded in 1957, the company was originally located in Edina, Minn., but eventually settled in Cambridge, Minn., in the 1960s. Before moving to Cambridge, Arrow Tank was known as a metal shop that produced propane truck tanks and fuel storage tanks. Propane tanks remain a large and important part of our product offering, but the company has evolved to specialize in large pressure vessel fabrication and high tolerance mechanical fabrications.
The move toward pressure vessels occurred as Arrow Tank invested in equipment and increased its capacity in the late 1980s, and it remains an ongoing process. "We have continued to work on expanding our ability to do heavier work," Stark says.
Those high-capacity jobs are Arrow Tank's focus. Anyone with welding equipment and a pole barn can fabricate light gage assemblies, but the kind of vessels Arrow Tank fabricates require precision, specialized equipment and certified craftsman. Stark says that concentration on large, heavy and high-pressure vessels sets Arrow Tank apart from other fabricators: Being a capital intensive fabricator makes it harder for competitors to quickly enter the industry and challenge Arrow Tank in its markets.
"We have to do work that's competitive while complying to standards, procedures and codes that are stringent," Stark explains. "Our capacity to cut materials, form, handle and weld materials gives us a competitive edge in an industry that has plenty of competitors."
Arrow Tank's main facility in Cambridge has 163,500 square feet of production space. A second facility in Coon Rapid, Minn., is home to the company's technical sales division, propane sales staff and administrative office.
Diverse Capabilities
The company has five primary areas of business: propane trucks, custom fabrication, heat treatment, technical sales and fire protection. The propane truck division builds propane delivery cargo tanks for vehicles and sells them to outfitters or does the truck outfitting itself. Custom fabrication is segregated between pressure vessel fabrication and non-pressure fabrication. Pressure vessels can be any size; some refining tower vessels have approached 300 feet in length. Arrow Tanks pressure and non-pressures vessels are used in the energy, agriculture, petrochemical, industrial gas and water treatment industries among others.
The fire protection division fabricates pressure tanks on a smaller scale. The tanks include a rubber bladder that holds a foam concentrate that can be released to snuff out chemical or fuel fires. Arrow Tank's fire protection tanks are often found at airports and are one of the company's most internationally sold products. The technical sales division specializes in specific markets.
Technical sales serve the semiconductor industry by making cooling systems for supercomputers and doing assemblies of control systems. Arrow Tech is a value-added distributor that stocks fittings, valves, gauges, tubing and electronic controls for the semiconductor, biomedical, pharmaceutical, sanitary and industrial markets.
Heat treatment is one of the capabilities that best separates Arrow Tank from its competitors. The company boasts one of the largest heat treat furnaces in the country, capable of super-heating metal as large as 18 feet in diameter, 109 feet long and up to 280 tons. Arrow Tank expanded the length of the oven in recent years to improve capacity, allowing it to act as two separate furnaces working independently or one large furnace to handle the biggest jobs.
Its heat-treating capabilities gives Arrow Tank a distinct advantage, Stark says. Heat treating relaxes the built up weld stresses and improves the metals ductility. Vessels with wall thicknesses of 1.5 feet or more are required by ASME code to be stress relieved. From a customer perspective the process helps resist stress cracking from aggressive processes and corrosive chemicals.
Arrow Tank completed a major expansion of its facilities in 2015. With orders from the energy market slowing down as oil prices fall, the company is seeking new ways to improve production while diversifying its customer base. "We are a custom fabricator so we migrate to where the business is," Stark says. "Currently, we are feeling the punch of the lowering oil prices and soft economy," Stark explains. "Certainly, we are trying to maintain our size and our profitability. Our strategy is always long term and virtually everything we buy is to make us a stronger business beyond five years from now."