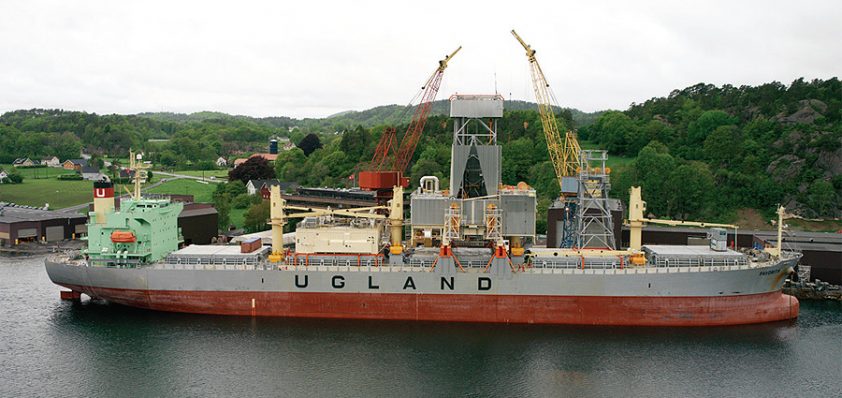 A module of excellence
Based in Grimstad, Norway, AS Nymo provides a wide array of products and services for the offshore and shipping industries.
The company boasts two sophisticated facilities, in Grimstad and Eydehavn, where the construction of platforms, modules and subsea equipment is carried out with renowned expertise. Both sites are also equipped for repair work to drilling rigs and conventional vessels, as well as the assembly of stainless steel and aluminium equipment. As a business with over half a century's experience in the sector, it has grown considerably in line with the increase of offshore operations in the North Sea, and later in the Norwegian territories.
The two state-of-the-art locations, alongside approximately 340 highly skilled employees, have seen AS Nymo acquire a reputation for one of the finest skill sets in the industry. Furthermore, its
many clients have benefited from the company's proven track record in the welding of complex materials. As an illustration of the calibre of work that has been completed in the past, AS Nymo has completed the Oseberg Sor drilling module for Bentec, the MPA mud module for Statfjord, and the Stena Don drilling rig from Stena Drilling. Additionally it has produced the Troll Olje subsea rise installation for Coflexip Norge, and manifolds for Snohvit and Alvheim.
The roots of the business can be traced back to 1946 when it was established as a workshop, which it remained for ten years before JJ Ugland, under whose ownership it has remained to this very day, acquired it. The focus of the companybecame ship repair and workshop activities through the 1950s and 1960s. The driving force of AS Nymo changed in the following decade as the emergence and potential of the offshore industry in the North Sea became increasingly apparent. To this end, the company became one of the first suppliers of high-quality modules for specific projects.
Since that time, the product portfolio has been expanded to include a substantial range of modules for management, engineering, procurement, construction and offshore hook-up projects. Amongst other purposes, modules have been fabricated for support deck frames, topside wellhead platforms, accommodation quarters, processing, compression, generating operations, drilling and mud handling, and various utilities. Given such an impressive list of credentials, it is perhaps unsurprising that those within the organisation consider its speciality to be drilling modules for the offshore and rig markets.
Alongside an advantageous location in the heartland of the Scandinavian oil and gas sector, one of the main strengths of AS Nymo is undoubtedly its ability to deliver systems, solutions and products that are tailor-made and meet the exact needs of clients. Outlining the process, Oyvind Boye, technical manager, comments: "What we are adept at, and often get asked to do, is design these modules for the specific purpose that our customers require on their rigs. Of course, there are exceptions as one of our customers may want more than one of their installations fitted with the same concept, but in normal cases our designs are different."
As with all companies, not just in the oil and gas sector, but also in global industry as a whole, AS Nymo has been forced to acknowledge the increasing damage that is being done to the environment. As a result, it has agreed a deal to co-operate with Swedish outfit STT Emtec AB, and has developed a NOX reduction system for marine engines based on the well-known EGR system. Early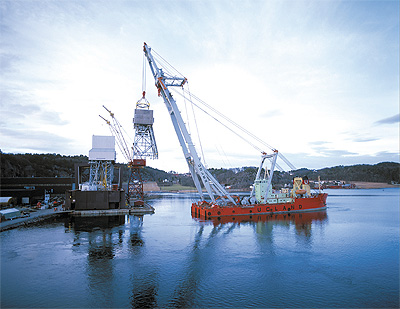 testing in the company's laboratory was carried out earlier this year and showed some wholly positive results, with full scale testing presently being carried out on a full-scale vessel.
The project, and drive for green products and services as a whole, is close to the heart of all at the company, not least of all managing director, Rolf Urfjell, who says: "The area of environmental issues is one that we have highlighted for attention. As well as the project that we are carrying out with the Swedish company, we are also looking at heat recovery for gas turbine exhaust systems. It has become an important topic in Norway and it is an area we are very positive about looking forward. If the operations we carry out in the Norwegian sector are successful then we think we may be able to gain more business in other parts of Europe."
Given AS Nymo's previous work on a global scale, it is an opportunity that you would expect Rolf and his team to make the very most of. While most of the modules that have been fabricated have been destined for the North Sea, work has been delivered to China, Singapore, and perhaps most impressively a BP project in the Caspian Sea. The BP, Shah Deniz project was delivered from its Grimstad base to Baku, Azerbaijan via the Russian river system.
The commitment of AS Nymo to expand its skill-set, general capabilities and equipment has seen the company enjoy noteworthy growth in recent times. Its ability to design systems and modules that meet the exact needs of various oil and gas companies has been a key factor in attracting such well-known industry names as BP. It is already recognised as one of the leading specialist module production organisations serving the oil and gas field, and has further enhanced its reputation with a so far successful foray into the area of sustainable and environmentally friendly products. Factor in an order book that is full for many a month to come and Rolf's positive outlook for the future is fully justified.
"We have a full order book that will take us up to at least 2010, and most of them come from the drilling and mud modules sector. We would certainly expect that market to grow for many more years and we are looking at taking on further projects to take us into 2012. We are very happy with our core business," he concludes.
AS Nymo
Industry Platform, module, and subsea construction