Delivering more
ASCO provides an integrated logistics service to many of the oil and gas majors, operating more offshore supply bases than any company in the world.
The company manages warehouse, packing, pipe yard, transport, fuels and bulks, CCU, quayside and waste operations, using its own assets and resources or third party suppliers according to client requirements and local custom. Its service ensures the on-time delivery of all materials from vendor to rig or platform and back again. Additionally ASCO has a strong marine management capability, which helps clients manage their vessel operations effectively, efficiently and safely.
With a comprehensive service range including warehousing, base and marine supply services, ASCO Group operates in the Norwegian and UK sector of the North Sea, and has also operations in Holland, Baku, Trinidad and Eastern Canada. Employing in excess of 1500 people across the globe, the company is dependant on the needs of the customer and its services can be offered as a fully integrated logistics package or as separate elements. The company offers warehousing and supply base services that are offered as a fully integrated logistics package or as separate elements.
ASCO Norge was established in 1995 as a subsidiary to ASCO plc, supports offshore oil and gas activities in the North Sea, and is a world-class provider of supply chain management services and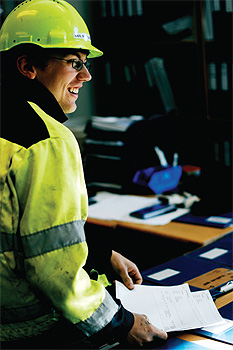 solutions to the international oil and gas industry. ASCO's customers in the North Sea include major integrated oil companies such as BP, ExxonMobil, Marathon, Shell, Talisman and Total, as well as independent oil and gas companies, drilling companies and offshore engineering and construction companies.
As ASCO Norge celebrates its 15th year of operations, its managing director, Runar Hatletvedt, describes its current operations: "We started with base operations in Tananger for the North Sea, and we have experienced very strong development over the last years. The main base activity is here in Tananger, where we provide oil base services to companies including BP, Talisman, and Marathon, and different drilling rig consortiums. We also have base operations in Farsund, a co-operative agreement with Mongstadbase in Bergen, as well as a joint venture company together with Mongstadbase in Kristiansund, called Kristiansund Base and located at Averoy. This company is strategically catered for activities and growth in the southern part of the Norwegian Sea.
"We have also built a completely new base up in Sandnessjøen, which is an important area in Norway for activity in the northern part of the Norwegian Sea. The next step is to establish our Arctic-based business up in the Barents region in the northern part of the Norwegian Sea. We are focusing on two areas, one in the eastern part of the Barents region, which is very important for expected activity, particularly on the Russian side. The other location is Skjervøy in the western part, so we are building oil bases and oil-related sites along the Norwegian shelf."
ASCO Norge has also developed a large plant in Risavika. Runar describes this and other recent developments: "The base in Risavika has tripled in size over the last two years. We also have very important growing activity with Kristiansund Base in Averøy, where we are supporting two drilling operations for the moment. Finally the latest development is the ASCO base in Sandnessjøen that provides services to BP's latest development- Skarv."
Operating in three main areas, the North Sea, the Norwegian Sea and the Barents Sea, ASCO Norge focuses its operations in the Norwegian market. Runar comments: "Although our main activity today is in the North Sea, there is a lot of growth and development in the Norwegian and Barents Sea. So for the future, the activity in years to come will move further to the north in the Barents and Norwegian Seas. That's why it's important for us to follow activity and build bases all along the Norwegian coast."
As part of the large international ASCO Group, ASCO Norge enjoys a number of benefits as Runar explains: "Gaining from the very long history of the ASCO group, and its international experience and competence, we are presented with the opportunity to share best practice solutions. We work very closely together between the different regions within ASCO and have a very good sharing policy with the group. We also have a lot of international clients that give us the opportunity to deliver services all over the world."
Runar goes on to talk about the company's logistical operations: "We have a close co-operation with all clients, all needs and requirements start with their logistical requirements in the sea, on platforms and on installations. To maintain this service we work very closely with clients to develop the best solutions. The Norwegian shelf is normally known to be 12 to 15 years behind the development in the UK sector. Norway has a very long coastline and we still have areas that haven't been opened yet for exploration, so we still have growing activity in Norway compared to other sectors. At the moment there is a lot of drilling activity going on in Norway and as long as the oil prices are back at 70 or 80 dollars soon, the financial environment will continue to improve. We are depending on the oil prices, which are crucial for activity around the world."
Finally Runar outlines his plans for the future of the company: "There is an opportunity for us to grow now. We have big ambitions for development in Norway in the years to come and we expect a growing activity, and we will focus on continuing our strategy to develop bases in the North of Norway. ASCO Norge will have a network of bases all over Norway in the next year. We also expect to grow the business in the process and we will increase our market shares in the Norwegian markets, building a strong business to strengthen our position in both the Norwegian market and the northern parts of Norway."
Asco Logistics
Services: Offshore logistics