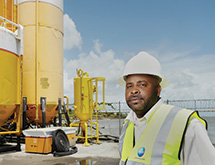 The global oil and gas market is in a downturn as many oil and gas producers have halted exploration and drilling activity because of the oversupply of oil in the market. ASCO Trinidad, however, is experiencing quite the opposite as a gas-exporting province with a number of new development projects on the horizon.
"The upstream industry is heavily investing in new development projects, which are intended to offset the declines in local gas production driven by natural reservoir declines and production interruptions," says Bruce Mackenzie, executive director, Caribbean and South America. "ASCO is very busy at the moment and expects this to largely continue for a few years, at least."
Headquartered in Port-of-Spain, ASCO is strategically located within Trinidad, having a presence at the major port locations in the west, southeast and southwest areas of the country. The company has a staff of about 100 and employs an extended workforce through key subcontracting arrangements. ASCO Trinidad was formed in 2001 and is part of Scotland-based logistics firm ASCO Group.
"ASCO Group is the leading offshore supply base and on-shore oil and gas logistics provider with substantial operations in Trinidad, the United States, Canada, Norway, the United Kingdom and Australia," Mackenzie notes. "ASCO developed the supply base industry beginning in Aberdeen many decades ago, and its primary function is to reduce the risk exported to offshore installations by way of implementing rigorous safety standards to the cargo and its safe storage and handling."
ASCO's services include offshore supply base management, onshore oilfield support, fuel services, environmental services, personnel, training, inventory and materials management, and advisory and technical services. "ASCO manages important specialized headland port infrastructure and intimately understand and upholds very high standards for the cargo that is allowed to be shipped to the offshore installation," Mackenzie says.
Planning is critical. The company works with multiple vendors to deliver the right materials at the right time to an offshore installation, which has limited storage and handling capacity. "Therefore, cargo planning systems, port management and safety in lifting operations are key differentiators from our competitors," Mackenzie adds. "Our partnerships are our key to success."
Celebrating its 15th year in operation, Mackenzie says ASCO Trinidad has much to be proud of. "We have nearly doubled the land infrastructure available over the past year, remain the leading provider of outsourced logistics services in the region and are very busy at this time," he adds.
Further Exploration
Trinidad is considered to be a mature geological area that has been producing oil for more than 100 years. With the advent and growth of the domestic LNG production industry in the 1990s, the country has since produced more gas than oil in energy equivalent terms.
Over the past decade, exploration activity was insufficient to fully replace the reserves that were produced. Recently, this trend has reversed, leading to an upswing in the industry activities targeted toward exploration. At the same time, the aging infrastructure requires operators to invest heavily to keep the offshore assets safe to operate. "This has led to an increase in exploratory, appraisal and developmental drilling and facility improvement projects," Mackenzie says. "Demand for logistics support has increased in line with the increase in activity."
Since 2010, ASCO Trinidad has supported six out of the last seven major deep-water drilling projects in the Guianas region, mainly in French Guiana and Suriname. "A number of deep-water projects are being planned in 2016, both in Trinidad and in offshore Guyana," Mackenzie says. "ASCO will play an important role in the Trinidad and Suriname deep-water exploration support from a logistics point of view."
ASCO Trinidad believes supporting these projects will be critical to its long-term future in supporting the region's energy needs. Should commercially viable discoveries be made, it will mean long-term sustained oil and gas investments in the region that could herald a real platform for growth in energy services.
"If significant discoveries are made in the deep water, that would mean opportunities for our expertise to develop that of neighboring regions which have limited infrastructure and human resources," Mackenzie says.
Preparing for the Future
ASCO Trinidad has made significant investments to prepare for continued deep-water exploration. The company has added personnel to its management team, acquired the necessary resources well in advance of the projects, and ensured its equipment and facilities are secure and adequate to support projects during their duration.
The company provides a range of internal development training for its employees in addition to external training in safety, lifting and rigging, and operations. "We strengthened our management team and invested in replacement of equipment with newer, safer, more productive plant and systems which manage information," Mackenzie says.
Safety is driven by top management and maintained on site by ASCO Trinidad's people, operating in accordance with the company's safety management systems and ensuring all third-party vendor personnel and equipment that enter the site are in compliance with safety standards. "Our safety management systems are extensive and tailored for the operations we conduct on our site," Mackenzie says.
ASCO Trinidad maintains its long-term client relationships through its quality work and safety, but also by listening to its customers and being as flexible as possible to align with the customers' business objectives. "Repeating this process over a period of time builds trust and confidence between the parties and is a prerequisite for long-term partnership arrangements," Mackenzie notes.
Customers are demanding a higher level of service and safety delivered more efficiently, Mackenzie says, which is why ASCO continues to invest in its systems. "ASCO is investing heavily in automated systems which will allow the services to be delivered more effectively and provide enhanced visibility and transparency of the cargo within the end-to-end supply chain," he adds.
ASCO Trinidad plans to continue focusing on the safe and timely delivery of cargo to and from offshore installations. "ASCO's offshore supply business's long-term goal is simple: ensure that cargo gets to and from the offshore installations on time and in a safe condition every time, and that no harm is done to people or the environment," Mackenzie says. "Being focused on this will ensure the business continues to have a long term future."