A vital asset
ASCO is the leading provider of integrated offshore support and logistics services to the oil and gas industry.
The company, which has operations in the UK, Norway, Holland, the US, Canada, Australia, India, the Caspian, Oman, Singapore and Trinidad, prides itself on tirelessly working to provide the best possible customer service levels. This aim, combined with the highest standards of quality, safety and efficiency, underpins all of ASCO's extensive services.
"As a sales and services company, customer service has to be at the forefront of everything we do," confirms Andrew MacDonald, CEO of ASCO Europe. "Not only do we constantly examine the way in which we can improve our services but we continuously look to ways in which we can make it safer, more reliable, more efficient and effective in order to reduce the risk that customers import into their operations by doing business with us.
"We play a role that is often 'mission critical', it may be low profile, but we provide services that are essential to our clients, so from the start this approach has been key to our success and the way that we have evolved as a business. So, we've built upon a reasonably simple business model of adding value to our customer services by providing clients with the benefits of our fully integrated offering. We can leverage those services by focusing on extremely high levels of client service and the management of safety in the workplace."
This attitude has been crucial to ASCO's success and instrumental in building the company's excellent reputation in the industry, which is respected by clients worldwide. "We have worked hard to build lasting relationships," Andrew says. "In fact, in some respects it is easier to name who we don't work with than who we do, but our customer base covers all of the key operators in the market, as well as a large majority of the tier one contractors. As a service company, however, we feel that it is important to always look to ways of improving our services, and this is something that we have really worked on recently.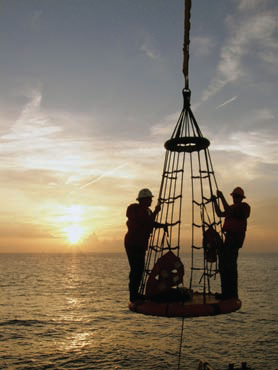 "Over the last 12 months for example, we have really ramped up our whole attitude to customer service even further. For a long time we have built our business on the solid principle of delivery of value for our customers – if it doesn't deliver value to our clients then we don't want to think about it. So, this year we have enhanced our customer service team quite considerably by investing in and recruiting managers that have specific skills in certain areas of customer service development. We've implemented 'client advisory boards' where we listen to our customers in terms of gathering feedback, and we have also launched our Knowledge Zone, which establishes and identifies best practices, processes and procedures all built into a commercially attractive model. All of this enables our clients to get the advantages of ASCO's experience and shared learning over the years."
ASCO's experience, skill and knowledge extends across its service portfolio, enabling the business to provide a fully integrated range of logistics services both on-and offshore. "In terms of our European capabilities we have a fairly comprehensive network of bases that we provide our services from," Andrew comments. "We operate from a number of locations stretching from the Shetlands, down past Peterhead and Aberdeen in Scotland and Great Yarmouth, and these are our key onshore supply bases.
"On the continent, we have a base in Ijmuiden in the Netherlands, from which we principally support drill units with their waste activities in the Dutch sector, and we also have a strong presence in the Norwegian market supporting oil and gas operations on the Norwegian Continental Shelf (NCS). This stretches from the South right up to the North of the country, where we are well positioned to capitalise on the future developments in the Arctic regions."
The business is also involved in waste management, which it provides through Enviroco, its specialist environmental services business. "Most recently Enviroco has brought an award winning tank cleaning system to the market," highlights Andrew. "Tank cleaning is an extremely hazardous operation onboard vessels and this new system is all about reducing the risk for all involved. We really took a step back to look how we could make this safer and after significant investment the system has been introduced to the market with much success. The key aim was finding the balance in reducing the risk to the personnel involved, while at the same time improving the standards of service that the customer gets in order to maximise their asset utilisation."
Related to waste management and recycling is the growing North Sea decommissioning market, an area that ASCO has been closely involved with. Not only is the business well placed to grow with the sector it is also a member of industry body Decom North Sea. "Decommissioning is an interesting market," says Andrew. "It is certainly going to grow and when it does, as a service company it is our job to ensure that the infrastructure is available on a commercially sensitive basis by making certain that we have the people, the technology and the preparedness to assist and support in a cost-effective, efficient and sound and safe fashion."
Decommissioning is set to be just one area of growth for ASCO moving forward, as the business continues to flourish in each of its four regional sectors; Europe, the Americas, Australasia and the Middle East/North Africa. "In Europe, in terms of the future we will continue to focus on service development and new ways of improving our customer service as well as our internal processes and employee communications and development. We are the market leader and we have to continue to work very hard to maintain that position for the long-term. The bottom line is that we are a service company, and so we must always be improving that service to remain competitive. We have a fantastic pool of knowledge and experience in the business and so if we can continue to understand what our customers want, and how we can deliver that, then I have no doubt that we will grow as a business," Andrew concludes.
ASCO
Services: Integrated logistics solutions