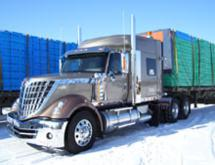 Co-owners Maurice and Angelika Ringuette lead Ashton Transport's team ensuring the company's success by avoiding the role of absentee owners. "It's all about being involved in the everyday business as well as involved with the employees, " he says. "I [participate] in the everyday aspects, from purchasing tires to dispatching," he says. "Every hat that goes on in the business [is worn by] me."
Based in Fort Saskatchewan, Alberta, Canada, Ashton Transport provides hauling services to clients in western Canada. Founder Larry Ashton started the company in 1976, and sold it to the Ringuettes in 1989.
At the time, Maurice Ringuette says, Ashton Transport had only four company trucks. Since then, it has grown to have 17 company trucks and has moved to a five-acre storage yard west of Fort Saskatchewan and north of Edmonton which features a head office, a maintenance facility and 78 acres of adjacent land for storage.
Ashton Transport's work is evenly divided between oil and gas clients and construction customers. As a federally regulated carrier, Ashton Transport's work is well suited for both markets with the commodities it transports.
Its fleet consists of a variety of equipment to meet customers' needs that includes specialized equipment for oversize shipments. The company also utilizes its own escort vehicles. Twenty-four hour dispatch is provided as well as hot shot service for shipments ranging from one pound to full truckload shipments.
Additionally, the company has developed long-term relationships with such firms as Syncrude Canada and Dow Chemical Canada who have specific qualifications that must be met in order to be their approved carriers. Ashton Transport is also a preferred carrier for Horton CBI and Inland Pipe.
For Syncrude Canada, the company hauls product to their special projects in and around Fort McMurray. It transports styrofoam for Dow Chemical from Fort Saskatchewan to industrial, residential and commercial locations in western Canada. For Horton CBI, the company transports deck plates for oil storage tanks while Inland Pipe contracts us to haul cement water pipe. Ashton Transport has built these relationships by staying reliable with its service, Ringuette says.
In addition, the company has recently implemented the use of Web-based satellite tracking to give it and its customers the advantage of knowing exactly where its equipment is at all times.
"That's our motto—'Service driven by pride,'" he says, adding that the company makes sure its deliveries arrive on time and in the right place. "Sending the right piece of equipment to the right job is very, very crucial in this industry."
A long time veteran of the trucking industry, Ringuette says the company's success also has been based on its ability to develop the right mix in its staff of 26 employees. "I'm proud of my employees because they do a wonderful job for us," he says, adding that several have 12 to 20 years with the company.
"Our biggest credits would have to go to the people that surround us, with our drivers, our backup staff and mechanics," he says.
Staying Busy
Recently, Ringuette says, Ashton Transport has scaled down its operations, after the loss of a customer that the company served for many years. However, the company is coping well with the losses, he asserts. "We stay pretty busy," he says, noting that the company also continues to update its equipment.
"Our drivers are all driving fairly new [vehicles], " he adds, noting that its oldest truck is only four years old. "We [also] have two brand new 2010 International Lone Stars."
Taking Part
Ashton is a member of the local Chamber of Commerce and a strong participant in its local community. For instance, the company supports many local organizations, including Stars Air Ambulance and The Boys and Girls Clubs.
Additionally, Ashton Transport participates in industry organizations, such as Alberta Motor Transportation Association. "That's our trucking industry [organization] in Alberta," he says, noting that the Calgary-based association keeps the company up to date on industry events and changes in government policies and legislation pertaining to the trucking industry.
The company is also a member of the Alberta Trucking Industry Safety Association, which partners with the Worker's Compensation Board (W.C.B.) in an injury reduction program.
​