A sea of opportunity
Established in 2003, Malaysian firm Asian Geos Sdn Bhd (AG) entered the oil and gas industry as a service provider of geotechnical investigation and geophysical survey services in support of the local and international oil and gas sector.
Since its inception the company has focused on developing an excellent reputation through contracts with oil majors such as Petronas Carigali, ExxonMobil and Total to become a leading player in Southeast Asia and the second largest offshore geotechnical drilling service provider in Asia for soil drilling rigs and assets.
Group managing director Helmi Zulkawi discusses the success of the company over the last decade: "AG started with virtually nothing ten years ago. We have gone through rapid growth via successful ventures and partnerships with others as well as our bold decisions over key strategic investments in specialised vessels and equipment. Financially, we achieved a record turnover of $52 million for the period ending April 2013; looking back at our humble beginning when I first started AG, I knew we had great potential, but I could never have expected the company to grow to this size within ten years. We are operating eight vessels, four of which are company owned, and our team has grown from a few employees to nearly 300 personnel today."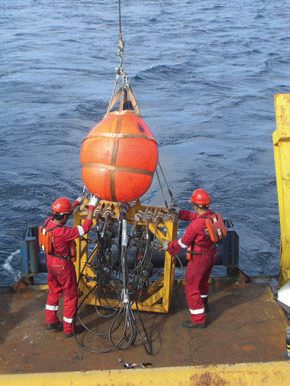 A catalyst for the company's growth came in 2011, when AG teamed up with UK based firm Gardline Geosciences Limited as part of a strategy to compete on a global scale. This strategic partnership enabled AG to benefit from the immediate support it receives as a global partner of Gardline group and resulted in the formation of the AG group. "The teaming with GGL was a strategic decision that stemmed from our aspirations to expand our deepwater operation capabilities and realise our long-term plans to further enhance services in Malaysia and around the world," explains Helmi.
Since last featuring in European Oil and Gas Magazine in April 2013, AG has continued to enjoy a sizeable market share of offshore survey operations in Southeast Asia; growth that partially stems from a long-term survey contract win from Petronas this year, as Helmi highlights: "Over the last eight months we have witnessed a busy period for our vessels that are working for various clients in Malaysia and throughout Southeast Asia. Two of our geotechnical vessels, the Geos and Geoasia, continue to serve our major client Petronas; Asian Geos was also awarded with a four years of frame contract with Petronas for offshore geophysical survey services, which marked the entry of Asian Geos into the offshore survey business." This development also completes AG's vision of turning Asian Geos into an integrated offshore geotechnical and geophysical survey provider in Malaysia and the SEA region.
The mobilisation of the AG Surveyor, a 61 metre geophysical survey vessel, in July 2013 gave AG a competitive edge in the Petronas contract bid, as Helmi discusses: "The AG Surveyor has extensive survey track records in Europe and Africa and has been designed to meet the specific requirements of the offshore geophysical survey industry. In fact, it has a built-in hull mounted multi-beam echosounder that could be used to carry out pipeline route surveys in deepwater. Another plus point of this vessel is its economical fuel consumption; the lower cost of operation gave us the edge when we last bid for the Petronas contract."
Furthermore, a number of upgrade works have been undertaken on the vessel to enhance its services and improve the living conditions of crew, with a new air-conditioning system and new 2D high-resolution shallow seismic survey equipment installed.
This ongoing growth is anticipated to increase further following the completed upgrading of AG's geotechnical vessels, with the dynamic firm currently at the final stage of upgrading its DP1 vessel, the Geoasia, into a DP2 capable ship. On top of this, the installation of a large drilling rig, the AGL-75, onto Geoasia is now complete. "Because the AGL-75 can be used to handle up to 1800 metres of drillstrings, AG will be the second company in the SEA region after Fugro that can operate a deepwater capable DP2 geotechnical drilling vessel when this upgrade is completed in December 2013," says Helmi.
Despite increased demand for its services over the years AG is dedicated to delivering on-time quality services, working closely with clients to meet stringent health and safety standards. With no recorded injury since 2008, the company reached a major milestone of five million man-hours without LTI in September 2013. "As the MD I have always played a leading role in promoting health and safety initiatives at AG," explains Helmi. "Safety is our business and hence we are always willing to allocate funding to support our safety programmes such as the Stop Work policy, U see U act and HSE Away Day."
With a decade of growth behind it, the future looks positive for AG as it focuses on consolidating its assets to achieve full optimisation of its vessels and drill rigs, while also proceeding with plans to boost activities in Indonesia and Myanmar. "I would like to see AG become a dominant force in providing geotechnical and geophysical site survey services, not only in shallow but also deep water. To do this we will ensure we recruit the right people who share our common vision of turning AG into an internationally-recognised oil and gas support service provider," Helmi concludes.
Asian Geos Sdn Bhd
Services: Geotechnical investigation and geophysical survey services