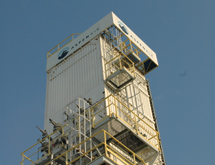 As we wrote here just last year, Aspen Air US Corp has been a growing presence in Billings, Mont., since 2006. And since we last reported on Aspen a great deal has happened. President and CEO Onkar Dhaliwal pointed out that Aspen has a "considerable breadth of experience in the cryogenic business" and that Aspen provides "the technical solutions our customers need to help them find ways to improve how they use industrial gases. We can help them increase their yield, and we compete by localizing the service and concentrating on [their] needs." And in looking at what has transpired in the last 12 months, it would appear this very strength has propelled many significant accomplishments.
Ribbon Cutting
For example, Aspen recently held a ribbon cutting ceremony to officially open its much anticipated expansion. As part of its plan to continue to grow its local presence and to grow with the regional demand for its products and services, Aspen commissioned a fully redundant second plant at the same Billings location. Echoing now-familiar comments from Aspen, the decision was easily made to simply expand in Billings given the strong sense of community and Aspen's growing involvement in local business, initiatives and charities. Perhaps most importantly, the new facility will allow Aspen to add at least five new full-time positions to its local workforce.
Fleet Expansion
In line with the presence of more product it follows that more equipment was required. And keeping true to the home-town philosophy, Aspen recently purchased new tractors to haul its trailers. Working with local trucking companies, Aspen was able to double its local fleet of tractors thereby ensuring prompt, reliable delivery of its product to its growing customer base.
"Many of our customers are, in fact, growing their business and using more product to support that growth," says Rick Kaun, vice president of sales and marketing. "We also see a significant upswing in demand coming from the oil patch in North Dakota. Given these two factors, we decided to get ahead of the curve and put in place additional equipment now."
Service Stations
Perhaps the most innovative move that Aspen has made is the investment in "service stations" in the Bakken region. It is no surprise the Bakken is a major economic driver and somewhat of a "Wild West" scenario. Much of the need for nitrogen in that region is immediate, with little to no warning and often in large volumes.
To meet that demand and, most importantly, to service its clients in a timely fashion, Aspen chose to put large nitrogen storage tanks in strategic locations to be able to serve the very dynamic demands of the oil patch.
Dhaliwal points out that "those service stations, coupled with our constant communication with the service companies and additional mobile tankers in the area allow us to provide the most comprehensive and timely support to our valued oil patch customers. It also allows the balance of our fleet and our Billings production to maintain a high level of service to our long-term, contracted clients outside of the oil patch."
Continued Investment
The final areas of investment Aspen is making are in additional key personnel, tracking and monitoring systems and other strategic investments. "As Aspen continues to evolve, we are constantly listening to our customers and growing our services and solutions to help meet and conquer their challenges," Kaun says.
It is clear that no department or discipline is exempt from review and improvement. From tracking trucks, loads, paperwork and invoicing to e-commerce, remote tank telemetry and collaborative tools and client feedback, Aspen continues to evolve its "service first" perspective while maintaining its local roots and community support.