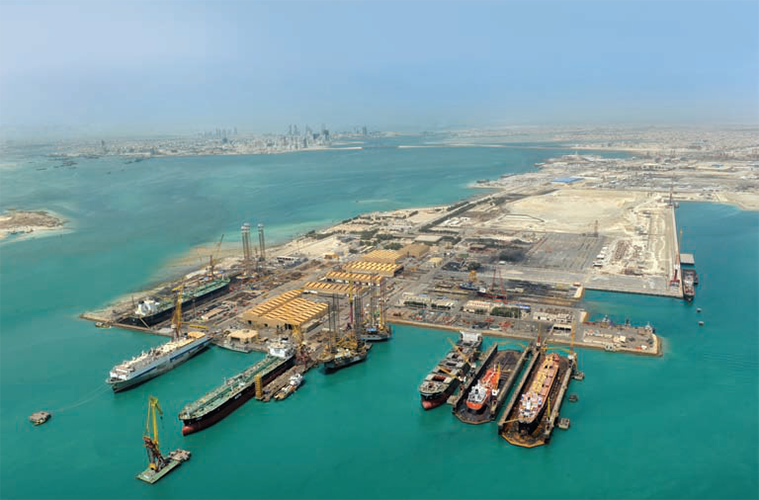 Yards ahead
Founded in 1977, ASRY (the Arab Shipbuilding and Repair Yard Company) is the Arabian Gulf's most experienced ship and rig repair yard, with more than 35 years of experience in the optimisation of marine assets.
Beginning operations with a 500,000 deadweight tonnage dry-dock and two accompanying jetties, the shipyard has offered its services to a varied range of vessels since its inception; the spectrum of which has only diversified over the last 20 years, following the introduction of two floating docks of 252 metres and 227 metres in length in 1998 and twin 255 metre slipways in 2008.
Today a global leader in the repair and maintenance of all vessel types, as well as offshore rigs and craft, ASRY has the experience and knowledge to deliver an efficient and reliable service in all sectors it operates in. Boasting a leading range of facilities, the shipyard can offer maximum flexibility when accommodating ship schedules and provides the on-site presence of all major specialist workshops, major repair subcontractors and classifications, thus ensuring all repair requirements can be dealt with promptly in one single location.
As the oil and gas industry continued to flourish in the Middle East, ASRY, keen to expand its service offering, made the strategic decision to form its specialist division ASRY Offshore Services in September 2008; a wise move that has boosted turnover and led to ASRY Offshore Services becoming a critical part of the shipyard's portfolio of capabilities.
In addition to jack-up drilling rigs, ASRY Offshore Services can accommodate drill ships, semi-submersibles, cable and pipe laying vessels, offshore support and construction vessels for repairs, mobilising a skilled 'riding squad', surveying or component construction. On top of this, the division has the expertise to offer construction services to small and medium sized rigs and offshore vessels.
Previously in European Oil and Gas Magazine in May 2012, ASRY Offshore Services was looking to expand its services further with a new fabrication area; a strategic plan that has since come into fruition. Equipped with a broad range of pipe fabrication machines and a vast targeting area, the pipe fabrication workshop has capabilities for auto Oxy cutting, pipe cutting/bending, drilling, threading, lathes and grinders, beveling cutting and a number of other portable manual bending and cold cutting machines, as well as a selection of welding machines. Furthermore, the workshop has a separately controlled area for specialised welding work where renewal, conversion, new installation and other services are carried out by a team of highly qualified personnel.
Having established and developed a strong reputation for providing quality rig repair projects to customers operating in the Middle East, ASRY Offshore Services has become a major player in the oil and gas industry. This coveted position in the market offers the division an excellent platform for growth and continued expansion into new ventures as and when the market demands it. Despite the major successes the offshore division has enjoyed over recent years, there has been no significant change to the company's core priorities, as general manager of ASRY Offshore Services, Andy Shaw discussed: "Clearly the company needs to ensure it remains aware of what developments and events are taking place around it, and is able to react to these accordingly. However, the most important thing is for the company to be seen as the very best rig repair yard operator in the Middle East."
This long-term dedication to surpassing customer expectations through high quality services has resulted in ASRY winning a multitude of awards, the most recent being the Shipyard of the Year award at the Lloyds List Middle East and Indian Subcontinent (MEIS) Awards in October 2013. Viewed as one of the leading honours within the region's shipping industry, judges hailed the yard's ability to grow, improve and expand during challenging market conditions while competitors floundered. Previously winning the award in 2011, this second accolade in the Shipyard of the Year category joins ASRY's increasing portfolio of awards, such as the Safety Award at Lloyds List MEIS awards in 2012 and similar awards from both Lloyds List Global Awards and Seatrade MEIS Awards in 2010.
Having set the foundations for ongoing growth through internal and external expansion, ASRY's board of directors held the final board meeting of 2013 in mid December, under the chairmanship of His Excellency Shaikh Daij bin Salman Al-Khalifa. Centered around the approval of a number of initiatives to enhance the company's position during 2014, the meeting focused on the re-organisation of the firm's corporate structure, the huge potential to be found in the Saudi market and the approval of the 2014 budget that emphasises control on operating expenses.
Due to be rolled out in the first half of 2014, the restructure of the organisation aims to boost efficiency and enhance productivity in the face of severe competition and new competitors in a limited and evolving market. Meanwhile, as a result of strong relationships between Saudi Arabia and Bahrain, particularly in economic partnerships, ASRY views the Saudi market as significant for potential projects on the repair of military vessels, commercial ships and offshore platforms. To develop a stronger presence in this market, the company opened a new representative office in the Eastern province of Saudi Arabia where it can offer its broad range of services. In a competitive market, these new initiatives prove ASRY is committed to meeting the demands of its growing client base well into the future.
ASRY Offshore Services
Services: Shipbuilding and repair yard