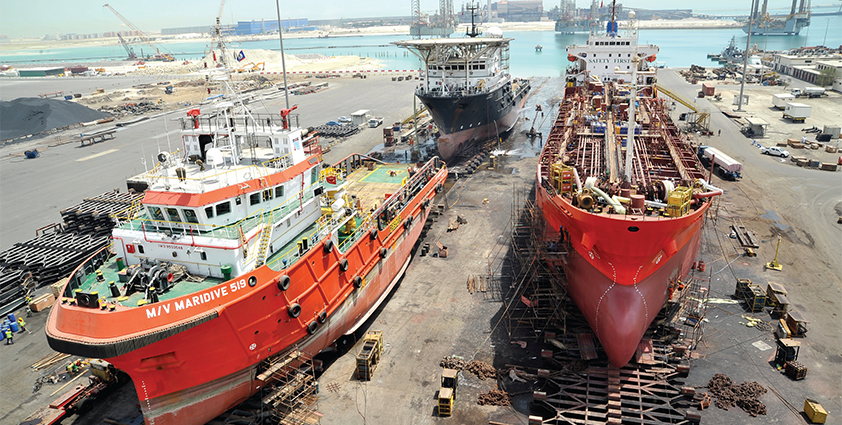 At the cutting edge
The development of Bahrain's Arab Shipbuilding and Repair Yard Company (ASRY) into one of the region's leading ship repairers and providers of marine services spans more than three decades.
Now a world leader in the repair and maintenance of all types of ships as well as offshore rigs and craft, ASRY provides a complete range of services from steel fabrication to pipe repairs and production, engineering and machining, instrumentation engineering, blasting through to painting.
ASRY has a distinguished history dating back to its foundation in 1977 when the facility started life as a super-tanker repair yard, which led to its acceptance of the first LNG carriers in the early 1980s. The inauguration of two large floating docks in the early 1990s, plus enlarged repair and support facilities, reflects ASRY's dynamic market-driven and progressive approach to both commercial and naval fleets. ASRY was one of the first shipyards in the world to achieve ISO9001, ISO14001 and ISO18001 quality certification, and in addition, it was also recently accredited with ISO27000 and ISO20858 for Transit and Port Security.
ASRY not only performs ship repairs but also serves the offshore sector through its specialist division ASRY Offshore Services (AOS), which was formed in September 2008.
AOS is under the watchful eye of Andy Shaw, its Offshore Services general manager, who assumed direction in August 2009. AOS is handling the increasing demand for offshore oil and gas related work from the refurbishment and upgrade of jack-up rigs to specialist craft. Shaw has set his sights high with a dynamic and sustainable business strategy and is looking to take AOS into the building and fabrication of offshore and onshore structures as well as specialist services such as 'in-field repairs'.
In 2009 AOS repaired a total of seven jack-up rigs plus a further six rigs stacked in ASRY's protective anchorage. For 2010, AOS successfully repaired ten jack-ups, the projects performed by AOS were more complex and significantly larger in terms of value than the previous year. AOS' clients include Saudi Aramco, ENSCO, Pride International, Hercules Offshore, NPCC, Great Offshore, Transocean and Arab Drilling Company (ADC).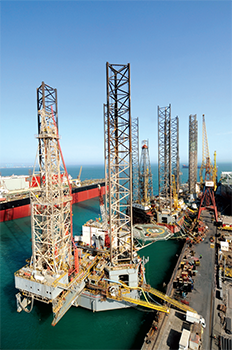 "The challenge is to make AOS the preferred service provider of choice for rig repairs and maintenance services for the region. Business for rig repairs is increasing for 2011 with new operators and clients coming to Bahrain, including Foresight Drilling and Rowan Drilling Company.
"AOS is seeing a substantial increase in its business year-on-year with the scale of requirements and an increasing client base. These new clients are aware of our widening capabilities in Bahrain and the opportunities presented to new clients in terms of our location and the increasing range of our facilities to support the offshore sector," says Andy.
In recent years, ASRY has entered a new phase of its development with the progressive expansion and enlargement of its infrastructure and facilities helping strengthen its performance and service capabilities. This expansion is vital for the ship repair and maintenance activities at the yard and fundamental to the long-term development strategy for AOS.
Already a large section of the new quay wall is in service as part of a new 1.38 km repair quay to be fully commissioned by the end of 2011. The new purpose-built area will be able to accept ships and rigs and includes 300,000 sq m for offshore fabrications and a heavy load-out quay, all as part of an overall $188 million facility expansion.
The heavy load-out quay has been specifically developed to enable AOS to penetrate the offshore fabrication and new construction market and is perfect for the fabrication of flare towers, jackets and topside modules, the area will also be equipped with general facilities such as workshops, secure warehousing and offices. Andy is also developing his team bringing in additional specialist expertise building up on the existing core team of staff, a veritable United Nations of specialist skills, which will be up to full strength by the end of 2011. He is particularly focused on further developing the engineering capabilities of AOS to ensure the business is able to deliver a total service required by AOS clients.
"For AOS, our location is the key. We are striving to maintain our competitive edge in an increasingly aggressive market place with a growing client base. AOS is looking for sustainable business over the long-term and investing accordingly to develop our range of services. These substantial investments in offshore services infrastructure and capabilities are resulting in sustainable growth and a significant increase in business," he concludes.
ASRY Offshore Services (AOS)
Services: Refurbishment and upgrade of offshore oil and gas equipment/platforms