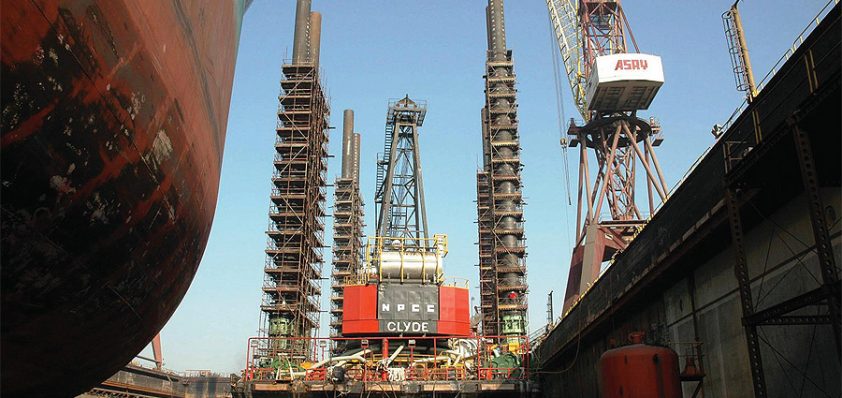 Premier service
ASRY began its operations in September 1977 with a 500,000 dwt capacity dry-dock and two jetties, operating across the Middle East and international markets to take care of the large tankers that were using the loading terminals in the Gulf region.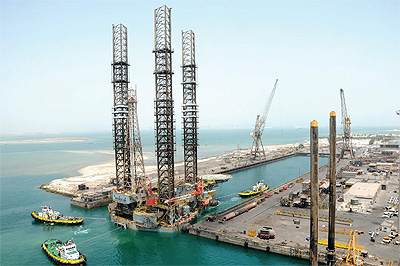 Over the past 32 years, ASRY has gone through various expansions. In 1992 two floating docks were added, which can handle vessels of up to 120,000 tons dwt and 80,000 tons dwt respectively. In 2008, ASRY addedtwo slipways to its yard, each with a dry berth length of 255 meters and a capacity of 5000 tons displacement. Since the start of the company, various types of marine and offshore vessels have undergone repairs at ASRY. This experience means that today ASRY is capable of handling many different types of repairs to vessels of differing sizes and capabilities.
Further reinforcing the quality service that ASRY is renowned for is the fact that it was among the first shipyards in the world to receive ISO certifications for Quality, Environment and Health & Safety Systems Management, in addition to the ISPS code for Port Security.
ASRY's multinational workforce and its in-house sub-contractors are committed to providing high quality services to its customers to their entire satisfaction. In order to further develop its range of services, ASRY has gone through agreements with various specialist companies.
Furthermore, in looking to enhance ASRY's reputation in the industry, ASRY Offshore Services (AOS) was created two years ago having identified a huge business potential, particularly in the rapidly developing offshore Qatar gas fields and the existing oil fields in the eastern province of Saudi Arabia.
Prior to the establishment of AOS, rig owners had little option, but to use facilities in Dubai or Sharjah. AOS now offers an alternative to this, which is located much nearer to the rigs' centre of operations.
So far, a number of rigs have been repaired with much emphasis being placed on quality of workmanship, safety, completion times and ensuring the customer feels they have been dealt with fairly. ASRY's key vision is to develop itself as the rig repair/refurbishment yard of choice in the Middle East.
Having looked at the market potential from a number of viewpoints, ASRY has decided to concentrate on developing a number of key areas of its services including:
The maintenance, repair and upgrade of rigs within its facilities.
The provision of mobile squads capable of working on site, particularly offshore for possible extended periods.
The slipways, the main purpose of which is to provide repair facilities to the numerous service providers operating in the oil and gas fields.
The fabrication/construction of offshore structures, for which a 30,000m² hardstanding has been prepared. This will be added to over the next 12 months with a further 40,000m² hardstanding and a heavy structure load out pier.
Utilising the large area of land owned by ASRY to encourage offshore companies to set up their centre of operations in the Arabian Gulf in Bahrain. There are many benefits to any organisation interested in such an arrangement including ease of company registration in Bahrain. Also ASRY is classed as a duty free area.
Looking ahead, CEO Chris Potter explains: "In terms of recent activity it is fair to say that the last few months have been relatively difficult for ASRY as dockings have been lower and the market has become very competitive. Many of the plans put in place last year have not fully materialised, chiefly due to the world financial crisis. However, when the tide turns we have to be in a strong position to handle the volume of work that will come our way. Another challenge for us is from the emerging yards in Oman and Qatar, which we have to take seriously. One of the reasons we moved forward with our expansion plans is to place the company in a stronger and more competitive position for the future."
Despite these challenges, Chris is confident that the business can continue to grow ands achieve its aim of becoming the rig repair/refurbishment yard of choice in the Middle East: "Two years ago we put together a five-year strategic plan, and we're well on the way to meeting a lot of the areas it covered, mainly involving our expansion plans. As far as the planned sales are concerned, the figures we hoped to achieve have taken a bit of a knock because of the economic downturn, but we hope to be able to recover as soon as things improve. I'm hoping that the next 12 months will show some positive signs of recovery and that we can get the programme back on track, as well as continuing our aggressive expansion plans."
Asry Offshore Services
Services: Ship repair, fabrication and upgrades