Atlantis Resources Limited
The tide is rising
Incorporated in 2005, Atlantis is a project developer, asset owner, and power generation equipment and services supplier to the marine power industry. The company has been trading under the name of SIMEC Atlantis Energy since June 2018, following a transformational transaction with SIMEC UK Energy Holdings Ltd, and the new entity is now focused on acquiring and developing operational, cash yielding projects in the energy sectors.
"We seek to become one of the largest independent renewable power generation companies in the world via development, conversion, and acquisition. As a global leader in tidal power, SIMEC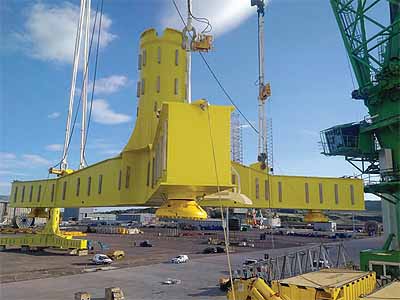 Atlantis holds equity positions in a diverse portfolio of tidal stream development projects, including a stake of 77 per cent in MeyGen Ltd – the world's largest tidal stream project taking place in Scotland," Drew Blaxland, Director of Turbines & Engineering Services, says.
Soon after its incorporation Atlantis became one of the first developers to successfully connect a tidal stream turbine to grid and export power at its test site in San Remo, Australia. In 2015, it acquired one of its major competitors – Marine Current Turbines (MCT), the two of them now forming the backbone of the SIMEC Atlantis Engineering and Turbine Services (SATES) division, which supplies marine generation system solutions and offshore services and equipment.
"The division's product line includes bespoke tidal turbine generation systems and offshore installation products that reduce risk and cost," Drew points out. "The success of these products and services has been down to our world leading engineering and operations team, whose exceptional understanding of the offshore environment can be translated into commercial, scalable, and reliable generation solutions. Our people possess the high-level technical skills and know-how required to succeed in delivering complex projects, not just on time and within budget, but with a clear view of the maturation path and how to deliver on the promise of a competitive energy cost.
"The MeyGen project has been instrumental in spearheading the company's success in tidal energy. Together with our flagship product, the AR1500 tidal turbine, they have certainly accelerated the commercialisation of the global tidal power industry and are improving investor confidence," he adds. The bespoke designed 1.5MW horizontal axis turbine is complete with active pitch and yaw capability and features a nacelle weighing approximately 150 tonnes in the air. Boasting a design life of 25 years and an 18-metre rotor diameter, it is no wonder that it has acquired the status of the company's core tidal energy product, paving the way for the mark-two commercial scale units.
New markets
Over the years, SIMEC Atlantis has developed a rich portfolio of projects that has allowed the maturation of the group's technologies. Its involvement in major programmes all over the world inevitably holds essential strategic importance, too, so Drew takes the time to introduce to us some of the key ventures SIMAC Atlantis has been involved with. "The MeyGen project, which is currently consented to 86MW and has a total capacity of 398MW, is now an operating tidal generation plant. In 2017, Atlantis signed a preferred supplier agreement with SBS International Ltd for the supply of turbines, engineering services, and equipment for a 150MW tidal stream array in Lombok, Indonesia. We are demonstrating high project development activity in countries like Korea, China, the Philippines, and Australia, but, simultaneously, we are pursuing key projects in France, too."
SIMEC Atlantis announced another promising partnership in May this year, when it joined forces with Xodus Group to explore development opportunities for tidal energy projects in Japan. "The Japanese market is going through a period of energy market reform, which is presenting various opportunities to both domestic and overseas players," Drew comments. "The energy market is seeing a shift away from nuclear power generation, which has resulted in a reliance on imported oil and LNG. Furthermore, legislation is nowbeing processed in Japan to provide the legal framework allowing the utilisation of the sea for long-term offshore renewable projects. These developments will facilitate the initiation of large-scale projects of this kind and targets for renewables have been set accordingly. In order for the country to meet these targets, it will need to adopt a range of technologies that can deliver commercial projects in a timely manner and at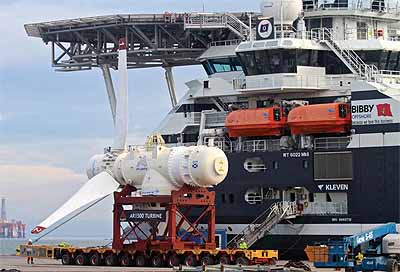 competitive prices, and we believe that tidal stream generation has a place within this mix," he unravels the state of the market in Japan.
"Generally speaking, the global tiding market is growing. We are seeing a larger number of projects outside of the UK and EU in discussion, compared to the picture a few years ago. In the more mature markets, such as the UK, the macro conditions have changed. We expect that open-stream tidal energy will reach competitive parity with offshore wind power and it can quickly reach the levelised cost of electricity of offshore wind with far less MWs deployed. For this to happen quickly, however, some tariff support is needed to ensure that the required volume rollout is achieved," Drew opines.
The coming years promise to be hectic for Atlantis, as it has its sights set on moving to increase its supply capability by 2021. "SATES primary focus is to complete any design enhancements to key system components that will prepare us for the move. This will include broadening our supply offering from just the turbine to selected balance of plant and associated services, key partnerships with core system providers, and the incorporation of lifecycle operational data from the AR1500.
"Our overriding objective is to create a diversified renewable energy platform of scale," Drew maintains. "We have an aspiration to see open-stream tidal move into the mainstream with the building of the first 100MW array and the commencement of at least another 400MW in the UK and the EU directly thereafter. With the validation of cost reduction that this brings, it will open up Asian markets further," he ventures.
"Beating the technical challenges of constructing and operating in the open ocean high energy tidal stream market has taken longer to crack than we all would have liked, but it has been achieved. We are confident that we know the path to complete the final step to commercial volume. Despite certain challenges, we will complete the journey and see tidal energy on the map as an industry. It is inevitable," Drew concludes in high spirits.
Atlantis Resources Limited
Services: Design, development, and operation of renewable energy projects around the world