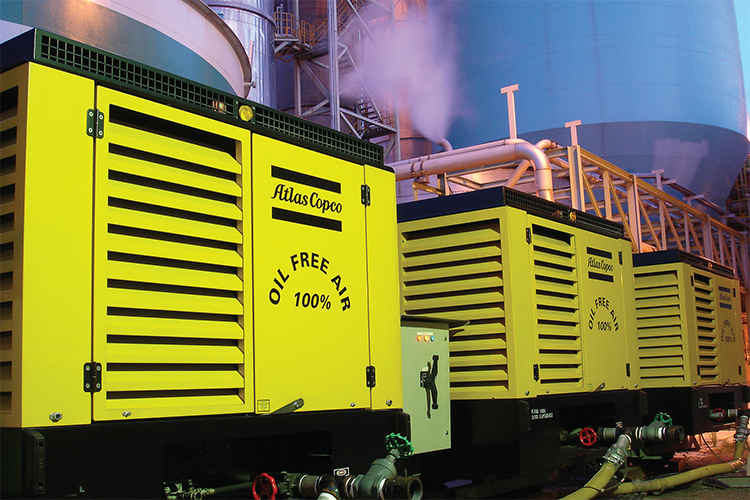 Faster transit times during catalytic cleaning
During June 2015, Atlas Copco Rental revealed the method that we employed with our client, Mourik in the removal of catalyst material from the reactor of a large refinery in Antwerp, Belgium with a production capacity of around 360,000 barrels per day. Mourik is an international specialist in the field of cleaning technologies for petrochemical sites and is regularly tasked with clearing catalyst material from such sites. The technically challenging operation calls for the cool down of the reactor itself, for which Mourik counts on Atlas Copco Rental.
The majority of catalyst material can be removed from the reactor through the use of a high-pressure drill, however the remaining coked catalyst requires workmen to enter the reactor and remove it manually with a pneumatic hammer. Temperatures of around 45˚C inside the reactor make it impossible for the workmen to enter and carry out their work, which necessitates a way of cooling the reactor to a safe temperature. To solve this problem we proposed to inject cool, dry and 100% oil-free air into the reactor. To carry out the cooling, the air was generated on-site by our equipment and operated by operators 24 hours a day. Our engineers designed a setup comprised of Atlas Copco Rental equipment including a PTS 1600 oil-free air compressor, CDE 47 dryer, HD 95 after cooler, chiller and generator. The PTS 1600 is a Class Zero certified oil-free air, diesel driven, screw compressor that operates in pressure ranges between 0.5 to 10.3 bar. The compressor is iT4 and IIIB compliant and offers high reliability, maximum fuel efficiency and low fuel emissions that ensure environmental protection. The chiller we provided allowed us to cool the dry air to 3˚C and even negative temperatures are possible when using glycol as a coolant.


Using this equipment the cold, dry compressed air of 3˚C was blown into the reactor to create a suitable working environment for the workmen. The ambient temperature was cooled to 30˚C, which allowed cleaning of the reactor to go ahead. Commenting on the operation, Project Manager at Mourik Tom Verheyen says: "Atlas Copco Rental have lived up to their name of being a reliable, innovative company that always puts safety first. They came up with a completely new solution: using compressed air instead of nitrogen to cool down a reactor. By injecting cool, dry, 100% oil-free compressed air we are able to create improved working conditions for our workmen. This new method allows us to respect health and safety regulations while entering a reactor. In addition, the allowed working times inside the reactor are significantly longer, resulting in faster transit times."
Bespoke equipment & services globally
The solutions we provide are bespoke units that meet the individual requirements of our clients. As a member of the wider Atlas Copco group, we have access to all of the engineering capabilities of our parent company within our portfolio. This has resulted in a number of innovative rental products, including the TwinAir screw compressor, which is effectively two individual diesel driven compressors in one container. This is unique in the market as it generates a market leading high volume of air for the site with the smallest footprint, saving customers valuable on-site space.
Our company was founded during 2007 as the Speciality Rental Division of the Atlas Copco Group (°1873). Presently we have approximately 700 employees operating in over 130 locations around the world, 44 of which are situated within Europe. That allows us to meet any planned or emergency rental demand rapidly and effectively.
Our engineers design the most suitable temporary installation (air, power, steam or nitrogen), at highest cost- and energy-effectiveness possible. We will also take care of all logistic services, installation, maintenance, (de)commissioning if desired by our clients.
Quality, environment, health & safety: triple certification
With the support of the wider Atlas Copco Group and a strong global presence, Atlas Copco aims to be 'First in Mind, First in Choice' with all stakeholders. Core to our strategic vision is our commitment to providing the highest levels of quality and operating in an environmentally friendly manner. As an industry first, Lloyd's Register Quality Assurance has awarded Atlas Copco with triple certification: ISO9001, ISO14001 and OHSAS18001. Furthermore we ensure that the equipment we provide is both safe and reliable, which has allowed us to become the strongest provider of downstream equipment throughout Europe relating to the refinery business. As we continue to grow we will look to further establish our presence in midstream and upstream markets as well.
Atlas Copco Rental
Services: New method to cool down refinery reactor
Issue 124 September 2015