Globally local
Atlas Copco Rental is a global leading provider of compressed air, steam, power and on-site generated nitrogen rental equipment and services that prides itself on delivering the right equipment every time, no matter how large or challenging the project.
The business, which is a world leader in 100% oil-free air rentals, has an industry-leading vast compressor and generator fleet, coupled with a global networks of rental depots and service centres in over 50 countries that allows it to meet any possible planned or emergency compressed air needs efficiently and effectively. Innovation is key for the company, and its highly experienced specialists are available to work with clients to design the best possible solution for each specific need, regardless of how diverse the requirements.
Discussing the extensive history of the highly successful company and the establishment of Atlas Copco Rental, country manager Michel Jasica begins: "Atlas Copco was established in 1873, which today has 40,200 employees in 90 different countries around the globe. In 1964, the first rental project was a fact in Africa and the establishment in 2007 of the Specialty Rental division in the Atlas Copco Group increased the focus on industrial rental. Today, the Specialty Rental division has approximately 700 employees and over 130 locations around the world, 44 of which are in Europe and two of which are in the Netherlands where I am based."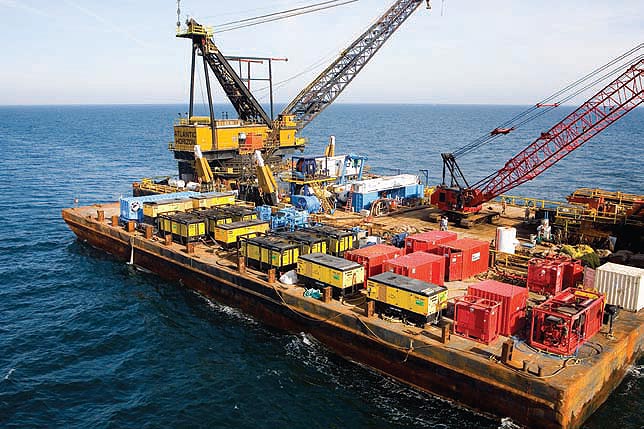 Working according to three core values: commitment, interaction and innovation, ISO certified Atlas Copco Rental can reassure its customers of high quality products and services wherever they are operating. Operating as part of a global entity means that Atlas Copco Rental has strong financial support and more than 140 years of expertise to ensure it provides high quality, reliable equipment in an industry that is increasing its focus on environmental and safety regulations. "The reliability of equipment is very important in the offshore sector; if you send out a compressor and the vessel is costing 500,000 euros a day, it would be incredibly costly if a customer can not operate because the equipment provided is unreliable. Safety and reliability are far more important than cost in that respect," explains Michel.
Having developed its state-of-the-art offshore rental fleet in accordance with client expectations, Atlas Copco Rental offers instant advantages to major oil and gas players such as Dutch Shell. These include significant cost savings in comparison to acquisition, elimination of the need for storage areas of warehouse buildings, a reduced down time, no repairs and inventory control.
With a unique product range and service offering Atlas Copco Rental aspires to be the supplier of choice to its customers. It aims to deliver innovative solutions in a safe and competent way, and being customer and applications driven it has a strong focus on research and development, allowing it to provide a best in class service solution to its customers. Oil and gas manager John Spink elaborates: "We will continue developing products that are market leading as a way to differentiate ourselves from our competitors, and provide a solution to our customers' needs. Key to our future success, will be the ability to deliver multiple products and services in a competitive market where quality and reliability becomes paramount."
Indeed, innovation and expert service are integral parts of the division's success so far, with 40% of the business' revenue coming from services and customer retention rates stemming from a reputation for high quality products. "The aftermarket approach will grow further, especially when it comes to midstream projects that require full responsibility from us and full accountability on the operational side of our equipment. The service aspect of our business is always expanding, which is a welcome development because it means we can offer real turnkey solutions and ensures we are stronger than some of our competitors," says Tom Deckers, general manager of Atlas Copco Rental Europe.
"We expect this trend for increased customer service to continue, particularly because the equipment we send out is more technical due to safety requirements and customers then have little knowledge as to how to service this equipment. In the past it was a generator or compressor with basic technology, but these days it is state-of-the-art equipment that needs skilled personnel to maintain and operate it," adds Michel.
Elaborating upon the company's commitment to R&D, John further emphasises: "As a member of the Atlas Copco Group, we have all of the engineering capabilities within our portfolio. We already have a number of innovative rental products, such as our TwinAir®, which is effectively two individual diesel driven compressors in one container. This is unique in the market as it generates a market leading high volume of air for the site 'smallest footprint' while also saving customers valuable on site space."
Supported by its competent and experienced people, along with its strategic international presence the company aims to be 'First in Mind, First in Choice' with its customers and prospects alike. To cement this strategic plan, Atlas Copco Rental will focus on the training of its personnel to boost competence in an industry that has higher customer demands for enhanced performance and reliability. "Over the long term we are looking to establish a competence centre; because we have been in the business a long time, we have all the competence and expertise we need to get across the company and also to our customers," says John. "On top of this, we now offer four-year apprenticeships and further education options and university placements to make up for a skills gap in the oil and gas industry."
"Our long-term goal is to remain a number one reference when it comes to quality, operating in an environmentally friendly manner and delivering safe equipment. Plans for the business are more or less the same, we are the strongest in downstream all over Europe when it comes to the refinery business, but we aim to become number one for midstream and upstream too," concludes Tom.
Atlas Copco Rental
Services: Provide specialised equipment to refineries