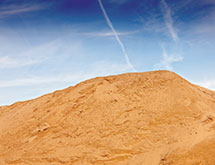 Founded in 2005 as a limited partnership, Atlas Resin Proppants is a privately held, family owned business that manufactures resin-coated sand proppants for the service sector of the oil and natural gas industry. The company's goal is to provide its customers with the best sand, showing its clients why its sand is the best and providing them with better proppants and conductivity.
Construction of Atlas Resin's Taylor, Wis., production facility was completed in 2005. Badger Mining Corp. – a principal partner within the limited partnership – acquired 100 percent ownership of Atlas Resin in October 2007.
The Taylor production facility was then expanded and doubled production in 2008. In 2009, Atlas Resin's corporate office moved from Tulsa, Okla., to Taylor. The company built a new production facility near the village of Merrillan, Wis., in 2010, following that up with construction of another production facility near the Village of Merrillan in 2011.
Market Leaders
Atlas Resin provides the market with a complete product portfolio, including curable and precured products specifically designed to outperform their competitors in a vast array of downhole conditions. The company's CRC-E, CRC-C and CRC-LT product lines are designed to consistently develop the bond strength needed to prevent proppant plowback, while its PRC and PRC-P lines of precured products are formulated to withstand even the most extreme environments.
Although resin-coated proppants are not a new thing, the technology in the oil and gas industry continues to change all the time. Because those changes can have a major impact on how wells perform, it is critical that Atlas Resin's research and development team is always pushing the envelope with science and technology to find new methods and formulations for its resin coating. Thanks to its top-shelf manufacturing facilities and quality control systems, Atlas Resin can provide its clients with the most advanced resin-coated sand proppants available in the market.
In addition, Atlas Resin continues to build on its expansive and growing distribution network, which extends from Mexico to Canada. The company has production plants on both the Canadian National and Union Pacific main line railroads, which allow Atlas Resin to serve most locations efficiently and conveniently.
Key Partnership
There can be no denying the importance of Atlas Resin's relationship with its sister company, Badger Mining, which has become one of the most experienced and well-regarded suppliers of raw silica sand proppants to the oil and gas industry. Founded in 1949 by Clifford A. Chier under the name of C. A. Chier Sand Company, the Badger Mining name came into existence in 1979.
Today, Badger Mining supplies an extensive offering of industrial silica sand and complementary products and services to a number of industries. Its key markets include metal casting, oil and gas, environmental, construction, industrial and recreational industries. The company's Wisconsin production facilities consist of two sand-processing facilities, and Badger Mining also has one subsidiary operation, Badger Mining Poland.
Badger Mining's partnership with Atlas Resin allows for exclusive access to Badger Mining's highly regarded Northern White silica sand for Atlas Resin to use as its base substrate. Because Badger Mining is Atlas Resin's sole source of sand, its proppants maintain consistency.
Atlas Resin can control and customize the mean particle diameter used with each of its products. This is a differentiator for Atlas Resin, as competitors often source their substrate from various suppliers and mines with different mineralogy and quality. This helps Atlas Resin demonstrate to clients the performance of its proppants on a conductivity chart and ensure that it will remain accurate from week-to-week and year-to-year around the world.
In the end, Atlas Resin strives to produce the most consistent products possible by single sourcing the highest-quality Northern White sand and combining it with leading, exclusive resin-coating technology. This allows Atlas Resin to provide the oil and gas industry with products that deliver superior conductivity, higher strength and more consistent proppant flowback prevention.