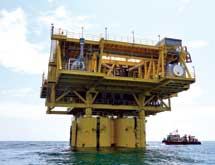 Audubon Engineering has had the same clients since it started operations in 1997, even though the company has diversified into other areas, expanded with affiliates, and taken on new and different customers. CEO Lee Beckett says there's a reason for that, and it has everything to do with the quality of the company's services and its attention to customer service. Even as Audubon and its affiliates take advantage of new opportunities in emerging oil and gas plays in North America, Audubon Engineering continues to maintain its reputation for being a complete project solutions provider.
Beckett explains that the company was founded by three partners who had been working in the oil- and gas-consulting arena when they took advantage of an opportunity to provide engineering services to small independents in and around New Orleans and the Gulf Coast. Although the move coincided with a substantial dip in oil prices, Audubon Engineering survived the lean times and has been growing steadily every year since its inception.
In 2005, the company made its first expansion by opening its Houston office, and, Beckett says, by adding Cimation (automation and industrial IT), Audubon Field Solutions (construction management, mapping, quality inspection, data collection, and field services), and Affinity (staff services), Audubon was able to sit itself apart from any other provider and continue to grow.
As of 2013, Audubon has 10 offices across the United States and Colombia. The company's primary focus is on providing project solutions for the oil and gas sector, with complete turnkey services including engineering, design, procurement, fabrication, construction, commissioning and operational support. Beckett says the company works with most of the major operating companies, although its client base is diverse. "We have a range of clients that we work with," he says. "We still do work with small independent companies."
As drilling activity starts to ramp up again in the Gulf of Mexico and new areas such as the Marcellus Shale begin to pick up steam, Beckett says Audubon Engineering's complete suite of services and reputation for quality in all its affiliates will continue to carry the company forward into the future.
Complete Services
Despite the brisk competition in the marketplace, Beckett says Audubon Engineering is positioned well above most of those competitors by providing superior engineering designs along with construction management provided by Audubon Field Services.
The company's key differentiator is Audubon's turnkey services, Beckett says. More customers today are looking for comprehensive solutions through a single point of contact on their facility projects, and Audubon Engineering has the capabilities to provide full services from start to finish. Additionally, the company has strong partnerships with fabricators, contractors and vendors that bring peace of mind to customers that their projects are in good hands every step of the way.
Even though the company expanded its original focus on traditional engineering services, Beckett says Audubon refused to leave its customers in that area behind. It continues to serve its original clients with heritage engineering services, and Beckett says the company plans to continue to do so for the foreseeable future while expanding into other areas. "Audubon looks to continue to grow and diversify," he says.