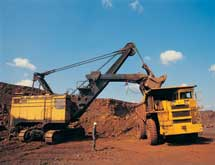 The knowledge and experience of Aurcana Corp.'s management team and board of directors have enabled the Vancouver-based junior mining company to accelerate its growth and strengthen its industry status as it transitions from explorer to producer on the Shafter silver mine in Presidio County, Texas.
Aurcana acquired the La Negra silver-copper-lead-zinc mine in Queretaro State, Mexico, in 2006 and put it back into production the following year. In 2010, it added 1,500 tonnes per day to its production capabilities. The company estimates the mine will produce 1.2 million ounces of silver, 5 million pounds of copper and 5 million pounds of zinc.
The La Negra project is a good demonstration of Aurcana's track record for bringing projects into production on time and within budget, says Ron Nichols, senior vice president and director. "We managed to accomplish getting the mine up and running during some tough times in 2008," he notes. "We like Mexico – it has a long, strong, historic mining culture, so there is a very good, experienced work force down there. We got a very good Mexican group together to supervise and operate the mine, and we're very happy with that operation."
Aurcana recently closed $85 million in financing and a $25 million debt credit agreement that will ensure the company is fully funded to bring the Shafter silver mine into production by May 2012. Incidentally, Nichols says $25 million of that sum was used to buy back a silver stream previously held by Silver Wheaton on its La Negra property in Mexico.
"They had an agreement to receive 50 percent in silver production, but the economics got off kilter, silver prices got higher and higher, and it became a burden on our cash flow," he explains. "The silver agreement was mutually terminated, but as a side note, Silver Wheaton came into our financing to the tune of 10 million shares, which is a nice vote of confidence that even though the silver stream was not working out, they still thought our company was very functional and had good outsight."
The Ideal Project
Aurcana purchased the Shafter mine from Silver Standard in May 2008 for approximately $40 million.
"We paid about 86 cents an ounce for a resource they had a 43-101 report on," according to Nichols. "When we combine that with the CA:FAX of $45 million, we essentially acquired and will be able to build into production a very nice silver mine for something in the range of $1.77 per ounce, which we feel is very good economics."
The economic downturn in late 2008 delayed the start of the project, Nichols recalls. But by early- to mid-2009, the market prices were reasonable again and Aurcana started its pre-feasibility study. After the final feasibility study was completed in 2010, the company decided to move forward with the project. Its plans call for a 1,500 tonnes per day operation, and construction already is underway.
Sandy McVey, Aurcana manager of projects, was brought on board for the planning and execution of the Shafter mine. He says there were a number of attributes that attracted Aurcana to the historic mine. "We inherited a mine that had a very well explored and well understood mineral resource, and we benefited from the work that [previous explorers] had already put into it," McVey says.
"We also have many local infrastructure components in place," he continues. "There is a highway running through the property, so access is great. It is on the main gridline with grid power, and there is no cost to be connected to that. We also have an abundance of labor in an area that traditionally has high unemployment, so we have a pool of laborers to draw from."
McVey predicts the mine will employ up to 180 people and that the majority of them will be locals. "We currently have six local trainee miners and will bring more on as time goes forward," he says. "We are well acquainted with the communities surrounding the mine, and most everyone supports the project. We've spent a lot of time earning our social license by describing how we operate, how the mine will be fine for the environment and how it will create no problems for the locals. Once people understand that their reservations tend to go away.
"Overall, when you look at this from an execution point of view in terms of how to build the mine and how to operate it, it's very low risk compared to just about any other mining operation that I've looked at, heard of or been associated with," McVey says.
He has more than 30 years' experience working on mine construction projects throughout North America, Europe and Africa for major and junior producers, as well as mining equipment design and supply companies. Part of what attracted him to Aurcana is its "world class" management and technical board, he says.
An Ideal Future
When the market shows improvement, it sometimes can be challenging to acquire the necessary equipment to bring a mine into production. This was not the case for Aurcana, McVey says. "We've been successful in acquiring all of the equipment we need for the underground mining operations and the process plant," he states. "We have top-of-the-line equipment that is highly productive and highly reliable."
SunWestern Contractors based in Tucson, Ariz., was awarded the contract to construct the Shafter mine facilities. "They have successfully built many similar plants over a 30-year period in the U.S. Southwest, and they are doing a good job," McVey says.
"But one thing we chose to do that is different is not get a mine construction contracting company to do the mine development and construction, but instead bring in our own people and train them," he notes. "We were successful in getting our own mine equipment together from day one. You have to face the moment when you need your own people, and we chose to do it sooner than later."
Given the schedule required to get a mill ready for production, Nichols says Aurcana has saved quite a bit of lead time training its work force as it goes along. "The corridor already has been constructed, the training process is under way, and we feel we can have a very competent mining crew up to speed by the time the mill is ready to accept ore," he says.
"Our real value is going to become unlocked when Shafter is in production and contributing 3.8 million ounces [of silver] a year," he adds. "[Compared to La Negra's 1.2 million ounces of silver a year], Shafter is going to help us make a big leap forward as far as becoming a mid-tier silver company. It's going to separate us from a long of junior mining companies we currently are compared with."