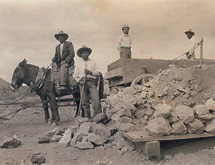 Aurcana/Rio Grande Mining Co. – Shafter Mine
The days of shovel-and-carry mining are long gone, although that is how the silver mine in Shafter, Texas, was started in 1883. Today, modern truck mining employees need a high level of skill to mine and refine minerals from underground caverns.
Despite the lack of mining for decades in the area of southwest Texas where the Shafter Mine is located, Rio Grande Mining Co. – which is owned by Aurcana Corp. of Vancouver – is committed to hiring and training as many local people as possible. But first, skilled mining employees had to be hired from Nevada, Montana, Arizona, New Mexico, Mexico and Canada to train local workers, who had no experience in mining.
"We have 152 openings here, so we filled those with as many local people as we could," reports Sandra Bruce, manager of environmental and permitting. "We're getting this training to people that typically wouldn't have this opportunity. Also, typically for every one job that you have at a mine, you create about seven out in the surrounding counties. We spend as much money as we can within our area. Naturally, some things we can't buy locally, but it has been a boom to Presidio County, Brewster County and the Midland/Odessa area. We have added to their economy."
Commercial production at the Shafter Mine resumed in late December 2012 after being dormant since 1942. After World War II, silver prices were too low to justify reopening the mine, although from 1979 to 1983 the mine was developed further until silver prices dropped again. "Now is the time with silver prices up that it's economically feasible to go in and produce," Bruce declares.
New Portal
The Shafter mine has a silver resource of 24.6 million ounces measured and indicated and 22.8 million ounces inferred. The mine is on track to produce 3.8 million ounces of silver annually once it reaches its design capacity of 1,500 tonnes of ore per day later this year, according to the company's published feasibility study.
The mine and mill are forecast to supply 10 percent of the silver produced in the United States.
The mine also is yielding some nickel, lead, copper and gold, but only the silver is being produced in dore bars. Some of the processing equipment that had been used at the mine previously was refurbished, but much of it was bought new when Rio Grande Mining Co. opened its offices there in January 2011.
In April and May 2011, a new, 15-foot portal square was constructed to a depth of 2,000 feet to intercept the ore body. The portal is designed to accommodate 20- and 30-ton trucks that will transport th­e ore out of the mine.
Mechanized mining done in the new Shafter Mine portal requires jumbo drill machines, bolters, melders, trucks and utility equipment, along with pneumatic jack legs for backup. The speed of mining that this technique allows makes the economics of the mine more feasible than in the past.
Full Production
The processing of ore is not unlike what penitentiary workers used to do – making little rocks out of big rocks. But instead of pickaxes and sledge­­ham­­­­mers, modern mines employ more efficient equipment. At the Shafter Mine, Rio Grande Mining Co. uses a crushing circuit that breaks rock two to four inches in size down to one inch. Then the one-inch rock is sent through a secondary cone crusher that breaks it down to 3/8 minus material.
Fines smaller than 3/8th of an inch are screened out and placed on a stacker, which feeds into a reclaim tunnel. Oversize fines are returned to the crusher until they are reduced to less than 3/8 of an inch in size. Then a mill filled with 2- to 4-inch iron balls crushes the fines so they fit through a 200-mesh screen.
The material is placed in a thickener tank, from which the ore goes into six leach tanks. Cyanide is added, and then the sixth tank feeds hydraulic presses that squeeze the solids out and make a liquid solution that goes into a tank. Zinc is added for a reciprocation system so the cyanide bonds to the zinc and is extracted.
Hydraulic pressure from another press squeezes the water out of the blend, and it turns back to a concentrate. A retort oven cooks off any mercury, and the concentrate is mixed with silica sand and several reagents and put in a small furnace about 4 by 5 feet in size.
Once the silica and sand is poured off, the silver and gold sink to the bottom of the furnace while other metals float to the top. The silica sand slag is pulled off the concentrate, and it is poured into an 80-pound mold to make dore bars that also contain other metals which will be removed later. The bars are placed under guard in a vault from which three company officials are required to ship the silver off-site.
Water Supply
Water for the mine is obtained from some of the 100 miles of old mining tunnels that were used from 1882 to 1942. Tunnels below 600 to 700 feet have water in them, and some extend down 900 feet. Water used in processing the ore is stored in a lined pond.
"That is a closed loop," Bruce emphasizes. "Any silver that escapes through the filter presses and the water that goes out to the evaporation pond we reclaim back into the mill. We reuse as much water as we can."
With 40 to 45 employees underground, safety is a constant concern at Rio Grande Mining Co. "We initially put in our safety and health system right away, and that's policies and procedures," emphasizes Steve Lambert, health, safety and security manager.
With the life of the Shafter Mine estimated to be 10 to 12 years and the price of silver hovering around $32 an ounce, the Rio Grande Mining Co. hopes to get even more life out of the mine.