Seismic innovator
A pioneer in delivering optimum quality, state-of-the-art borehole seismic technology and innovations for more than 20 years, designer and manufacturer Avalon Sciences Ltd (ASL) has become a household name in vertical seismic profiling (VSP) and downhole microseismic equipment. "ASL designs and manufactures highly sensitive borehole seismic (earthquake) receivers, 'geophones', which are deployed to extremely high temperatures and pressures deep within the earth's crust for the purpose of sub-surface mapping, otherwise known as VSP, imaging and microseismic monitoring," begins William Wills, Staff Geoscientist at Avalon Sciences Ltd.
He continues: "We export over 90 per cent of our products outside of the UK, all manufactured at our Somerset factory. These receiver systems have proven so successful that they are now the standard technology for enhanced oil recovery monitoring, and for determining the viability of carbon storage underground. These microseismic and subsurface mapping technologies are markets in which ASL's products and expertise have become world leading."
Rapidly becoming industry standard with over 1000 receiver tools deployed globally is ASL's Geochain system brand, which has witnessed growing popularity thanks to its ease of use, low maintenance overhead and its ability to deliver high performance and optimum quality data while keeping deployment time to a minimum. Within the Geochain product range is the high pressure Geochain, which is the company's most established configuration with the downhole ASR HP Advance Seismic Receiver satellite offering 25,000 psi and 200c standard analogue operating temperature. The product's modular design allows for a quick and simple change out of the electronic pack to convert it to a marketleading 180C multilevel digital system.
Offering the same functionality of the standard Geochain, while also delivering the enhanced specification of 30,000 psi pressure rating is the Geochain EHP, one of the most robust seismic tools for operation in hostile wells. Meanwhile, the GeochainSlim packages all of the seismic recording features of the standard pressure Geochain into an ultra-slim 1-11/16 inch OD housing; this system is rated to 20,000 psi.
Dedicated to delivering the best possible solution while also providing superior customer service and support, both remotely and onsite, the company has developed its facilities and expanded its operations team to ensure a global local service that promises the same quality wherever the customer is based. Most notably, ASL has invested heavily in a dedicated R&D facility, the Avalon Research Centre (ARC), to ensure continuous innovation for instrumentation within the harshest and most challenging of well conditions. Equipped with specialist staff and equipment such as new electronic/geophysical test labs, pressure and heat chambers, the ARC was completed in Spring 2012 at the company's headquarter site in Somerset. In parallel to the ARC, the company has opened global support centres, staffed by local engineers, in Houston, Texas and Singapore in 2011 and Abu Dhabi in 2013; it also has agencies in China, India and Russia.
To further enhance its R&D capabilities, ASL acquired the Camborne School of Mines Rosemanowes Geothermal Deep Well site in February 2014; boasting multiple deep wells, as well as winch and rig infrastructure, this site is the base for ASL's deep well technical staff. "This facility boasts some of the deepest wells for helping to qualify and test our products as well as deliver excellent training to end users," affirms William. "This development has also allowed us to begin marketing not only to the direct seismic engineer client, but also to raise awareness of our technology to the end user oil company geophysicist, through producing technical papers and giving presentations."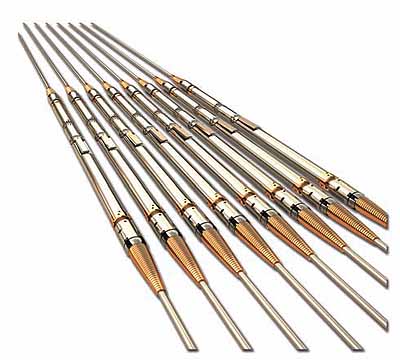 This commitment to investing in business operations, even during the challenging economic crisis, resulted in ASL winning the Best Engineering Company of the Year award at the Western Gazette's annual Business Awards in June 2015. Moreover, it has led to ASL enjoying increasing revenue over the last two to three years, with 2014/2015 its best year to date. "Like most UK exporters during the global financial crisis, ASL had to combat a significant drop in demand. We took the decision not to cut back on staff and resources but to take advantage of the quieter period to invest in R&D and build our stock. It was a risk that paid off, as we can now boast a two-week turnaround on most orders worth millions of pounds, something that is unheard of within the exploration technology industry.
"We have also been rewarded with a significant increase in sales in 2014/15 as customers seek to renew and improve their seismic survey equipment. Further international demand is being driven by end user requirements for large scale multi-level surveys and new requirements for permanent monitoring equipment at fracturing sites," highlights William.
With 85 per cent of ASL's revenue stream being driven by equipment sales, the company further boosted its financial performance over the last three years by developing a pool of rental equipment, which now contributes approximately ten per cent to its overall revenue. Coming into effect during 2014/15, the rental service has been well received by small or emerging exploration companies that don't have the purchasing power of the larger service companies. This development has resulted in expansion into new global regions in the Middle East and South America. "Other income is derived from repairs and upgrades, customer training, on-site technical support and consulting and product design," adds William.
Although the global economy remains somewhat stagnant, ASL has developed a robust business model and generated an excellent reputation for its solutions, which will ensure demand for its products and services continues. However, to remain competitive, the company will continue to innovate to ensure its technology is market leading for both exploration and seismic monitoring.
Avalon Sciences Ltd
Services: Specialist manufacturer of borehole seismic systems and downhole seismic instrumentation
Issue 125 October 2015