Quality partner
Aveon Offshore Limited, a wholly owned Nigerian Oil & Gas service company (formerly known as Grinaker-LTA Construction Nigeria) has been a foremost provider of construction services for the oil and gas industry since 1999.
Aveon Offshore was a pioneering leader in infrastructural development seeking to capitalise on the opportunities identified within Nigeria, and the company has been involved with most of the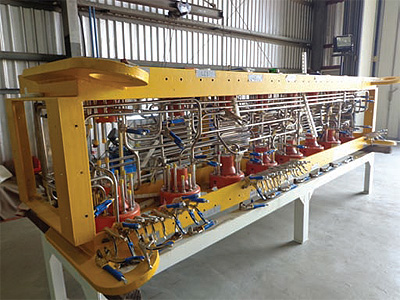 large projects awarded in the country since its inception.
A perfect example of how Aveon works with clients is the contract it recently secured from Eiffel Nigeria Ltd., the Nigerian subsidiary of EIFFAGE Construction Metallique. The project involved the fabrication of some major components of the LQ Platform for the Total Exploration & Production Nigeria Limited OFON Phase II Project.
Total Exploration & Production Nigeria Limited had earlier awarded an Engineering Procurement Construction and Commissioning (EPCC) contract for the OFON Phase II OFQ Living Quarters Platform to EIFFAGE Construction Metallique/Eiffel Nigeria Limited. The Aveon Offshore contract, valued in excess of $50 million, consists of the fabrication and load-out of over 3000 tons of shallow water structures including the OFQ jacket, piles, utility deck and helideck.
The project will be executed by Aveon Offshore at its 240,000 sqm fabrication yard in Rumuolumeni near Port Harcourt and will generate over 600,000 productive man-hours of work. The planned load-out and sail-away for offshore installation is March 2013.
This project shall facilitate the further expansion and modernisation of the Aveon Offshore facility and ensure a high activity level through 2012 into 2013, thus helping it fulfil a strategic milestone in the development of the company as a sustainable Nigerian fabrication yard.
Aveon possesses years of experience in offshore fabrication and is specialised in the manufacture of structures of different categories and complexity. As well as the items it is creating for EIFFAGE, it also has the capacity to fabricate and complete flare booms, riser protectors for FPSOs, structural decks, process skids, and items that involve multi-disciplinary expertise such as piping, tubing, electrical, instrumentation and mechanical equipment.
Supporting its fabrication capability is a large team of highly qualified, trained and experienced engineers. It has executed projects at varying levels of complexities and also executed multiple projects for clients.
When it comes to onshore fabrication, Aveon Offshore has the capability to pre-fabricate piping spools and related structural supports with a high productivity rate for the purpose of onshore developments. Aveon Offshore has expertise in the welding of various steels including carbon steel, stainless steel and duplex using a wide range of welding processes such as SMAW, flux core arc welding, SAW, TIG welding and orbital welding. For this purpose, Aveon Offshore makes sure that all approved welding procedures are in place as per client's requirements in order to support the described processes.
Adding further to the company's service portfolio is its subsea division. Through the huge experience it has accrued on completed projects, Aveon Offshore is the leading local contractor in the fabrication of complex subsea structures, or more precisely, subsea manifolds with their foundations (generally suction piles)
Finally, in 2010 Aveon Offshore achieved the required ASME certification that allows the organisation to design, procure and fabricate pressure vessels. This makes Aveon one of the few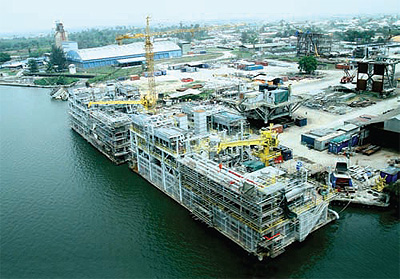 companies in Nigeria that specialises in this product. Its authorised inspector, a reputable international company named TUV, ensures that for each step of the project, the work is done as per ASME specifications and requirements. This certification comprises of three categories of stamps: U-stamp, U2- stamp and U repair and modification. These pressure vessel services – from design phase to commissioning phase – are fully performed in-house, at Aveon Offshore's yard located at Rumuolumeni, Port Harcourt, Nigeria.
The yard size is over 240,000 meters square with a waterfront and quay of 200m long. The water depth at low tide is 5.5m and at high tide is about 8.5m. This enables Aveon to load-out large structures for installation offshore. All fabrication, sandblasting, painting, welding, procurement and quality control are performed out of this yard. The yard is furnished with other assets such as various cranes of different tonnage capacity (275, 250, 210,150, 45, 30), covered workshops of over 8000m2, 6000m2 of accommodation and 2200m2 total floor area offices.
This facility has adopted the international ISO 9001 standard for quality management and is committed to the delivery of products and services in full compliance with this. The company has also committed itself to an environmental programme whereby it will develop an environmental management system (EMS), based on ISO 14001, through a culture of environmental awareness and training.
This attitude of maintaining extraordinary levels of quality extends throughout the company and outwards to the wider community. Aveon Offshore believes that increased productivity can only be possible in an atmosphere of peace and harmony. Therefore by constructively engaging with its host communities it has seen sustainable social and economic development.
The company makes it a priority to conduct business in a socially responsible manner and to develop co-operative relationships with the local area. In addition to recruiting and training locals, the business sponsors youth programmes, donates to the elderly and invests in community development. As evidenced through declarations on its website, the company's social attitude is admirable: 'Aveon has a responsibility to the communities in which we work and do business. This responsibility extends into our environmental stewardship as well as our community investment and our commitment to employees, contractors and the public. We believe in keeping best practices and the needs of our neighbours and partners in mind when operating our business and when sharing community spaces.'
It is by maintaining standards and policies such as this that Aveon Offshore has become such a reliable partner, and as a result it has worked directly with international oil companies such as Addax, Chevron, Mobil, Shell and Total as a main contractor and also with large construction companies operating in Nigeria as a sub-contractor.
Over the years Aveon Offshore has shared its strategic engineering and construction know-how to help many of Nigeria's leading oil and gas organisations. It prides itself on the quality of its work and on the fact that its name represents Nigeria's leading brand in offshore and onshore engineering and construction.
Aveon Offshore Limited
Services: Onshore and offshore construction