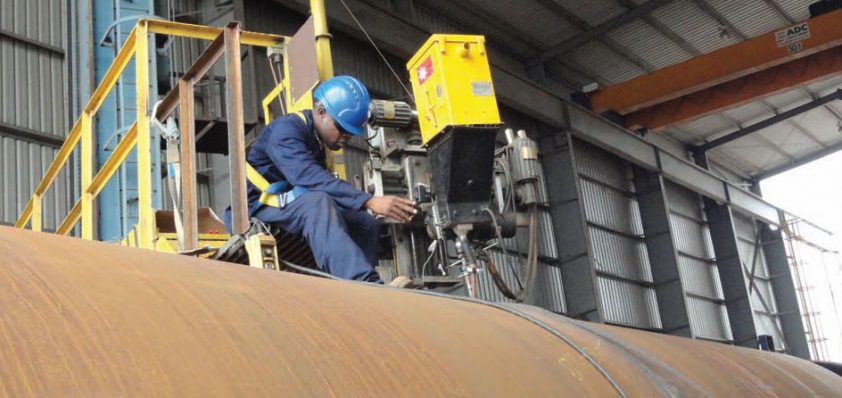 Constructing the future
Aveon Offshore is a Nigerian oil and gas construction company that has been providing its services to the industry since 1999.
The company was formerly called Grinaker- LTA and was owned by the Grinaker Aveng group of South Africa. It was later bought over by a Nigerian investor group in 2008. The company has since expanded from initial 30,000 square meters to over 24 hectares.
"Aveon Offshore provides offshore and onshore construction services through three specific products lines, these being shallow water structures and topsides, subsea structures and the production of pressure vessels," explains the company's corporate affairs executive, Olivia Jean Jeje. "Focused primarily on the Nigerian market, the series of upgrades, developments and investments that are either ongoing in the company's yard, or expected to start in the near future, provide proof that the nation's oil and gas sector is growing at an incredible rate."
Always open to capitalising on new and challenging opportunities, the company today finds itself looking at possibilities in neighbouring country, Ghana: "The Ghanaian market is one that is very new and evolving," Olivia continues. "Having only recently discovered oil, it is still very much in the early stages of its transition into a large, profitable market. As time passes and the sector grows it is inevitable that the services of companies such as Aveon Offshore will be needed.
"An experienced contractor with a track record of delivering quality services, Aveon Offshore is actively looking for opportunities in Ghana and other African countries. This is just to ensure we become a major fabrication contractor on an international scale."
With its utmost priority being the health and safety of its people and those in the local community, the company has policies and practices in place to ensure that no harm comes to its workers. It is the quality and standard of the services it delivers that define Aveon Offshore. Adhering to the ISO 9001 standard for quality management, the company endeavors to satisfy and exceed its clients' expectations.
"Aveon Offshore's capacity, based on technical expertise and assets, is one of its core strengths," Olivia highlights. "Complying with local content requirements, the company boasts a highly skilled and dedicated workforce, the majority of whom are Nigerians. Always adhering to Nigerian content directives, it has built up a very cordial relationship with its host community that centers on a memorandum of understanding that defines each party's responsibilities."
In December 2011, the company proudly announced it had secured a contract from Eiffel Nigeria Ltd, the Nigerian subsidiary of EIFFAGE Construction Metallique, for the fabrication of some major components of the LQ Platform for the TOTAL Exploration and Production Nigeria Limited OFON Phase II Project. Valued in excess of $50 million, this particular contract consists of the fabrication and load-out of over 3000 tonnes of shallow water structures including the OFQ jacket, piles, utility deck and helideck. Aveon Offshore commenced work in March 2012 on the project, which is expected to last 18 months and will involve over 600,000 productive man-hours.
"In the months since its award of the Eiffel Nigeria contract the company has also secured a contract from FMC Technologies for the fabrication of major components of the subsea production system for the Shell Nigeria Exploration and Production Company, Bonga North West project," Olivia says. "Valued in excess of $30 million, the contract involves structural steel procurement and the fabrication, and load out, of around 1000 tonnes of subsea structures, including two production manifolds.
"Meanwhile, Aveon Offshore still has spare capacity for 2012 and 2013, and is currently in the bidding process for several major upcoming projects. These include the subsea fabrication for Total's Egina project, the fabrication of well head platforms for ExxonMobil's SFDP2 project and the fabrication of subsea structures for ExxonMobil's Erha North Phase 2 project."
As increasingly complex work is domiciled in Nigeria the technical challenges that await Aveon Offshore will inevitably become greater: "To overcome this, the company is diligently training its staff to the appropriate level, while also affiliating with competent overseas partners," Olivia enthuses. "In addition to this challenge, the industry itself can be very cyclic in nature, leading to issues involving the continuity of work and the sustainability of activities. In response to this Aveon Offshore has successfully diversified by moving into the production of pressure vessels, the commencement of offshore services, while also looking at the fabrication of process skids, integrating pressure vessels."
Central to its future plans, Aveon Offshore now aims to expand its fabrication capacity and expertise, and better improve its already good record for delivering projects safely and on schedule: "Over the coming months the company intends to develop its level of expertise in providing offshore services to its clients. Ultimately it is the intention of Aveon Offshore to become the construction company of choice for all of the IOC's based in Nigeria, and indeed in West Africa as a whole," Olivia concludes.
Aveon Offshore Ltd
Services: Offshore engineering, procurement, construction and installations