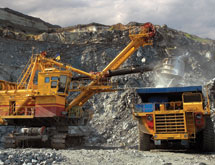 Avtron Industrial Automation
A great deal of work goes into taking the work out of industrial processes, and Avtron Industrial Automation is one of the busiest companies in that field. Since 1953, Avtron has supplied high-quality drives and systems to a variety of industries that have helped its customers improve efficiency and drive out costs. Even though the company's products and services do a lot to make work easier for its customers, Avtron says it always works harder to ensure a better experience for them.
"Avtron manufactures AC and DC drive systems, diagnostic and productivity software, and encoders," the company explains. "In addition to selling highly reliable component products, Avtron specializes in optimizing system performance and increasing customer productivity and profitability."
With customers in key markets such as mining, cranes and material handling, pulp and paper, metals and marine, Avtron understands the necessity of reliable, dependable automation systems. Also, because the needs of these markets are all different, the company says it understands the importance of being able to deliver a customized solution that fits perfectly with the requirements.
"Our ability to create custom solutions for [customers'] systems and [their] needs distinguishes us from other automation vendors," the company says. "Avtron pioneered the front-end replacement of analog DC drives with digital regulators to improve performance and reduce downtime. We provide interfaces and upgrade paths for competitors' legacy systems."
Complete Services
Avtron is equipped to serve the needs of multiple industries, and the company says it brings the same dedication to quality and efficiency to all of them. In the mining sector, Avtron provides electrical upgrades such as digital drive systems and diagnostic monitoring systems.
"Avtron's products are used throughout the world to increase the performance, reliability and safety of mining equipment," the company says. "Unique, high-performance algorithms have been developed for specific applications to improve machine output and equipment life. Our experienced engineering and service team provides optimized performance, unmatched reliability and on-time projects."
The company's products in the crane and material-handling sector range from simple overhead cranes to semi-automated container cranes, and the company serves OEMs as well as end-users. "Avtron is one of few companies which covers both industrial and port crane application needs," the company explains. "Our staff of engineers and support personnel offers the highest level of experience supporting the application of crane control systems."
On the marine side of the business, Avtron emphasizes customization. "Avtron can provide complete drive systems for new vessels, or retrofit obsolete AC and DC drive systems," the company emphasizes.
"Our extensive application experience allows us to offer a broad range of support capabilities including ABS, DNV and USCG approvals, if required," the company continues.
Avtron's offerings for the metals industry include automation systems for the production of steel, aluminum and nonferrous metals. The company says it has an extensive base of successful installations around the world, including new and retrofit solutions.
The company has been serving the pulp and paper industry since the 1950s. "Our solutions have helped paper customers upgrade existing machines, improve productivity, reduce downtime and improve paper quality," the company says.
Strong Foundation
Avtron calls service and support "the cornerstones of our automation business," and it backs up that claim with a slate of services aimed at keeping customers' systems running smoothly. The company's full-service field service department provides assistance including needs assessments, turnkey installation and start-up commissioning. Among the aftermarket services offered by Avtron are preventive maintenance, calibration services and repair. The company says its support personnel are available to customers any time of day or night, 365 days a year.
"Whether [customers] require a single-man project over a weekend or up to a dozen engineers doing a multisectional machine in two days, we can accommodate [them]," the company says.
Even though the company is willing and able to go wherever a customer needs help, Avtron also believes in giving customers the skills and tools necessary to help them through extensive training programs. "The philosophy of our service department is to put programs in place that help keep customer machines at maximum production and profitability," the company says. "Although we're more than willing to assist, we feel that the customer is in the best position to be the first line of defense and problem resolution. For this reason, we provide an array of training which is heavily focused on a hands-on approach."
'Assured Quality'
Avtron provides all of these services bolstered by the company's ISO 9001 certification, which it says is proof of its commitment to the highest standards of quality. "Since its inception in 1953, Avtron's foundation has been firmly rooted in its commitment to quality," the company says. "Avtron originally achieved certification to ISO 9000 in 1996 and since that time, we have expanded the scope of our system while successfully maintaining our certification.
"Our comprehensive business management system incorporates or exceeds all imposed requirements and provides guidance and direction for Avtron employees in support of our organizational commitment to quality, customer satisfaction and continual improvement," the company adds.
"Lean initiatives on the manufacturing floor and within the office environment have been integrated into our culture, resulting in both value and assured quality for our customers." EMI