A vessel for growth
Founded in February 2011 following the acquisition of three, second generation, 125,000 cubic metre LNG carriers, the WilGas, WilPower and WilEnergy, Awilco LNG is a Norwegian based owner and operator of LNG vessels.
With its mother company, Awilco AS, having existed within the shipping and offshore industries for more than 70 years, Awilco LNG can already name Mitsui, Mitsubishi, Petrobras and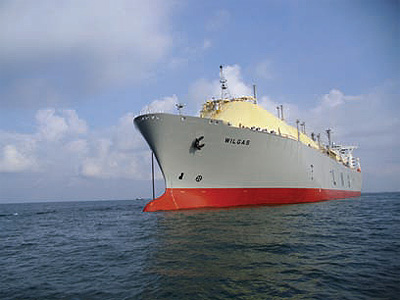 Excelerate as clients to have been serviced through short-to-medium term contracts.
"Arguably the core strength of the company is the fact that it has available ships to be utilised in the very tight tonnage situation that exists today, whereas most LNG vessel owners have fixed the majority of their fleets to long-term contracts," explains chief executive officer, Jon Skule Storheill. "This fact places the company in a particularly good position, especially at a time when the market has quickly improved for ship owners, with rates for modern ships increasing from $22,000 per day in the summer of 2010, to a level of around $140,000 per day today. This clearly demonstrates the increased demand for LNG transportation services."
In addition to its existing fleet, the company has also entered into a new building contract with Daewoo Shipbuilding and Marine Engineering Limited in Korea for two, 155,900 cubic metre LNG vessels. These are expected to be delivered during the third and fourth quarters of 2013 and highlight Awilco LNG's long-term commitment to the sector.
"Having quickly gained experience of the highly demanding nature of the LNG market, and having recognised that very few new build vessels were being ordered at the time, Awilco LNG made a very conscious move to invest in two new vessels, at what it found to be favorable prices with very favorable delivery," Jon continues. "Built with membrane tanks, as opposed to the moss type tanks on its
second generation carriers, these new builds also boast tri-fuel DFDE engines and are considerably larger in size compared to the WilGas, WilPower and WilEnergy."
In the short time since it was established, Awilco LNG has made huge strides, ordering it first new build vessels in April 2011, raising close to $100 million in equity a month later and then officially became listed on the Oslo Stock Exchange in September 2011: "The market as of today is definitely firm, which means being able to grow the biggest challenge at present for the company," Jon states. "Through 2011, Awilco LNG's vessel utilisation increased from 27 per cent in the second quarter, to 88 per cent by the fourth quarter. This is then expected to increase further in 2012, proving that the company has overcome the sector's high barriers of entry to become an effective owner that clients are happy to accept and work with."
With an increasing number of short-term contracts being awarded in the LNG market, Awilco LNG finds itself benefiting from having the available tonnage to meet the industry's needs. Being in this position allows the company to focus on taking itself to the next level: "Awilco LNG's overriding goal is to create shareholder value. To do this it needs to continue to make the most of what it has in terms of capabilities and assets, while also making sure to grasp the right opportunities to grow the business as and when the chances present themselves," Jon concludes.
Awilco LNG ASA
Services: LNG vessels