Axon Well Intervention Products
A special acquisition
Having been established in the year 2000 to provide specialist services in the fields of manufacturing and refurbishment of offshore well service equipment, the date of January 19, 2011 marked a significant milestone for the company then known as Mechserv.
It was on this day that it was formally announced that the business and its subsidiaries had been acquired by Axon Energy Products. Headquartered in Houston, Texas, Mechserv fits into Axon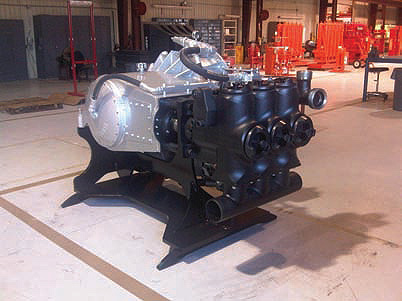 Well Intervention Group (AWIP), which designs and manufactures multipurpose well intervention equipment for use in the oil and gas industry, which it serves to a global customer base.
"One of the key drivers for Mechserv to become involved in the acquisition process was the fact that Axon Energy Products already possessed its own internal pump manufacturing business, a fact that makes it faster for the company today to buy pump units from its parent company than any of the other major players in the market. This in itself results in better deliveries times and a reduction in costs, which gives the company a real edge over its competitors," states Mike Craig, managing director of AWIP – Europe and the Middle East.
"In the time since the acquisition was completed, business has certainly increased, with in excess of 50 per cent growth experienced both in the UK and the Middle East," Mike continues. "Whereas before the acquisition Mechserv was an individual private company acquistionthat directly felt the effects of the financial crisis that made banks more obstructive and less flexible, today AWIP is supported by a sound, structured financial base, which allows it to grow steadily. This has resulted in AWIP expanding its operations in Jafza in Dubai and also establishing a firmer base in Abu Dhabi. It is hoped that these developments will then aid the company as it turns its attention to potential opportunities in developing markets across South East Asia in the months and years to come."
With the acquisition also came a number of other benefits that are not lost on Mike: "On Axon Energy Products' board of directors you will find a number of individuals who together possess an extensive level of industry experience, as well as a vast network of contacts that AWIP is able to tap into. Likewise, AWIP can now call upon expert advice as it relates to all manner of fields that is readily available throughout the Axon group. On a level that is closer to home, the acquisition has also opened up countless new opportunities to the company's employees, creating new avenues of work in different countries. Understandably, such opportunities make for a more exciting working environment that at the same time promotes individual growth."
One of the strengths Mechserv boasted from its first day in business, which leant itself exceptionally well to Axon Energy Products' own approach to business, is its diversity: "When it comes to the company's product range alone, what you will see is a huge range of tools and systems that work exceptionally well together or on their own," Mike explains. "What AWIP, and Mechserv before it, specialise in is being able to work closely with a customer to tailor and manufacture bespoke equipment and solutions to fit their individual needs. Therefore, rather than having to be tied to a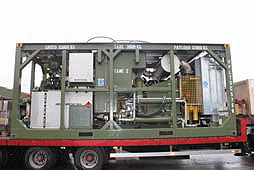 particular brand of product or marketing itself as one-stop-shop that meets all, AWIP can differentiate itself as a company able to adapt and provide the necessary flexible its customers are looking for." Axon EP brands itself as 'The Alternative' and that fits well with what Mechserv stood for.
Having been involved in the field of process equipment for the better part of 11 years, the acquisition by Axon Energy Products has helped further spearhead the company's ability to expand into new fields of expertise: "In recent months the business has begun work providing specialised well test packages," Mike says. "In the past there have only been a select number of companies in the industry that excelled in manufacturing products such as well test separators. With a wealth of know-how and expertise at its disposal, AWIP is now one such company, having attained all the necessary licenses to add well testing processes and modification services to its portfolio."
In February of this year, AWIP played a crucial role in another landmark achievement, that being the transport of the first three modules, of a total of nine, from Arbroath to Stavanger, Norway, forming the world's largest modulised and complete mud system for coil tubing operations in the North Sea. This contract, awarded by Baker Hughes, consists of a complete package that includes several modules including mud mixing, gas separator, linear shaker, centrifuge, control system and control cabin. With final assembly, commissioning and testing to take place in Stavanger, the complete system is expected to be delivered ready for offshore use during the second quarter of 2012.
"It is clearly of great significance that the company in both its previous and present day forms has managed to grow year after year since 2000. What is even more impressive is that this growth continued to be achieved during, and in the aftermath, of the global economic crisis, when getting access to extra funds was at its most restrictive," Mike enthuses. "In keeping with this legacy, AWIP now aims to firmly establish itself amongst the very best companies in the business today, while continuing to be recognised as one that repeatedly produces the best equipment and the best people. By moving with the times, getting to grips with the newest technologies, investing in research and development and training its employees accordingly as the business changes, AWIP can remain confident that it is on the right track when it comes to building a lasting legacy."
Axon Well Intervention Products (AWIP)
Services: Design, manufacturing and refurbishment services