Lifted up
Since 2004, AXTech AS has been asserting itself as a leading specialist in heavy lifting and handling equipment for the marine and offshore industries.
The company continues to operate from its traditional headquarters in Molde, Norway, but has widened its geographical reach considerably to include additional offices in Norway and Brazil. Furthermore AXTech works with local agents in the US, Brazil, Singapore and Malaysia in order to tap into the activities of these markets.
Employing an approach of adaptive engineering toward specific solutions, AXTech operates in three main business segments – subsea construction, riser handling solutions, and large systems for lifting and over-boarding from vessel to sea, and sea to vessel. "We have a range of products that are all designed for a different purpose, but primarily special performance or high load demands," outlines Richard Myhre, managing director of AXTech.
"It all comes down to understanding the operational aspect of handling assets of a certain size and in certain weather conditions. This eventually led to the creation of a range of standard products such as winches from 50 to 1000 tonne capacity, towers, A-frames, and large lifting structures like deck skidding and trolley systems. Although there is always some specific functionality built into our custom solutions, the start point may be one of these existing components," he adds.
This capability was a crucial factor behind AXTech's recent award of a contract with Technip Norge for the supply of a special handling system (SHS), which will be used during the installation and intervention of Statoil's Åsgard Subsea Compression system. The contract value is approximately 17 million euros with delivery of the SHS expected in the first quarter of 2014.
"This project requires the handling of some very large modules that are outside the normal parameters for such works in the subsea industry. As of today, most of the module handling solutions have consisted of tooling and equipment for components of 30 to 50 tonnes. For the Åsgard project though the subsea modules are around 300 tonnes and the sheer size and weight of them makes it near impossible to use a normal handling or maintenance solution," describes Richard.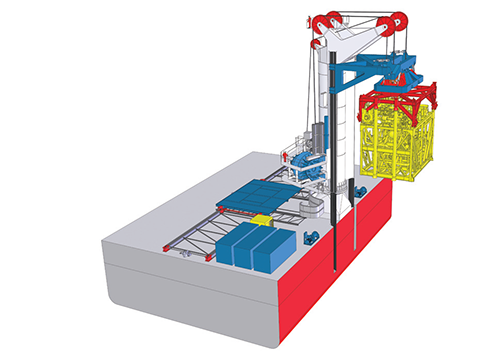 "As such, very early on we were involved in discussion with Technip Norge on how to solve these technical issues and the final solution presented to Statoil was based on the ideas developed through these joint efforts. We firmly believe that a module has to be handled in a certain way from vessel to seabed, and as at no point in the project was it possible to utilise a standard subsea crane system, we created a special tower crane design, which eventually will be mobilized onboard the installation vessel 'North Sea Giant'," he continues.
The system has been specially designed for lifting and handling large subsea modules of up to 400 tonnes weight and dimensions of ten by 12 by 14 metres, in significant wave height conditions of 4.5 metres. The tower crane lifts the modules from the vessel deck, turns them, and then lowers them to the seabed over the ship's side. An active heave compensation (AHC) function is built into the control system of the redundant winch system in order to land the modules safely on the template. This is a completely new concept for delivering such works, and well fitting of AXTech's reputation as a supplier of specialised equipment for handling of heavy loads. At present the company is undergoing the critical engineering phase ahead of the start of fabrication in early 2013, and then testing towards the end of the year before delivery in 2014.
AXTech's collaboration with Technip Norge is indicative of the company's general contractual relationships with its customers, which include other leading names like Subsea 7, Deepocean, McDermott and Bluewater Energy Services. "On occasion we are offering competitive solutions that are completely different because each client wants it a different way, and we co-operate with both but on different technological platforms," describes Richard. "We are well versed in working closely with the client to create a solution that is unique to them, even if it's for a similar market application."
Aside from the Technip Norge contract award, which is the largest in AXTech's history in terms of size on signing, 2012 has proved to be a very positive year for the business with revenue at double the level it was in 2011. "Demand for this kind of technology is still high," notes Richard. "Our structure is very dynamic with AXTech expanding primarily through smaller engineering groups than as one big company – we believe in smaller sales of clever engineering. Our focus is still on the core values of engineering and innovative solutions. As a company we have a saying that the project is only one part, how you structure your company is how you react to projects – never the opposite."
Whilst the fact that the AXTech name, and attached reputation, is ever reaching a wider market is probably helping contribute to this burst of growth, changes in the market are also facilitating the company's high revenue rates. Increasingly in subsea construction, rather than focusing on individual equipment such as winches and towers, customers are seeking integrated solutions based around what the vessel should actually deliver. This may be more efficient operations, or the ability to work in higher sea states, amongst other technical features.
Speaking in the context of AXTech's current profitability Richard concludes with the company's aspirations for maintaining this: "AXTech has an overall ambition to grow by around 15 per cent per year. One of the ways we look to achieve this is by keeping track of the technological competence of our personnel. We are not a large company, but we still emphasis the importance of the skills of our workforce in helping determine the future of the business, by creating confidence in what we can deliver."
AXTech AS
Products: Heavy lift and handling solutions