The future is in hand
Founded in 2004, it has taken AXTech less than 15 years to become established as a specialist engineering and service company with a forte for heavy-duty lifting and material handling in the capacity range of 25 to 1000 tonnes, and above. With its main office based in Molde, close to Norway's large oil and gas fields, and a subsidiary company located in Gdynia, Poland called AXTech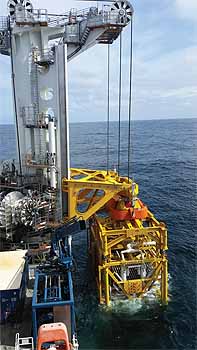 Polska, AXTech has forged its reputation through the design, development, delivery, testing, commissioning and servicing of heavy lifting, and material handling equipment for use in harsh and corrosive marine environments.
"Historically, most of our work has been connected to the offshore oil and gas market, but in recent years we have diversified in order to become heavily involved with a range of subsea activities, including subsea mining, the mooring and installation of wind mill systems, and the lifting and handling of other subsea infrastructures," explains AXTech Managing Director, Richard Myhre. "Operating worldwide, we have evolved from having a primary focus on delivering engineering solutions to become a company that today draws equal levels of business from the design and development of operational equipment, and from the providing of associated system solutions and services."
This evolution has allowed AXTech to establish relationships with a diverse mix of customers. This mix includes companies such as TechnipFMC, Subsea 7 and DeepOcean, which specialise in the installation and integrity of seabed infrastructure, FPSO operators including SBM, Modec, Bluewater, Teekay and BWO, and ship owners such as Maersk and Solstad. Operating in a very direct manner, the mindset of the business is to complete its projects at optimum costs. AXTech is known for its ability to adjust quickly to its customers' needs and for its expertise when it comes to engineering radical solutions to complex challenges.
It is this expertise that has seen AXTech contracted for work on projects such as that involving TechnipFMC and Statoil's offshore installation and IMR vessel, North Sea Giant. "Collaborating with the aforementioned customers, it was our job to supply all of the lifting equipment required for module handling," states Kjell Ødegård, AXTech's Director of Marketing, Sales and Services. "Two of the towers onboard the vessel are engineered solutions created by AXTech, the Special Handling System (SHS) and the Modular Handling System (MHS). The former is a revolutionary new concept for the launch and recovery of heavy subsea modules under extreme environmental conditions, able to handle up to 420 tonnes. Both the SHS and MHS are excellent examples of the type of work we do, creating specialised solutions that typically require either a significant amount of power or precise load handling qualities."
In June 2017, AXTech was incredibly proud to have its work recognised once again when it was announced as the winner of Statoil's 'Heavy maintenance of offshore wind turbines' innovation contest. The brief of this contest was to devise a solution for replacing and/or repairing large components, weighing up to 150 tonnes, used in the construction of offshore wind turbines, but one that would not depend upon the use of jack-up vessels or large floating crane vessels. AXTech's response was to devise an idea it has dubbed 'Wind-worker'.
"In essence, what Statoil was asking for was something like an aerial hook system that will allow for the handling of heavy objects at height, all while still moving in the open ocean," Richard says. "Taking into account our own previous experience of similar undertakings, we began working hard to devise a working method for securely handling heavy loads at a height that no normal vessel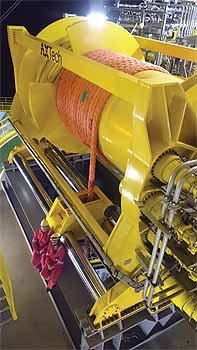 or crane can achieve. Our idea involved splitting the package into separate modules, which meant we could simultaneously look at incorporating a compensated platform into the lifting and handling process, a patented methodology to significantly reduce the roll and pitch of a vessel at sea that we control through a third-party company that we control, MRPC, and the actual lifting structure itself. We were honoured to be have received the award from Statoil, who described the Wind-worker concept as being very 'appealing', and the company have shown a genuine interest in taking this forward and seeing it through into a fully realised innovation at full scale."
A further display of AXTech's radical approach can be found in the way that it is developing live systems to remotely monitor and operate subsea modular handling projects. "Through the use of various technologies, we strive to be at the cutting edge of digital and cloud based systems," Kjell adds. "The beauty of these systems means that we can provide a customer with a solution that they potentially do not even have to operate themselves in that we can install it, operate it remotely and then remove it upon completion. Said systems also significantly lower the threshold of who can actually act as a provider of these services. For example, even a ship owner with no real subsea experience can offer their vessel to a project where we will handle all the subsea handling procedures from our own facilities. This is quite the dynamic shift in terms of a business model, but it is one that we foresee strong growth from so long as businesses embrace it as the viable, fruitful alternative that it is."
With 2016 being a prosperous year financially for AXTech, 2017 is being characterised as a year of development and planning for what the company hopes to be an exciting future. "From what was once purely an equipment supplier, AXTech is now firmly entrenched as a service provider related to specially engineered equipment," Richard concludes. "We still firmly believe in the offshore market, but at the same time we recognise that it has undergone recent radical change itself. We expect it to become increasingly influenced by disruptive technologies and that will mean that those companies that thrive will be the ones that welcome change and the challenge of doing things differently. By continuing to do what we do best, proactively offering our customers technology that lowers risk and increases returns, we hope to be a conduit for this change providing solutions that benefit all."
AXTech AS
Products: Heavy-duty lifting and material handling equipment and solutions